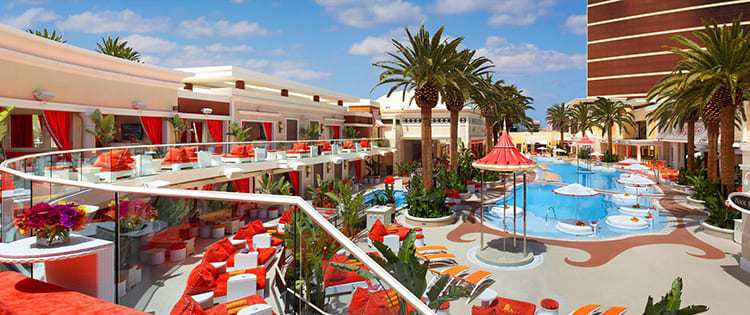 Las Vegas Dayclubs
VIP Party Packages
Have you ever been to a Las Vegas pool party?  It's a once in a lifetime experience, but the stories will last forever.
Choose from our recommended dayclubs and pool parties to get added to our free guest lists, or explore our VIP Packages for premium options like Hosted Entry (get in faster) and Bottle Service (reserve a daybed or cabana).
Top Las Vegas Pool Parties
Frequently Asked Questions
What is the difference between Guest List and Hosted Entry?
Guest List: When placed on the guest list at a club, you'll generally receive a confirmation from your promoter and use it to check in under your name at the door.  In general, girls and guys both get in free in an even ratio.  On busier nights, guys will have a reduced cover on the list.
VIP Guest List / Staff Guest List: A VIP Guest list typically features faster entry and free drinks.  You'll enter through a special line and be let in past both General Admission and the standard Guest List queue.  Our featured clubs all offer a free VIP Guest List.  For example, Encore Beach Club at Night features a Staff Guest List with its own entry queue and special drink tickets.
Hosted Entry: If you'd like to be personally walked in when you arrive at the club, you'll want to go the extra mile and reserve Hosted Entry.  In this case, a VIP Host from the club will meet you out front and bring you in without waiting in line at all.  VIP Hosted Entry is a part of many of our VIP Packages, such as "Hyde & Seek" above.
What are the Guest List times for Dayclubs and Pool Parties in Las Vegas?
Dayclub/Pool Party VIP Guest List: This is generally available from 10:30am to 3pm, although there are some special events where the list may close earlier (we'll give you a heads up).
Dayclub/Pool Party VIP Bottle Service: Since we have secured exclusive deals for our bottle service packages, please plan on arrival at the club between 10:30am and 11:30am latest to guarantee discount pricing.
If I book Bottle Service, do I have to sign up for the Guest List?
If you make a bottle service reservation through us, you do not have to sign up for the guest list or reserve hosted entry, as it will be included in your purchase.  Bottle Service features immediate entry with all cover costs waived.  It pays to go VIP!
Want a customized itinerary?  Fill out our form below and let us know which events you're interested in.  We'll have one of our hosts reach out to you as soon as possible.