Las Vegas Strip Club Deals: The Best Bachelor Packages and Hookups Super Guide
If heading to Vegas with a group of guys, and especially if celebrating a bachelor party, we feel you need to check out at least one Las Vegas strip club to really get the most out of your weekend.
Be prepared for over the top craziness like you've never seen before. Expect a handful of unforgettable stories with friends that will last a lifetime. Oh and definitely bring more cash than you think you'll need, just in case.
Las Vegas Strip Club Cover & Costs
If driving yourself, or taking a cab or uber, cover can range from $30-50 per person at any major strip club in Las Vegas.  Factoring in transportation costs, the trip can get expensive very quickly – before even getting in the door.
Fortunately, nearly all clubs provide free round trip transportation and admission when booking in advance through a service like our own.
When you make a reservation with us (see sign up below) your cover is waived at all major clubs and you'll have a VIP limo pick you up at your hotel and return you when ready to go.


How Much Cash Should I Bring to a Las Vegas Strip Club?
With entry and transportation included, the only thing you'll have to pay for is drinks.
At each club you'll have a two drink minimum. Each standard drink will be $20, making a total of $40 you would pay for everything.
Note: $20 sounds pricey for a drink, but only slightly more than the average cocktail at a nightclub in Las Vegas.
How much are Lap Dances in Las Vegas?
On top of drinks you'll almost certainly want a lap dance and a few loose singles ($10-20 worth) to toss around for the stage dances.
On average, the cost of a lap dance is between $20-30 depending on the entertainer. The average guy buys two dances during a visit to a Las Vegas strip club, so including a $5-10 tip per dance, we recommend bringing $70-80 for "extra entertainment."
The step up from the traditional lap dance is the "VIP room" which can start at $100 per song, and commonly involves a lot more intimacy than your standard dance.  If you're thinking this may be an option after a few drinks, we recommend bringing some serious cash along.  A few thousand for your group is a starting point.
All in all, the average guy should be planning on $40 between entry, transportation, and drinks – and another $100 ($20 in singles) for dances and small tips.
This makes a total of $140 a good rule of thumb, but you can still thoroughly enjoy the night for just $40 total if looking to cut costs and go minimum.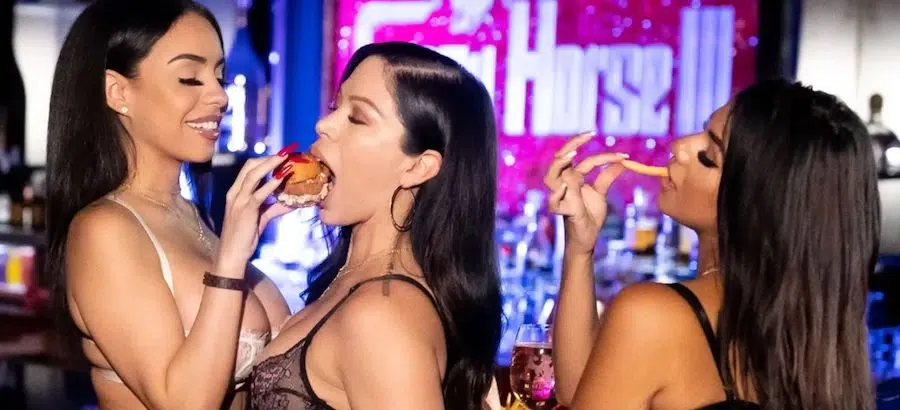 Making Las Vegas Strip Club Reservations
To reserve the $40 all inclusive package at any one of the best Las Vegas strip clubs, simply scroll down to our sign up form below and let us know what club you'd like and when is a good time for pickup at your hotel.
We guarantee free entry and round trip limo from any Las Vegas strip or downtown hotel.  You would simply buy two drinks at a total of $40 when you arrive. No hidden fees or charges, and no payment ahead of time is necessary.
If looking for immediate help you can reach us directly via text or call our hotline at 702-935-2425.
Las Vegas Strip Clubs Guide: Doing them the Right Way
Now that you have an idea of how much you can expect to save booking one of our Las Vegas Strip club deals, you should also be aware of some of the common pitfalls to avoid when planning your visit.
Avoid Bottle Service (Unless you Really Have the Cash)
While the strip club would love to sell you bottle service on top of admission and drinks, the truth is that it doesn't come with the same valuable real estate as in a Las Vegas nightclub.
In a nightclub, you need to purchase bottle service in order to have an area and place to sit (read more in our guide to Las Vegas bottle service).  The same is not true for a Las Vegas strip club.
As part of the two drink minimum entry package, you'll already be granted priority seating near the stage and a table to yourselves when you arrive.  This eliminates the main advantage to bottle service – your own booth and party section.
That being said, you will get more attention from the staff by buying bottles, so if you have the cash and want to go ultra VIP we of course won't stop you.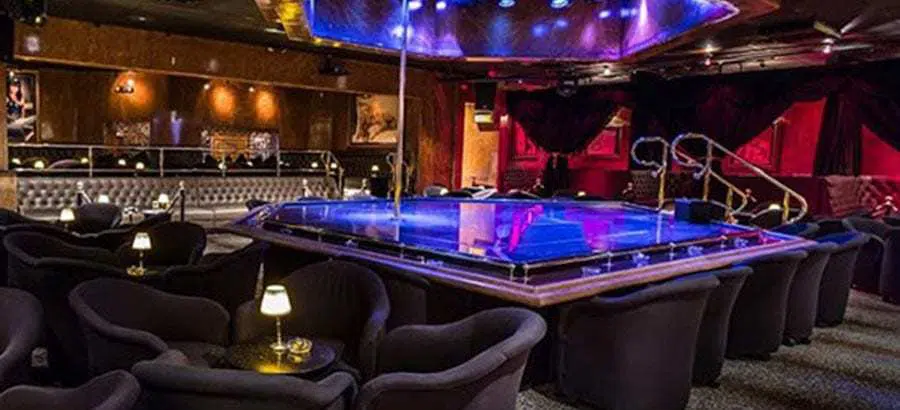 Dress like Money (Las Vegas Strip Club Dress Code)
As in the nightclub world, appearance is everything. The level of attention you get from the dancers will usually depend on how you come off.
A man with his wife at the strip club will get minimum attention compared to a group of bachelors. Guys decked out in suits and watches will have girls flocking to them while the guy in sweatpants will usually have to wait til they're done.
You should be somewhere in the middle – don't try too hard or be too flashy – but do look clean cut and well to do. It will end up stretching your dollar inside the club.
Some clothing items should be avoided. You may be denied admission for wearing:
Shorts of any Kind
Hats (most places are lenient)
Sweatshirts & Sweatpants
Sports Jerseys, Muscle Shirts & Athletic Wear
Athletic Sneakers & Sandals
Don't Listen to Anyone you Meet on the Strip (Seriously)
From the second you step out onto the Las Vegas strip you will be assaulted by dubious street promoters of all kinds, the most ruthless being the strip club promoters. We're convinced some will tell any lie necessary to make sure you get into their limo.
Usually you will end up completely lied to and having to pay for admission, transportation, drinks, and a return ride. Some of the worst stories include the sale of fake passes to unsuspecting patrons, and promises of admission to strip clubs that have been closed for years.
Avoid street promoters and their passes at all costs.
Take out Cash Ahead of Time
It's a commonly known fact that Las Vegas strip club ATMs charge exorbitant fees of $10-20 or even more for a withdrawal inside the club.
A good piece of advice is to visit one of your bank's ATMs off the strip or in one of the hotels before getting picked up. Bank of America, for example, has an ATM located on the fourth floor of the M&M store next to MGM Grand (a hidden gem).
The Best Las Vegas Strip Club Deals
Now that you know how Las Vegas strip club deals work, as well as some common practices to ensure a successful night, let's go over the options.  Although there are almost twenty strip clubs in Vegas, you'd only want to give your money to about five of them.
We've isolated the absolute best strip club deals in Las Vegas by venue and put them in order of our recommendation.
Want more? Visit our friends at Strip Club Concierge for their top 10 Vegas strip clubs guide, updated yearly.