Get 10 - 30% Off
Your Vegas Hotel
Looking for the absolute BEST hookups on hotels rates in Las Vegas (and other cities like Miami and Los Angeles)? We've partnered with Insider777 to create an exclusive set of INSIDER rates for our customers.
That means through our extensive network of promoters, we are able to offer a standard 10-30% off rates on any major hotel platform or online booking service (including Expedia, Travelocity, Priceline, etc).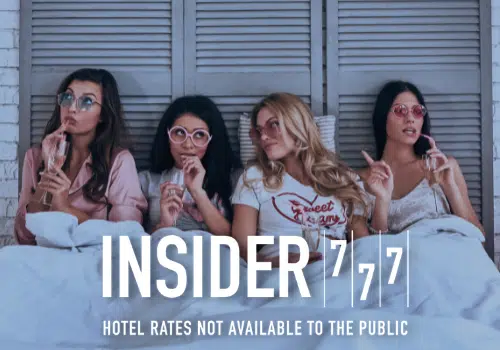 Our rates are so good that we offer a Price Match Guarantee on any rate that you see online for the same hotel and room. AND we'll take an additional 5% off, GUARANTEED. Book with confidence!
Simply click below to visit our partner Insider777, enter your trip information, and see exclusive rates available only to our network.
Are you a travel agent or do you frequently work with hotel bookings? You can join our platform to become an insider and start earning commission below.