Encore Beach Club Las Vegas
Days Open: Fri, Sat, Sun
Hours: 10:30am – 6pm
Hotel: Encore/Wynn
Area: North Strip
Encore Beach Club Guest List
Encore Beach Club features a guest list every Friday and Sunday, with certain Saturdays included as well depending on the talent.  The dress code is strictly swimwear, so be sure to wear a bathing suit even if you plan on hanging dry by the pool.  You can read more about the EBC Las Vegas dress code in our Guide to Encore Beach Club below.
Does Encore Beach Club offer a free guest list?
Encore Beach Club does offer a free guest list for all girl groups on Fridays and Sundays.
On certain Fridays and Sundays, the guest list is free even ratio girls to guys as well.  Contact us below with the date you'd like to attend to make sure your party gets in free and is taken care of.
How's the Encore Beach Club guest list work?
Simply enter your info in our guest list form below and we'll have our promoter personally reach out and touch base with a confirmation to show at the door for free entry and drinks.  The guest list at Encore Beach Club is open from 10:30am to 3pm.  You'll want to arrive early to avoid any wait, as EBC is one of the most popular pool parties in Vegas.
On certain days, EBC features an insider "Staff Guest List" reserved for friends of the bartenders, bussers, and waitresses.  When available, you will be placed on this list for expedited entry and special drink vouchers.
Is there free drinks on the guest list?
On Fridays and Sundays, girls receive drink tickets for vodka mixed drinks and champagne.  Depending on who's performing, the Encore Beach Club guest list on Saturday may also include drinks for girls.
What is the cover at Encore Beach Club?
Cover at EBC starts at $35 for guys and $25 for girls.  Girls are always free on the Encore Beach Club guest list, but guys are free even ratio only on select days.
On Saturdays and most other days, guys will have to buy tickets or pay cover at the door.  We recommend buying tickets ahead of time to avoid paying cover price, which can change as the night goes on.  We can get you a link if coming with a large group of guys, or get you pricing for bottle service as another option.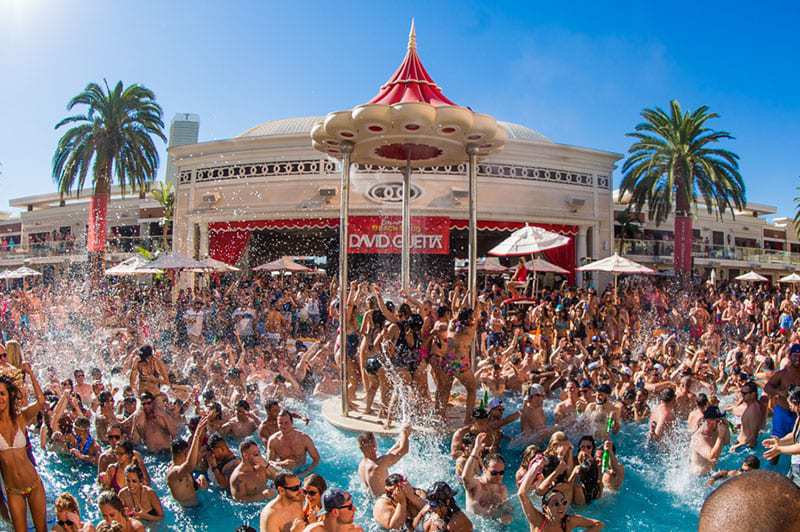 Las Vegas has changed for the time being, but we are adapting.
All venues are currently table reservations only. Nightclubs are being reworked as "lounges," and pool parties as simply "pools." We've gone ahead and assembled the best bottle service & small group activity options available right now.
Guest List Hours

:

The Guest List at Encore Beach Club is open from 10:30am – 3pm.
Free Entry

:

Girl groups are always free on the Encore Beach Club guest list. Mixed groups are free even ratio on Fridays and Sundays.
Free Drinks

:

Girls get drink tickets (good for vodka and champagne) on Fridays and Sundays, and select Saturdays.
Expedited Entry

:

We'll have our Encore Beach Club promoter reach out to assist you.  You will be on the VIP Staff Guest List for expedited entry.