You, a soon-to-be-married man, the groomsmen and his best friends have finally decided that Las Vegas, Nevada is where you'll be hosting the ultimate bachelor party.
Great, now what? It's time you find the best Vegas bachelor party package, and let the party of the millennium begin!
The old saying, "what happens in Vegas stays in Vegas," will apply once you arrive, but to help you out, we've decided to break this old rule. This exception will ensure that you can plan the best Las Vegas bachelor party for your friend who is about to tie the knot.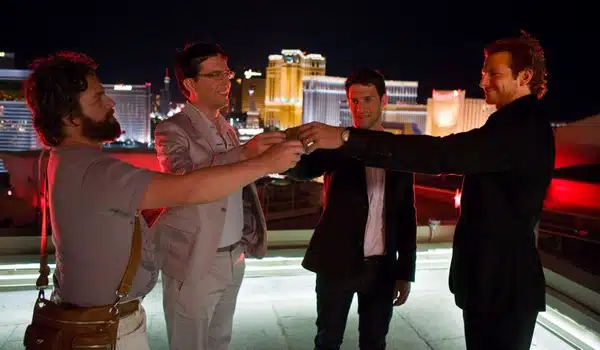 If you want to talk about this bachelor party for years, and make those who couldn't attend regret not going, you'll need a few key things.
To start, we know you'll want to send your friend off in style. We suggest you pool together for the best Vegas bachelor party package available for your tastes and desired activities.
This party package can include any or all of the following: VIP bottle service, the best nightclubs and strip clubs, an open bar party bus, and a limo to get you around the Las Vegas Strip in style.
Combined, the night will consist of rolling up to a hot night spot, getting out of a limo, skipping the 2-hour line, being seated at your VIP table, being served by a model waitress, and a bottle of liquor waiting at your table (that we'll bet you can't finish).
To plan the ultimate Las Vegas bachelor party, you'll need a customized Vegas bachelor party package. This includes hand-picked nightclubs, bars, and gentleman's clubs with VIP service.
We have ready for you: an overview of costs, how much your group should budget for the activities, and a summary of what happens at a bachelor party.
Also, what you'll need to prepare before you begin your bachelor party package.
By the time you're done reading this, you'll have your party planned, bags packed and ready to grab the next red-eye to Las Vegas. We'll see you there!
Vegas Bachelor Party Pricing and Packages
You're planning the ultimate bachelor party for you and 10-12 other guys, some of whom you've maybe met a handful of times.
Where do you start? Any bachelor party in Vegas requires four elements: Transportation, Great Food, Night Clubs and a Lap Dance (last part optional).
Pretty simple right? Not so much. How will you get around the Las Vegas Strip? Where will you eat?
Which clubs fit the entire group's vibe, and where do we get the best lap dances? Some would say at Crazy Horse III, but that's far from the only choice.
We'll start with transportation. There are always cabs waiting around the strip for a group like yours to get in.
But, here's the catch. You can't drink from a bottle in a taxi. Simply put, would you rather show up to Las Vegas' hottest nightclub in 4 yellow cabs or a limo? We already know your answer.
You can share a few laughs in a limo, have a drink, and roll up in style. Keeping the group together is better, and more bonding happens in a limo than in a bright yellow cab. We won't even get started on the fares cab drivers charge to tourists.
Next, we need to make sure the boys are well fed. Think of this as "the last supper," if you will.
A proper send-off dinner requires good food, old memories, and a lot of beer. It may be good to coat your stomach with something greasy before a night on the Vegas strip.
Now you're ready to take on all that Sin City offers. If you haven't planned your Vegas bachelor party package, you'll likely be waiting outside a nightclub in a lineup for 2-hours. And no, the bouncer won't let you in because it's your best friend's "last night of freedom."
Instead, choose a package that has VIP treatment. Then, when you select your package, keep an eye out for perks like express entry, bottle service, bottomless mixers, a private table, and a personal model waitress.
It's true what they say. Vegas is the city that never sleeps. Even after you've been out to a nightclub with bottle service and VIP treatment, there will probably be time for a lap dance. Most strip clubs are open 24 hours, so it's never the wrong time to treat the groom to a final dance before his wedding day.
If you include at least three of the four elements, you're sure to please everyone, but if you want to take it one step further, you can reach out to the group and ask them a few simple questions that will solidify the plan:
What is on your Vegas bucket list?
What kind of parties do you want to attend?
Which

nightclubs

(like Tao) do you want to go to?
What do you think should be included in a VIP package?
Once you have your list of ideas from your invitees and the four elements aligned, you can start building the package based on your choices.
Our packages let you mix and match. You can choose the parts of the packages you like and leave the details you don't.
For example, if VIP bottle service is what you're after, choose two or three clubs that offer bottle service. But, if you'd prefer to have VIP treatment at a few gentlemen's clubs, build your package around that.
To make this the bachelor party of the century, you'll want to create a custom package built to please everyone.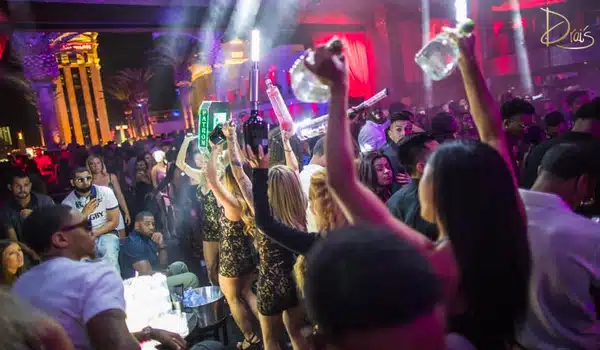 The Best Bachelor Party Bottle Service and Nightclub Packages
What do the best Vegas bachelor party packages include?
It should consist of skip-the-line entry, a VIP table, bottle service, bottomless mixers, a personal model waitress, and one or two free drinks at the afterparty.
And don't forget about riding in style. You won't need yellow cabs to bring you there; instead, you'll want a limo ride from your hotel to the nightclub. The limo can pick you up from MGM and drop you off at Crazy Horse. It's that easy.
We're sure you know what bottle service and limos are, but what's included in these VIP packages? What does a VIP table include?
And we're sure you want to know more about the personal model waitress that will be serving you all night.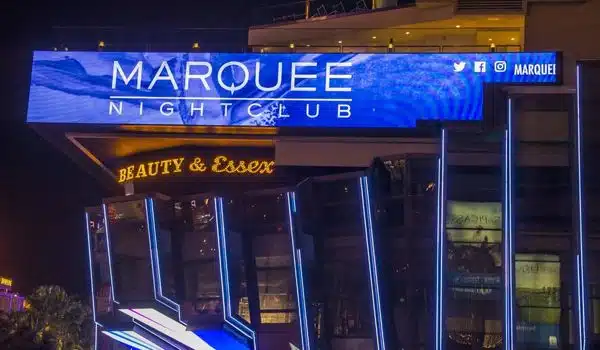 Bottle Service VIP Entry and VIP Table
We know you've been waiting for this trip for a while, so waiting even more once you get to Vegas is a drag.
VIP entry is a must if you want to be treated like a king in Vegas.
Forget about long lines, standing room only, and slow service. When your package includes VIP bachelor party perks, you'll skip the line, be escorted to your seat, and have someone waiting on you hand and foot.
With a package, you'll have a bottle waiting for you before you're even seated at your VIP table.
You won't have to think about ordering another drink because your waitress already has it on deck. Las Vegas nightlife can't get much better than that.
Are you still not sold on bottle service? Drinks at a Las Vegas nightclub can range from $15 to $20, but your group won't have to worry about budgeting when your package includes your drinks.
Consider buying a package that has been prepaid. Your only job will be to show up.
The rest is taken care of by your host or the club included in your package. The VIP host will have your reserved table and bottles set, waiting for your group to start drinking.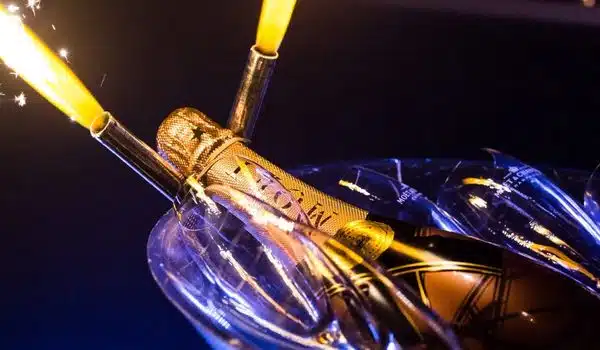 Vegas Limo Service and Private Pregame Bus
The only way to get through The Strip is in a limo or a private pregame party bus.
Sure, you could wait for a taxi and cram into a few yellow vans, but where's the fun in that?
We'd hate for you to show up to Marquee, one of Vegas's hottest nightclubs, in a beat-up yellow van. Instead of counting how many vans your group will need to get there, you can enjoy the whole VIP experience by being chauffeured in a limo to the best bars Sin City has to offer.
If you decide to include a pregame party bus in your package, you can get a tour of the entire strip while drinking from an open bar. You can spend an hour pregaming on a private party bus where the drinks are bottomless.
Your Personal Model Waitress
The bottle girl of your dreams is waiting at some of Vegas' hottest night spots.
She will provide your table service all night long. Attending to all of your needs, she'll fetch more mixers and shots and be at your table anytime you need something.
We've included the personal model waitress in some of our packages, so if you're thinking about the best packages that include this high-touch service, check out our best-selling packages.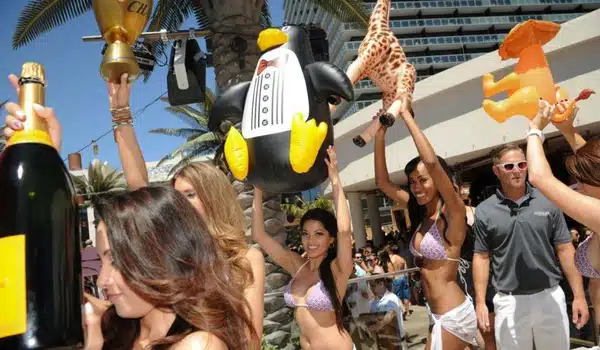 How much does a Las Vegas Bachelor Party Cost?
How can you put a price on the party of the year?
This is the end of an era, the climactic finish and the last hurrah for your soon-to-be-married friend. You can't put a price on that!
We know that unlike the mixers, your wallets are not bottomless. So what should you expect to spend in Vegas?
A reasonable budget to enjoy all the Las Vegas strip offers is around $200-$300 each per night. This allows you to venture through different nightspots, explore nightly activities, buy the groom a lap dance, and save room for late-night snacks.
Stripclubs and Nightclubs
You should consider a few costs when going to a gentlemen's club like Crazy Horse III in Vegas. Luckily, we have exclusive strip club deals with every venue in town.
The cover charge can be anywhere from $30 – $50
Lap dances typically cost $20, but it's expected you tip $5-10
The drinks will range anywhere from $15 – $20 each
VIP Bottle Service
VIP bottle service can range anywhere from $500 – $750 for a group of 4 to 5 people. VIP bottle service includes your entry fee, expedited entry, a VIP table, bottle(s), and a VIP host.
Limo Service and Pregame Party Bus
Purchasing limo service will run you around $85 – $120 per hour, depending on the size of your limo.
At most places, you will need to purchase an hour and a half. If you prefer to be on a deluxe party bus, you can expect to pay around $100 per person for 1 hour.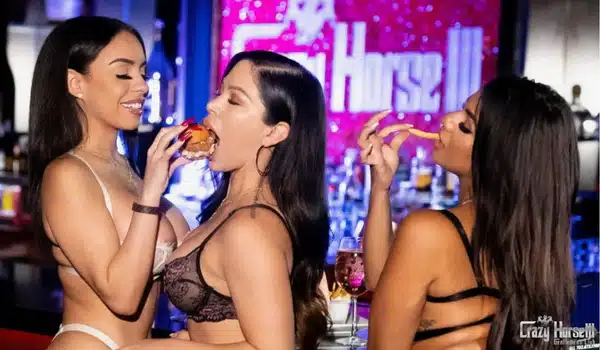 What happens at a Bachelor Party in Vegas?
We can not guarantee that you will live through the same night that the boys in Hangover did, but we can guarantee that you'll have a good time enjoying all the Las Vegas Strip offers.
Moreover, Vegas has a never-ending list of activities you can include on your itinerary. Depending on free time this trip, you could fill all 24 hours with events.
A bachelor party in Vegas consists of two types of activities.
The activities you do during the day like golf, sunbathing, pool parties, and outdoor adventure events.
And the activities you do at night: club crawls, strip clubs, concerts, hockey games or shows.
Vegas Day Activities
There's always some new activity in Vegas that you and the boys can explore during the day. So you won't have to look very far to find something everyone can agree on doing.
If you're interested in cars, you can race a Maserati at a racetrack or spin out on the groom while go-karting. Check out Drai's beach club if you'd rather listen to a DJ by the pool.
Or, if you're feeling adventurous, you can fire off an assortment of real machine guns in a safe, controlled environment.
Caesars Palace has some of the best poker games in Vegas, so if you think you can take on some of the greatest poker players, check out some of them.
Vegas Nightlife
The best way to experience the strip is by having a Vegas bachelor party package already set up for you.
If the packages you see don't include the clubs you had in mind, then we can work with you to build the dream bachelor party package.
Consider a few of the hottest nightclubs the Las Vegas Strip has to offer. Marquee offers a unique club experience. The Library room, inside on the second floor, is one of Las Vegas' best hip-hop clubs-within-a-club. Go here world-renowned musical artists and DJs.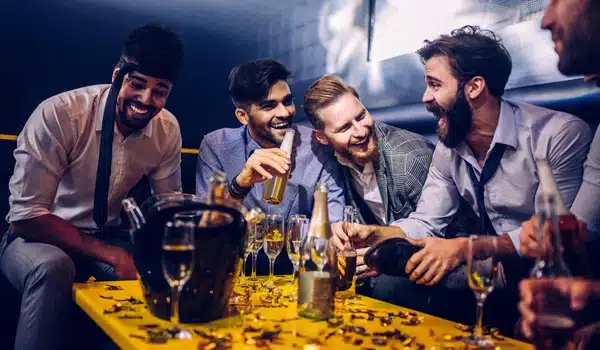 What to Do Before Your Bachelor Party Package?
Before you're ready to experience the best bachelor party packages that Las Vegas has to offer, you need to think of the logistics for planning your trip.
Simple questions like who's coming, how long we will go, and where we are staying will help you plan the trip and your package. The price per head will differ based on how many people attend, so you'll want to keep that in mind.
Next, start with preparing your guest list and ask some of these key questions:
How many people would ideally attend this party?
Who do we want to invite?
How long will you go?
How many hotel rooms do you need to book?
Which flights work best for everyone's schedule?
Plus, you'll want to ensure your party package accommodates your entire guest list. For example, you wouldn't want to book a 6-seat limo if you have 9 guests attending.
Next, once you've settled on dates, you'll want to pick a hotel in a central location. Consider iconic hotels like MGM Grand, Bellagio, Caesars Palace, Luxor, Mandalay Bay, Wynn Las Vegas and The Venetian. If you book enough rooms, you may be able to get a bachelor party hotel package that suits your needs.
Now you need to find out which airline and what time you will want to fly. Where will you meet if everyone comes from different parts of the country? This is an essential part of the planning because you won't want to miss activities due to miscommunication with travel plans.
Finally, get ready to have fun. Before your bachelor party package begins, make sure you're wearing the proper attire, you have everything you need, including your wallet and cash, and that everyone has their matching t-shirt.
The shirts will be a surefire way for you to get free shots from the ladies and other clubgoers (pro tip).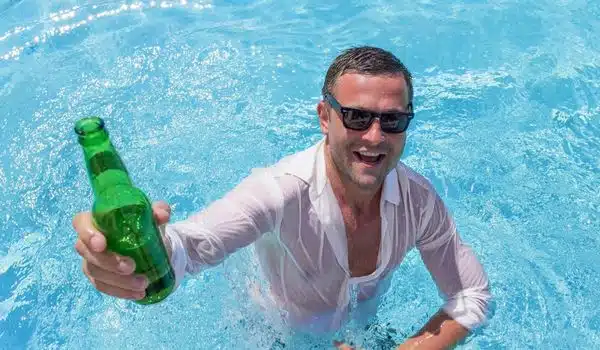 Frequently Asked Vegas Bachelor Party Questions
We know you are going to be asking these.
Do my events start at a specific time?
When you book a Las Vegas bachelor party package with us, you'll receive a full itinerary with dates and times for each event. They will specify if an event has a specific time you need to arrive or if you can attend at your leisure.
Different parts of the package will have specific start times, while others you can arrive when you'd like.
Packages that include bottle service: your host will prepay your table and send you an arrival time.
Packages that include limo service: you'll be provided with a specific time that you'll need to meet the driver.
Packages that include Vegas strip clubs: you can schedule your limo service at your leisure.
Do I pay now or when I arrive?
All of our VIP packages are prepaid. This means that the limo, VIP bottle service, and table are already paid for before you get there. You'll only need to be there, and the rest is taken care of. A VIP host will meet you at the door and bring you to your table, where they'll meet you with a bottle and mixes for your drinks, all of which have been prepaid.
For select clubs, we'll secure your reservation in advance and have you pay on arrival. This will ensure that your group gets the best rate and table location. Once you've booked your package, our host will guide you on what's best for specific venues, when you'll need to pay on arrival, and when the club has been prepaid.
Who usually pays for a bachelor party?
One of the most sacred rules of any bachelor party is that the groom should pay for nothing.
That means that attendees of the party will cover the cost. The event should be cost-free for the groom as the bachelor party is the final send-off before your friend ties the knot.
Typically, the best man will charge per head for the drinks and entertainment, or split the cost amongst the group including the groom's expenses.
Charge an initial amount for attendees based on the itinerary. Your price per head could include flights, hotels, car rental, and activities.
When purchasing a bachelor party package, you can divide the total cost by the number of people attending the event minus the groom.
What do I wear to a bachelor party?
The attire at a bachelor party depends on your activity and time of day.
For example, if you're attending a pool party, you may wear swim shorts, but if you are attending an upscale nightspot, you'll need to dress your best.
Most clubs in Vegas have a strict dress code that must be adhered. Many partygoers in Vegas have been denied entry to popular spots like Tao due to a dress code violation.
If you wear something against the dress code, you'll likely be turned away at the door. For example, clubs usually ask that you do not wear tennis shoes or baseball caps.
If you show up dressed in such, they will just ask you to change your shoes and remove the hat. But that could mean a trip back to the hotel.
Before attending any clubs in Vegas, check the dress code rules. When booking a package through us, your host will provide you with your package details, so you'll completely understand the dress code requirements.
Here are a few things that are against the dress code in most Vegas nightspots:
Ball caps and hats
Shorts
Cut-offs
Baggy Jeans
Jerseys
Long sleeve T-shirts
Athletic wear
Sneakers or tennis shoes
When packing your bags for Las Vegas, you'll want to bring clothes considered "business chic." This includes dress pants, dress shirts, and nice shoes.
Vegas is not your hometown bar, so you won't be able to get through wearing anything you want.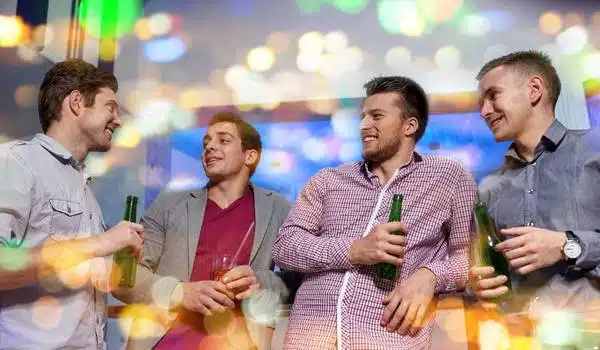 Do guys give gifts at bachelor parties?
Unlike an engagement party or wedding shower, bringing a gift is not customary.
The bachelor and bachelorette parties are more of a social gathering and night or weekend fun. However, many people will include in the party itinerary that guests should bring a gag gift or something the groom can use during the weekend or maybe even at the strip club.
In any case, bringing a formal gift isn't necessary. If you feel the urge to get a gift, try to think of something simple like a t-shirt, keyring, coffee mug, or something similar that can bring back the memories of the Las Vegas bachelor party.
Does the best man plan the bachelor party?
It was customary that the best man planned the bachelor party in the past.
Now, we're seeing this become more of a group effort as everyone wants to get in on coming up with iconic bachelor party ideas.
The best man is still in charge of the logistics like the initial invitation, managing the final planning and overall execution.
What do you bring to a bachelor party?
You want to ensure you have all the essentials for a weekend with the boys. But, this is different from any sunny destination vacation you've been on, so we've put together a list to help you pack.
Swimsuit — for the pool parties and day clubs.
Flip flops — so you don't have to wear golf shoes at the pool.
Sunscreen — because no one likes going out looking like a lobster.
Ibuprofen — for the guaranteed hangover.
Nightclub attire — because you won't want to be denied entry into a club.
Dress shoes — for the nightclub, remember you can't wear sneakers there.
Golf attire and shoes — so you can be comfortable while hitting 18-holes.
First aid kit — this one is serious. You can't predict which one of you may get hurt.
Cash — because no one wants to pay 18% withdrawal fees at the strip club.
Matching shirts — this will tell everyone that your buddy is getting hitched. It is also the best way for single guys on the trip to meet other single girls participating in a Vegas bachelorette party.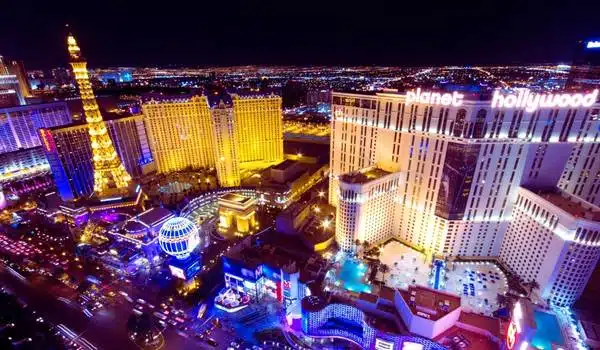 Get Started on Your Las Vegas Bachelor Party Packages
Now you're ready to take the red-eye to Las Vegas, NV!
All you need to do is select the Vegas bachelor party package that fits your needs. Gather all of the bachelor party ideas, and choose the nightclubs, strip clubs, and VIP must-dos that will ensure you, the groom and the boys have a night they will never forget.
Tell us what your dream bachelor party package includes, then leave the rest to us. The only thing you'll need to do is show up. We'll see you there!
Fill in the package inquiry below to get started!