Days Open: Fri, Sat, Sun
Hours: 11:00am – 6:00pm
Hotel: Cosmopolitan
Area: Center Strip
Marquee Nightclub and Dayclub has a sprawling 60,000 square foot layout including a massive inside labyrinth of hallways and rooms and huge outdoor patio circling the main pool.
The Marquee Dayclub Guest List features a free even ratio (girls:guys) guest list, including a complimentary open bar for girls for (1pm-2pm).
Marquee Dayclub is home to world class electronic and house music talent, featured center stage on "Beatwave" Sundays.
The Ultimate Guide to Marquee Dayclub
You aren't given a reputation for best pool party in Las Vegas for no reason. There is ample work that goes into a title like that. It is a title that Marquee Dayclub wears with honor.
The common thread among guests is that the non-stop party is one of the best that they have experienced on the West Coast. Reviewers have said:
" The music is always amazing…it's one of the best sound systems I've heard."
"One of my favorite parties on the Las Vegas strip."
"We tried other pools and left for the Marquee every time."
Marquee Dayclub puts its effort into being a non stop, Champagne popping extravaganza by having the best music, themed parties, gorgeous Marquee dolls and an experience that you won't find any where else. Come visit Marquee Dayclub!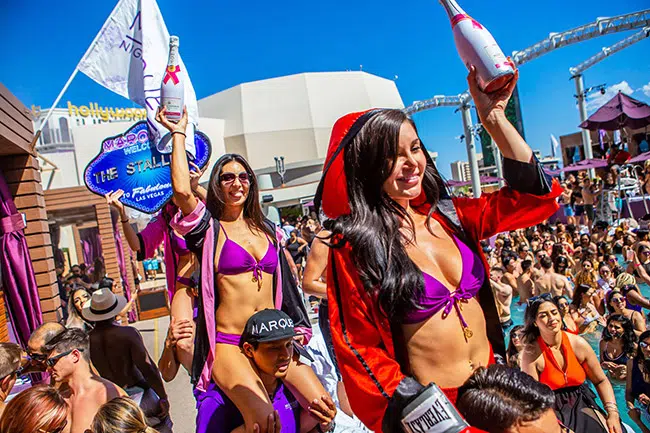 World Class DJ Talent
The power house dayclub sets itself apart by having constant entertainment to keep you engaged and ready to party. You will hear outrageous mixes from the likes of Chris Lake, Chuckie, Deorro, DJ Ruckus, Jeffrey Sutorius (also known as Dash Berlin), DJ Mustard, R3hab, Sam Feldt and more.
The most anticipated new addition to the lineup is 2021 Resident DJ and Australian sensation Fisher.
These veteran DJ's are always highly rated and known among the Marquee crowd for keeping the Dayclub alive all day long. Marquee almost always has electronic music blasting through its sound system every day of the week. There will be some house, top 40, and even hip hop mixed into the set as well.
Being a rooftop club, Marquee also has epic views of the strip. (The perfect spot to give your Instagram friends FOMO). The outdoor/indoor model of Marquee is unique and a hit for most visitors for a number of reasons. When it is too crowded at the outdoor bar, you can easily wander inside to the indoor bar. If the sun becomes a bit too hot for you, you can hop indoors for a few moments to cool off. Don't expect to cool off that much because there will still be music and a full on party happening inside.
Former Marquee Doll is Crowned Miss Nevada
Marquee is a beautiful venue that strives to be aesthetically pleasing. The staff is equally gorgeous and is hand selected each season to bring you the best eye candy that Nevada has to offer.
Queue the Marquee dolls. They are a divine group of women that get the party started. You can find them dancing at the venue, serving the cabanas, and looking amazing AF. It comes as no surprise that one of Marquee's former dolls currently wears the Miss Nevada USA 2019 title.
Marquee knows how to pick their dolls and Tianna Tuamoheloa is an absolute stunner. She is an athlete, an advocate for mental health issues, works to get stronger physical education and art programs into school districts and spaces throughout her community. She also was hand selected to perform for President Obama at the White House.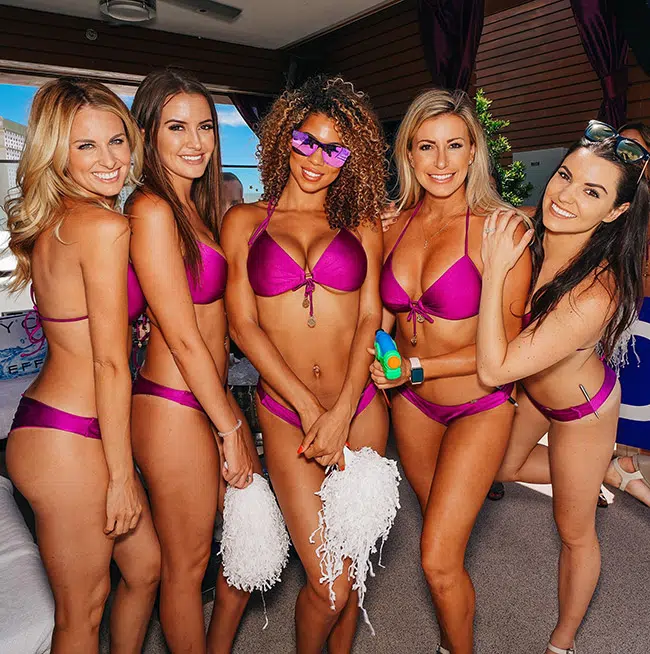 The Need to Know
Marquee Dayclub is located at The Cosmopolitan Hotel. The Dayclub is a rooftop festivity that is the extension of Marquee Nightclub.
Head to the Cosmopolitan at 3708 S Las Vegas Blvd, Las Vegas, NV 89109.  You will enter at the front of the hotel and walk until you see the Chandelier Bar. Take the escalator to the second floor. The Marquee entrance will be in front of you and slightly to the left. If you are on the guest list or have a table then you will let the host know and they will direct you to the correct line.
Marquee is arguably the most popular Dayclub in Las Vegas so there may be a line even if you contacted us before hand and got on the list. We recommend arriving no later than 30 minutes prior to the time of opening (especially with a group of guys).
Doors open at 11:00am and closes at 6:00pm Friday through Sunday, during the summer.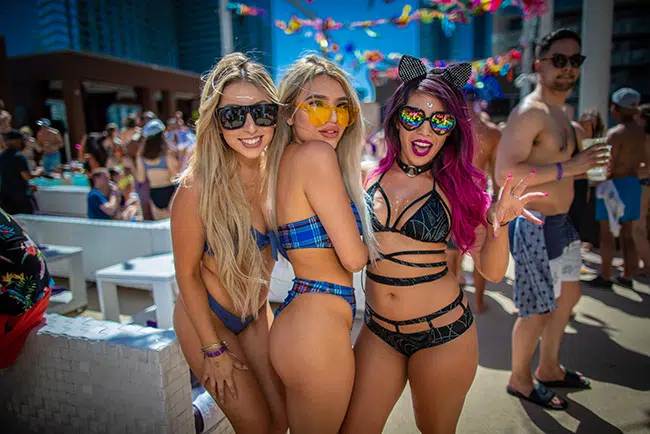 Guest List
Entrance is typically free during the week (pool party is weekends only) and weekends start at $20 for women and $50 for men – for those not on the guest list. The price will vary depending on the musical performer and if you are going on a holiday. You can also check out Marquee's all access wristbands that give you entry all weekend long.
If you are on the guest list, ladies will get free entry and gentlemen will get free or reduced entry. This will vary and is also based on the female to male ratio being 1:1.
Women will typically get drink tickets or open bar access if they arrive on the earlier side. We recommend getting there 30 minutes before it opens to allow for any lines that may build up.
Dress Code
Like most clubs in Las Vegas, Marquee has simple rules when it comes to dress code.
Upscale swimwear attire is required to gain entry. Please leave the basketball shorts, ripped clothing, jerseys, baggy clothing, baseball hats, robes at home.
Instead go for nice sandals or wedges and a summer dress or swimsuit cover up for women, and nice shorts and summer shoes/sandals, and a nice t shirt or polo for men.
Bottle Service and VIP Table Options
By purchasing bottle service for your party, not only will you be one step ahead of everyone else – because your drink will constantly be refilled by a gorgeous waitress – but you usually also get to bypass all the general admission lines. Less waiting and more focusing on the important things: your next drink.
The pricing for bottle service will mainly depend on which daybed or cabana your group selects. The location and size of your section will determine the bottle service minimum. We got your back and can figure all of that out for you when we know which weekend you will be coming and how many people you will have in your group. Easily browse and book bottle service on our official live pricing link.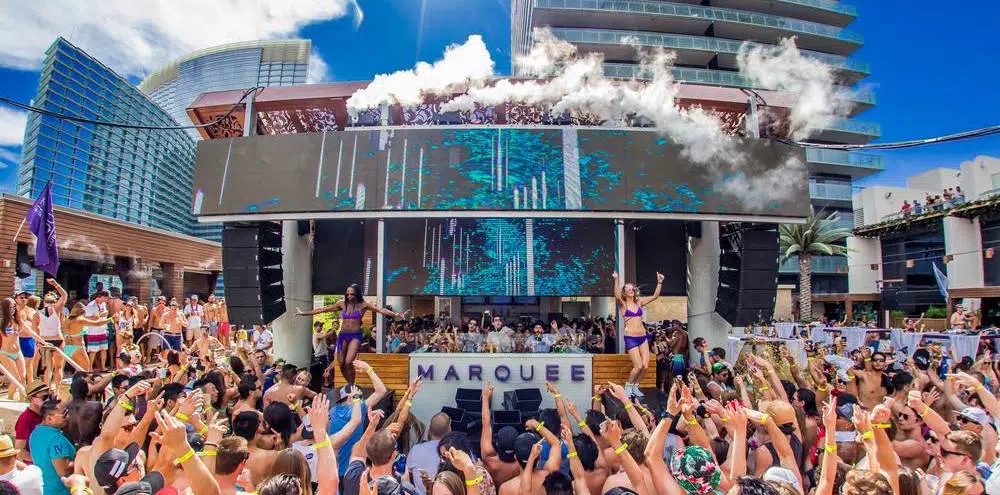 Daybeds, Cabanas, and Poolside VIP Tables
For Daybeds you have a few options. First, all daybeds and cabanas are facing the DJ booth. There are modern purple cushioned daybeds lining the middle section of the venue in rows. There are small private pools along the left and right side between the daybeds and cabanas that are reserved for the cabanas that are up against the glass walls that overlook the strip.
All of your options include VIP service, expedited entry into Marquee Dayclub, personal host and server, entry includes cover charge:
-Daybed: plush white comfortable daybed front and center of the action. Maximum 8 guests. Typically starting at $1,000.00
-Poolside Daybed: plush white comfortable day bed situated around the public pool area. Maximum 8 guests. Typically starting at $3,000.00
-Bungalow Cabana: luxurious covered daybed with curtains, tvs, and mini fridge. Maximum 12 guests. Typically starting at $4,000.00
-Grand Cabana: Gorgeous wood exterior with plush interior cabanas lining the strip side of the space. Couches, tv, mini fridge. Maximum 15 guests. Typically starting at $7,000.00
-Main Room: This is the inside part of Marquee Nightclub that will be open during the daytime. Enjoy a break in the shade to refill your drinks and cool off before heading back out! Maximum up to 5 guests. Starting at $500.00
Did someone say Comped tables? Sure there are times when a comped table can be available to you and your group. It depends on a few different factors and can vary weekend to weekend. The best days for this are Beatwave Sundays and select Fridays, and the hookup is typically available to groups of all girls only.
Have you heard about our Promo Table?
If you aren't going with a large group, or you want to take in the fun by yourself and meet other fun singles while you are out then we have a great option for you. Insert: The Promo Table.
This is a shared comp table option that could be perfect for what you're looking for, however it is available to groups of all girls only. When you decide you're going to the club, give us an inquiry and ask about out Promo table and whether it is available or not. Party like a rockstar and make instant new friends? Done and Done!
Post-Covid: Demand has been crazy enough that the venue has almost been sold out on a daily basis. We expect the hookups to come back soon after the initial rush of people to Vegas.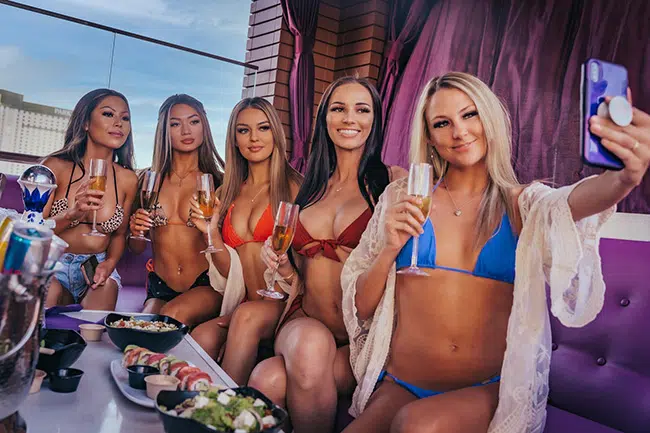 The Cosmopolitan 3 Story Bungalows
Let's talk luxury. The 3 story, exclusive bungalows are everything we ever wanted in life.
They feature spacious communal space, living quarters, infinity plunge pools, large rooftop terrace, butler services, welcome gift, private vip check in and if that isn't enough, they also include round trip transportation to and from the airport. The amazing terrace over looks Marquee Dayclub, so you can party from the comfort of your private balcony like a boss.
How To Calculate Your Total Spend
Your total spend will depend greatly on the number of people in your group, the table you choose, and the bottle package that your group decides to choose.
Here is an estimate of what you can expect:
On top of your minimum spend, there is,
8.1% sales tax
18-20% gratuity (your choice)
5-7% venue fee (depends on min)
This adds roughly 30-35% on top of your total bill. Simply multiply your bottle service quote by 1.3 to get a rough estimation of cost out the door (e.g. a $2k min spend would be approximately $2000 x 1.3 = $2600 all in).
Looking for a deal? Always contact us ahead of time to see if a deal is possible on any given night.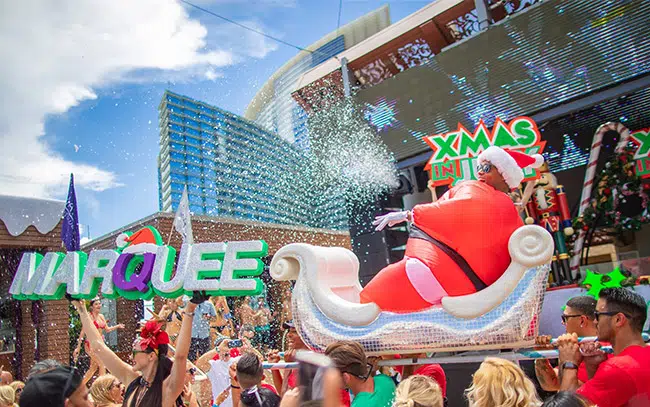 Travis Scott Marquee Residency
Travis Scott has blown up over the last few years… and no not only because he is the partner of makeup mogul Kylie Jenner. He has made a name for himself with his concert series that sold out last year, music collaborations, as well as his new Air Jordan 6 collaboration coming out soon.
He has signed on to a residency for Marquee Las Vegas and fans couldn't be happier. Travis brings a youthful energy that embodies everything that Marquee is about. During his first weekend at Marquee, Travis was seen partying with James Harden and other friends at Marquee Dayclub to celebrate. You can expect to see a lot more of him during his residency!
Hungry After the Party?
Need to get your grub on after copious amounts of champagne at your daybed? Us too! We have the best news for you; you are at The Cosmopolitan hotel. They have some of the BEST new restaurants in the city. There is an array of restaurants that hail from New York and Los Angeles, whos' chefs are world renowned.
Vegas likes to party, and Vegas definitely likes to eat. Here are our top recommendations to satiate you after you leave the pool. All of the restaurants below will be on the same floor as the Marquee entrance. Or just take the escalators up a floor next to the Chandelier bar.
Eggslut – You read that correctly! Eggslut is the most delicious concoction of egg sandwiches of all flavors! This spot is a local favorite and you can expect the lines to be long. Don't let that discourage you. You must try it! We recommend the Gaucho sandwich!
Momofuku – Asian fusion restaurant with unique items on the menu. The pork belly buns are to die for!
Secret Pizza – We almost don't want to tell you about it because it's that good and we'd like to keep it a secret. Okay fine we will spill the beans. This pizza is the best. Not many people would argue that. You can order by the slice or a whole pie. Lines will be VERY long, but SO worth it.
The Most Epic Day Party in Las Vegas
The bottom line is, you will hear about Marquee Dayclub all throughout your trip to Las Vegas, so you might as well come join the fun.
It is one of the most talked about pool parties, and has consistently been so for the last 10 years. You won't go to another day party that lives up to everything that Las Vegas is supposed to be, a detonation of joy, debauchery, and pandemonium! Marquee is as extra as extra can be and that is what we love about it.
Marquee Dayclub Guest List