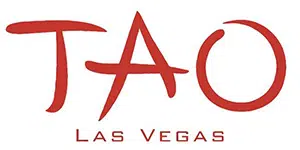 Days Open: Thu, Fri, Sat
Hours: 10:30pm – 4:00am
Bottle Pricing: $-$$
Hotel: The Venetian (North Strip)
Music: Hip Hop / Top40
Top DJs: DJ Mustard, Chuckie, DJ Five, Crespo, Mike Attack, Five Color Zack
TAO Las Vegas is a hot spot for Hip Hop / Top40 sounds, featuring a residency by DJ Mustard, and recent performances by Snoop Dogg, French Montana, and Nas.
The TAO Las Vegas Guest List features Free Even Ratio Admission (girls:guys), as well as Open Bar for Girls from 11:30pm-12:30am.
TAO Nightclub is one of the longest running parties in Vegas, attracting hip crowds and long lines for nearly a decade.
The Ultimate Guide to TAO Nightclub
TAO Las Vegas opened in 2005 and has been steady with its star sightings, DJ performances, and long entry lines. Every Vegas local and visitor alike can agree that TAO is one of the best, and has been since its birth here on the west coast.
If you've visited TAO New York, Chicago, or LA – then you won't be surprised that it's sister property in Vegas is just as gorgeous and holds up to the family standard.
TAO is gloriously designed and decorated. It is equipped with three full service bars, two main rooms, private skyboxes, and an outside terrace boasting views of the Las Vegas strip.  TAO is chic, upscale, and an all around unique venue.
Your group will never regret the moment you step inside TAO's sexy "Asian City" inspired world. Let yourself be transported to one of the most iconic nightclubs on the West Coast.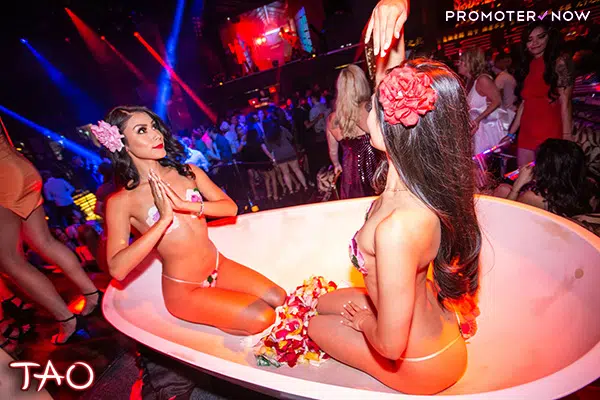 How is TAO Nightclub Different?
We all know that sex sells. No one sells it quite like TAO. It doesn't get much steamier than walking through TAO's entrance.
You'll be walking through a dimly lit tunnel on your way in. Among the lit candles adorning the walls, there will be bathtubs on lining either side of you. The bathtubs are over flowing with warm sudsy water and lush pink rose petals.
That's not all..there are gorgeous models in the bathtubs! What more do you need to feel the mood of this nightclub?  The models are hand selected, and most definitely fit the ideal of TAO's glamour.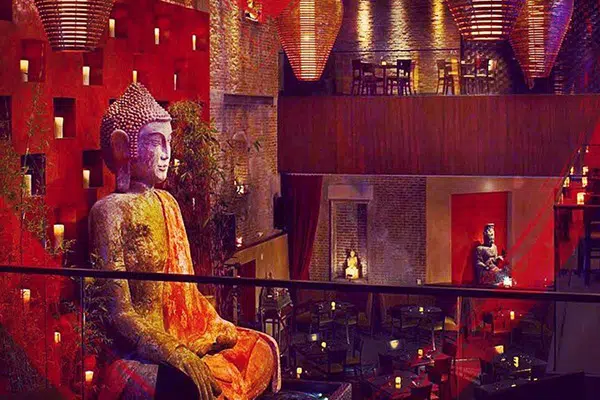 TAO's pan-Asian theme is a huge factor in what makes the club so aesthetically pleasing. You will be surrounded by beauty and décor unlike anything you've seen in a nightclub. One of our favorite parts of the venue is the beautiful giant central Buddah, adorning the entrance to the main floor.
Make sure to stop and take a photo on your way up the stairs to the nightclub. You will notice that all corners of the nightclub have mini Buddah statues in them to send positive vibes your way all night long!
What Kind of Music Will I Hear?
TAO is known for playing Hip Hop & Top 40, and for giving their DJ's creative license to mix in whatever will get the crowd hyped. Trust us that every song will get you moving, there is no doubt about that!
TAO is one huge dance party above anything else. You can expect the hottest performers and DJ's to be in attendance. The current line up of DJ's are some of the hottest in the industry; DJ Five, Crespo, Four Color Zack, Justin Credible, Eric Dlux, Vice, and our favorite DJ Mustard.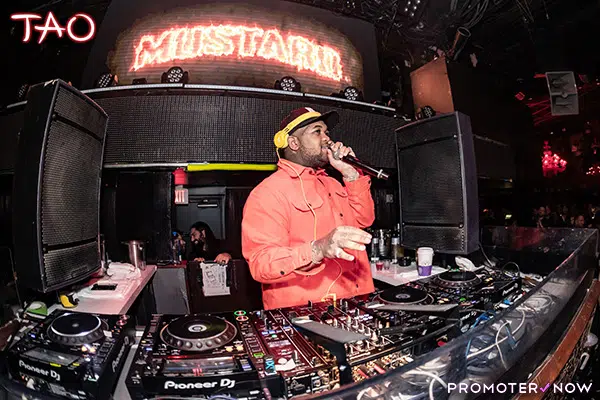 Location
TAO Nightclub is located inside the Venetian hotel, at the end of the Grand Canal shops. The exact address is 3377 South Las Vegas Boulevard, Las Vegas, NV 89109.
Once you arrive at The Venetian you will most likely park in the main parking garage. You will head towards the casino floor, and you will be heading directly towards the TAO podium.
Once there you will be directed to the second floor, which houses the nightclub. Look for two grand escalators going up from the casino floor, and at the top you'll find TAO.
TAO Nightclub Dress Code
A good rule of thumb for TAO is to avoid anything that could be considered casual or sportswear.
Men should go for nice shoes and a collared shirt. Women should wear heels, a nice dress or nice pants and top. Here's a nifty visual guide we made: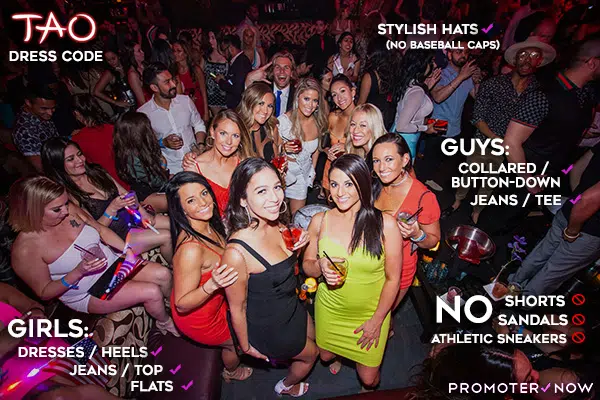 No shorts, hats, or open toed sandals allowed. If you must wear sneakers, opt for black and unsporty (no "tennis shoes").
We'd avoid wearing anything that has holes/rips, or looks like swimwear/swimwear cover up. You always want to risk being over dressed rather than under dressed when it comes to TAO. They can be strict on dress code, and do have the liberty to turn anyone away that does not follow the rules.
Tickets
TAO nightclub is open Thursday through Saturday, from 10:30pm to 4:00am nightly. Ticket price will often depend upon the special guest of the evening.
Holidays and busier days of the week can also warrant a different price. Typically, for general admission you can expect ladies to pay $15.00 and gentlemen $20.00. You may purchase tickets here and use our code: "PROMOTERNOW" to receive a discount.
Our best recommendation: add yourself to our guest list below (Free Entry in a 1:1 Even Ratio of Girls to Guys).
Guest List
If you sign up for the TAO guest list in advance, you'll gain free entry with an even 1:1 ratio of men and women.
This is always available, aside from busy Holiday Weekends (Memorial Day / Labor Day / New Years Eve) or special guest performances. Check out our TAO events calendar to confirm availability the night you're planning to come.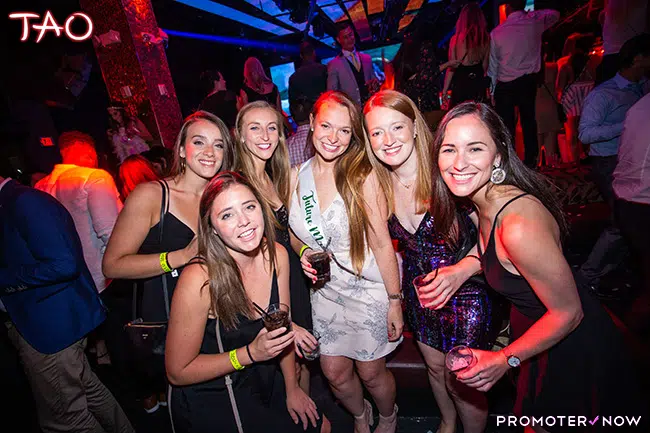 We always recommend you go the guest list route because of the benefits.
Complimentary admission is one, faster entry is another. But above all: TAO offers an Open Bar for Girls 11:30pm – 12:30am every night (Mixed Drinks & Champagne).
Girls on our guest list: you'll receive a VIP wristband at check in granting you open bar privilege inside the venue. Don't miss out 🙂
Comp Tables
Yes, girls. It's possible to get a complimentary table on slower nights. Comps are always based on availability and intended for high-energy girl groups and local Vegas industry people.
In other words, groups that bring the party.
It's also important to keep in mind that a comp table is not guaranteed for the entire night like a paying reservation is. You are subject to being moved, and the table subject to being sold.
The best option is to sign up for the guest list below, or send us a custom inquiry to determine availability on a given night or event.
When You Arrive
Even if you are on a guest list, TAO is one of the most popular nightclubs in Las Vegas. We suggest arriving no later than 10:20pm (10 minutes to open) to avoid a wait. Especially if you have a larger group checking in on the Guest List or have made a VIP Table reservation.
TAO gets packed quickly, so you'll want to have your entire group together and on time to ensure you get in as quickly as possible.
Guest List: You'll check in on the right side of the club, and present your text confirmation (we'll send you this) to the guy with the clipboard. He will mark down your name, grant you open bar wristbands for the girls in your group, and walk you inside.
Table Reservations: You'll be checking in with the host podium on the left side of the club. Simply present your confirmation and a host will get your table set up for you and walk you in.
Booking with us? We have several options that include a personal host to help you from start to finish.
How Much is Bottle Service At TAO Nightclub?
Bottle service will completely depend upon where your table is, the number of people in your group, and any special events going on at the club that day.
Another big variable is the type of bottles that your table is planning on ordering (see menu below). Champagne can get costly and flow quickly, as they say.
Bottle service minimum spends at TAO typically starts at $600 (1 bottle), and can go up to around $2,500 (multiple bottles) depending on table location, number of people, day of the week, specific event, and any special holidays.
To get the most up to date pricing, and take advantage of any deals the night you wish to attend, contact us below with a quick inquiry.
How To Calculate Your Total Spend
Your total spend will depend greatly on the number of people in your group, the table you choose, and the individual bottles that your group decides on.
You'll be given a minimum spend for your table location, and you can fulfill that through ordering anything you like on the menu up to and beyond that dollar amount.
Here is an estimate of what you can expect:
On top of your minimum spend, there is,
8.1% sales tax
18-20% gratuity (your choice)
5-7% venue fee (depends on min)
This adds roughly 30-35% on top of your total bill. Simply multiply your bottle service quote by 1.3 to get a rough estimation of cost out the door (e.g. a $2k min spend would be approximately $2000 x 1.3 = $2600 all in).
Looking for a deal? Always contact us ahead of time to see if a deal is possible on any given night.
TAO Nightclub Table Map
There are many sections throughout TAO nightclub for VIP seating. Based upon the size of your group we can suggest what room and table would be best suited for your party.
Please be advised that table prices are subject to change depending on special guests, weekday vs. weekend prices, and special DJ performances.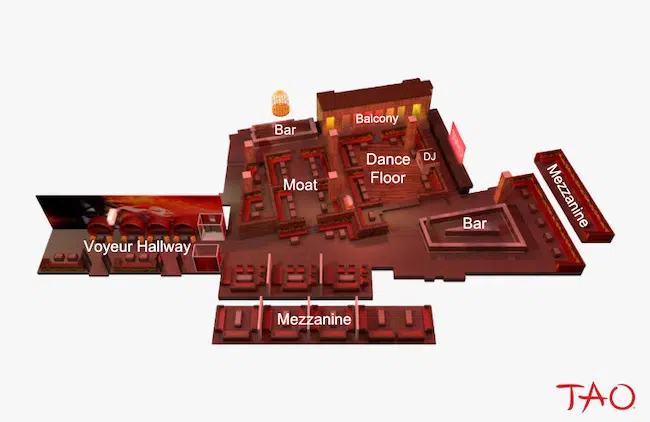 Unique Elements Of TAO Nightclub
There are a few different rooms that make up TAO and certainly makes it more unique than just your average nightclub.
First, there is the Opium room. This room is setup to model a laid back lounge. It is also open 5pm-12am Sunday through Wednesday when the nightclub is closed. The Opium room has its own DJ booth, 11 VIP tables and its own bar. There are gorgeous red sofas around the room as well as oriental wall décor.
Then, there is Monk bar. This bar is a spiritual, intimate space inside the nightclub. The red lighting is continued here as well as monk statues holding candles surrounding the bar.
There is also the Moat area, which is a VIP section, the Mezzanine with 12 VIP tables, the Loft with 3 VIP tables, the lounge with 11 VIP tables and its own bar and DJ booth.
There will be a special place for each person in your party in one of these unique spaces inside the TAO nightclub venue.
The Kardashians celebrate their birthdays at TAO Las Vegas
If you want to celebrate your birthday like a celeb- then why not do it like a Kardashain and host your party at TAO Nightclub?! TAO has a long time relationship with the famed sisters and has been the setting for many birthday parties and events. Kim, and Khloe have both had their extravagant birthday celebrations at TAO, and of course the entire Kardashian clan was there to party.
Who knows, if you join us at TAO on your next Vegas trip, you may just spot a Kardashian, or one of the many other celebrities that count on TAO for a good time.
Mariah Carey celebrates her Billboard ICON award at TAO
It is no secret that TAO draws in the glitz and glamour of the world. There is always a celebrity and their entourage celebrating a birthday, hosting, or partying with friends at TAO. The iconic siren, Mariah Carey recently hung out at TAO nightclub to celebrate her well- deserved win at the BBMAs! She was seen having fun and celebrating with talented singer, Jennifer Hudson after the event.
Restaurants at The Venetian
So you're headed to TAO Nightclub but you realize that you're hungry. We don't want you to get Hangry so we advise on eating at one of the many restaurants in the Venetian before you head inside. Did you know that TAO has an Asian bistro on it's first floor? You may want to eat there so you only have a flight of stairs between you and the party. We recommend making reservations ahead of time if you want to check it out because the restaurant does get booked up right away!
For other options, we recommend:
Grand Lux Café – American style café with a wide range of options
Yardbird Southern table and bar – Southern style food (Chicken & waffles?! Yes!)
Mercato Della Pescheria – Seafood & Italian restaurant
Sushisamba – Upbeat, club like atmosphere with Japanese, Brazilian, and Peruvian themed bites
These are some of our favorites, and there is definitely something for everyone.
Conclusion
TAO has been on the radar for best of Las Vegas for many years. This nightclub is like a nice leather Chanel purse- classy, and never going out of style. TAO is an all night dance party, where you go to see and be seen. Celebrities, Influencers, CEO's and our LV locals all have flocked to TAO time and again because they know that the consistency, quality, and over all best party atmosphere will never change! Call or text us anytime to be added to a guest list to one of the most sought after Las Vegas Nightclubs.