Las Vegas Bottle Service Guide: The Crash Course
We all have an idea of how our perfect night at the club should go.
When planning a major celebration like a bachelor or bachelorette party, birthday, or anniversary celebration, it's important to know the factors that go into getting the best value on your VIP table.
Bottle service is by no means necessary for entry at a club, but it is the best option if looking for a truly exclusive and memorable night out for you and your friends.
There are also circumstances where bottle service is only a step up in cost from cover (e.g. for a group of all guys on a busy night), and therefore an extremely reasonable play.
Our curated bottle packages make it easy to plan the perfect night out at a perfect cost for your group.
Everything booked with us includes deluxe limo transportation, fast skip-the-line entry, and a personal host for the evening to take care of anything you need.
Whether a Vegas bottle service first timer or an experienced customer, there's a few key pieces of knowledge that will save you money, time, and hassle when making your reservations and working out the details.
Let's start with the basics.
What is Bottle Service?
To get the coveted VIP table at the nightclub, you'll be told you have to purchase "bottle service."
Bottle service is the fully staffed purchase, presentation, and pouring of your liquor of choice at the club.  A normal bottle of vodka, rum, tequila, etc at any Las Vegas nightclub will be between $550 and $700, depending on the venue.
A purchase of one or more of these bottles ensures you will have a table for the night, complimentary mixers for your drinks, and people to take care of you.
You'll have a personal waitress to take requests and make your drinks, as well as a security guard to make sure no one enters your booth without your permission.
You'll also have a busser to clean up any spills and take empty cups.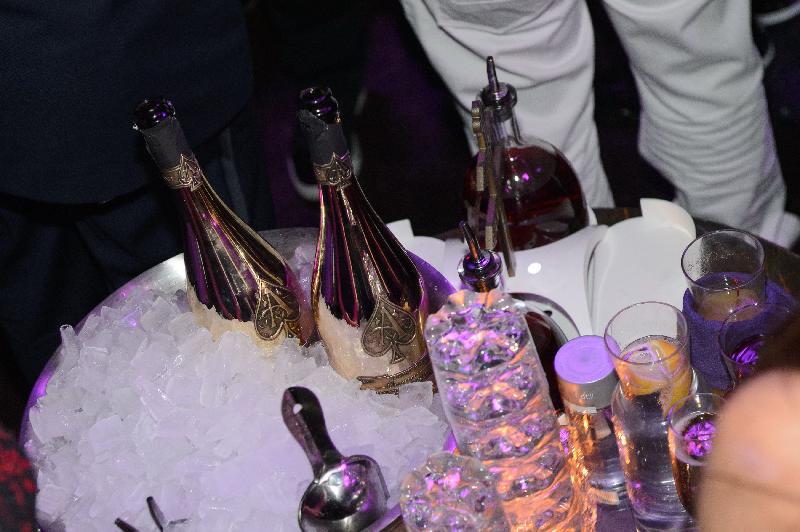 How Much Does Bottle Service Cost (Spend Minimums)?
Each table at the club comes with a minimum spend in bottle service, which varies from night to night depending on several factors:
The Specific Night (day of the week, holidays, special weekends)
Bottle service minimums will vary based on day of the week, as well as special nights and holiday weekends.
Tuesday industry night at Hyde for example will net you a lower minimum than Saturday during Memorial Day Weekend.
The spend at Hakkasan might be two bottles for 5 guys on a Thursday during winter, but six bottles for the same 5 guys on Saturday after a major boxing fight at MGM in the heat of the summer.
The Artist or DJ
On nights with a house DJ or lesser known artist performing, you'll likely be getting a lower spend minimum than when Calvin Harris or DJ Mustard is spinning.
You can easily check all upcoming events on our nightclub & dayclub club events calendar.
Location in the Club (dance floor, balcony, etc)
This is one of the critical factors to your spend.  With an entry level minimum you'll likely be placed toward the back away from the action, or at large clubs potentially in another room altogether.
The most desired tables in the club are the dance floor tables and can go anywhere from $3-4k on a normal night up to $10k and beyond on a very busy night.
You'll most likely want somewhere in the middle, as close as possible to the dance floor or central features like a patio.
Important: your host can secure you a general area in the club for your spend but can not "guarantee" any particular table. In general, they won't be able to say prior to the night of arrival due to influx of last minute reservations.
Your best bet is to arrive as early as possible to get the best table in a given section.
Group Size
Another critical factor is of course the number of people in your party.  As a general rule, on a typical night, a bottle is required for every 3-4 people in your party.
Group Ratio
Although typically not considered for bottle service like it is for guest list, the ratio of girls to guys may make a difference in your minimum at a particular club on a particular night.
All girl groups will sometimes be given lower minimums because sitting the group would improve the energy and look of the club on that night (that, folks, is the nightclub business).
Individual Bottle Prices Between Clubs
As mentioned above, some clubs will charge $550 for the same bottle of Belvedere that another club charges $700 for.  Much like cocktail prices from one bar to another, it just depends on the venue.
Nonetheless, this would change a "two bottle minimum" from $1100 to $1400 just based on the club chosen.
How Much is Tax and Gratuity on Las Vegas Bottle Service?
Usually hosts will quote tables to you as either the minimum spend (e.g. $1500 min) or as an "all in" price.
That "all in" price is the price with tax and gratuity added in, and as the name suggests, the final price you will pay on your bill.
Tax is typically 8-10% and gratuity between 18-20% as a general rule.  Tax is of course the sales tax you pay on the purchase, but the gratuity only includes the tip given to the waitress.  While not necessary, it is also a good gesture to tip your host as well as your security guard and busser (the guy cleaning up your drinks).
At certain events with a live performance, you will also be charged an LET (Live Entertainment Tax) of 9%. Venues like Drai's will always have an LET, since they feature live in-concert Hip Hop performances.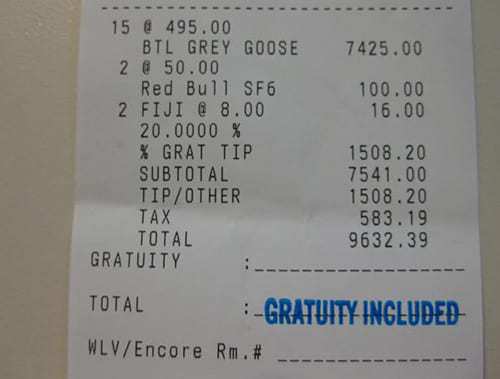 Simplifying Vegas Bottle Service Deals: 6 Major Keys
So what can you do to make sure you get the best deal on your VIP table, while also getting the best "hookup" possible?
We've provided a couple tips that will help you save big while going big: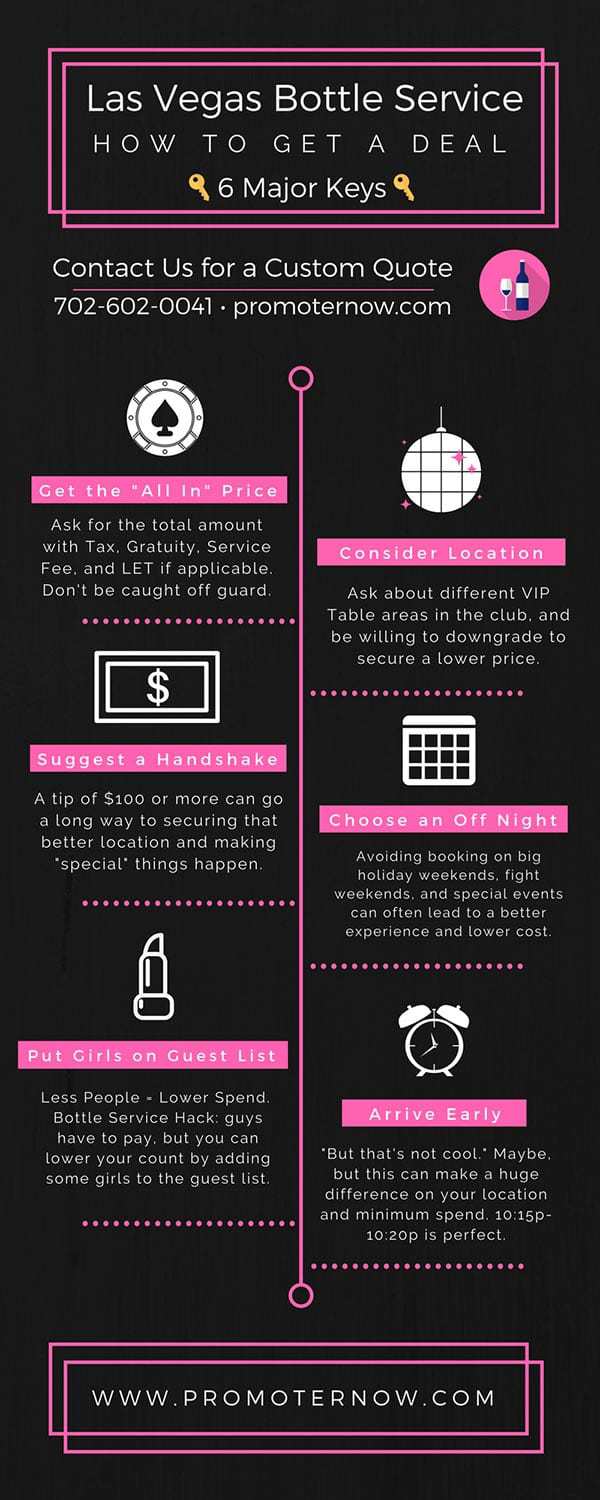 Find out the "All In" Price
When quoted the minimum spend for your group on a particular night or for a particular location in the club, ask the amount you will pay after tax, gratuity, and LET (if applies). Your host will be able to calculate this amount for you fairly quickly. This is also a good idea when splitting costs to find out exactly what each person will owe on the night.
Be Willing to Downgrade your Location
For some people proximity to the dance floor or DJ Booth is critical to the success of their night, but for others the party will revolve around the people you bring to it.
We suggest asking the price of "2nd tier" and "3rd tier" to the dance floor and comparing costs to get the best option for your group. You can also ask the entry level table minimums to get a read on the base line pricing.
Suggest a Handshake
Occasionally, you can negotiate better placement at the club for what we in the business would call a "handshake." This is a tip given to the host that would go to their mutual tip pool at the club.
This allows them to make exceptions and grant favors where possible. Be advised, however, that not all hosts will be on board, or they simply won't be able to do anything on a very busy night.
Book your VIP Table on an Off Night or Weekend
Much like sacrificing location for price, you can also opt to book your table on a less busy night or weekend. Tuesday industry night at Omnia and Wednesday industry night at Encore Beach Club @ Night, for example, are great parties during the week that mirror Fridays and Saturdays at usually a lower cost in bottle service.
Put the Girls on the Guest List
As explained above, group size is critical to quoting your minimum spend. If your group is split between girls and guys, it may be a good idea to add the girls to the guest list through a promoter and have them join you inside. This is one of the great Vegas Bottle Service hacks, and an easy way to reduce your total number of people.
Arrive Early
Despite all these other tips, one of the most important factors to placement and price is still arrival time.
It may be cool to show up late for your reservation, but there's a chance that the table or even the section you reserved will no longer be available.
Your host will give you a recommended or even necessary arrival time depending on the night to get your desired table.
People are rushing the ropes from the time the club opens, and at the end of the day it's first come first serve.
Vegas Bottle Service Made Easy
If you feel like this is a lot of information to take in, then you're right, it is.
We're out to demystify the process and make your reservations as simple as possible. We want you to enjoy your big night, and not spend time worrying about line items on your bill.
At Promoter Now, we not only get you a deal on 2 or more bottles at any club, but we also give you the "all in" price as a one time payment including all taxes and gratuities.
You'll pay less than menu price for any two bottles you'd like, and not be responsible for any extra payment or tips at the club. As part of any of our VIP Packages, we'll actually have one of our hosts go in to prepay for your bottle and give out the necessary tips to ensure great service all night. All you have to do is show up and party.
Example: Two Bottles at On the Record
One of our most popular deals is at On the Record, where the bottle price is $350 for any standard vodka, rum, tequila, etc (already cheap for Vegas). For two bottles you would pay $700, plus 8.4% tax, 10% service fee, and a minimum of 18% gratuity for a total price of $954.80.
Through our host, we'll be able to get you the same two bottles at an all in price of $850. We take care of the tax, gratuity, and other tips. In addition, we'll have our host show up to prepay, walk you in, and take care of you.
Have a bigger group?  We do the same on any amount over two bottles. The larger your group, the larger the savings.
Have More Questions?
We hope we've clarified some of the basics on bottle service in Las Vegas, and maybe even turned a few people into professional negotiators at the velvet ropes.
Please contact us with any questions you have on making a reservation or getting the most out of your night.