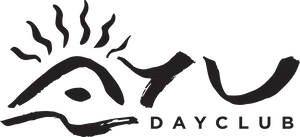 Days Open: Fri, Sat
Hours: 11:00am – 6:00pm
Hotel: Resorts World
Area: North Strip
AYU Dayclub is the newest pool party to hit the Las Vegas scene, and is located at the all new Resorts World hotel.
The AYU Dayclub Guest List features a free even ratio (1:1 ratio girls to guys) guest list, whereas many other Las Vegas dayclubs charge guys.
AYU Dayclub is home to world class EDM and House talent, featuring residents Zedd, Tiesto, and DJ Snake among many others.
AYU Dayclub: The Hottest New Las Vegas Pool Party
When Miley Cyrus opened Resort world up on July 4th – with a huge performance that only a venue on the Las Vegas strip could entertain – you knew AYU Dayclub was destined for big things. Nothing says "check out this new club" like fireworks, large crowds, and a celebration of Independence Day. Yes, "Party in the USA" was played.
AYU is the outdoor oasis that takes its inspiration from the charming islands of Southeast Asia. It is a verifiable slice of heaven, and also the newest dayclub to hit the Las Vegas strip.
With Zouk group behind its design and DJ line up you can expect luxury, bohemian vibes, and a sound system that is top notch.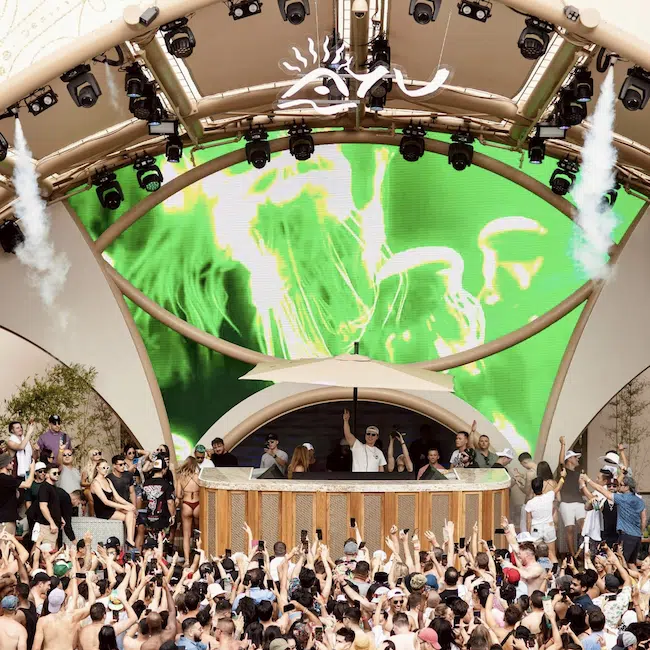 Miley Cyrus & More
Miley was the major headliner for the opening of AYU Dayclub and it honestly couldn't have gone off with a bigger bang. Miley's signature punk inspired look and raspy, southern sass was exactly what the doctor ordered for all of the patrons out at their first live event in a long time.
Miley herself expressed to her audience that "It feels like the first time" describing being on stage after so long.
She did not disappoint at all with her signature take on Dolly Parton's song Jolene, and all the while donning a shag meets rocker mullet hairstyle. She stole the stage and really kicked off AYU in the best way possible. 
Regular musical residents to AYU Dayclub, AYU Nights, and Zouk Nightclub (premiering in September 2021) include Zedd, Tiesto, Jack Harlow, J Balvin, DJ Snake, Green Velvet, Black Coffee, and more.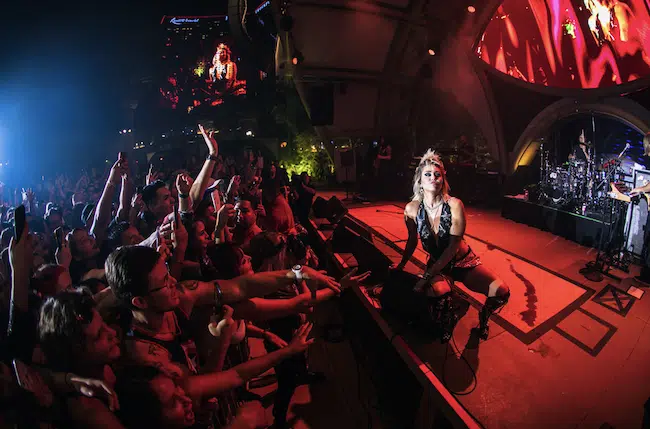 What is Zouk Group?
Zouk was a premier clubbing destination in Singapore beginning in 1991. It set the bar very high for nightlife and was the first club to introduce House music to the scene in the Southeast Asian market.
Since its humble beginnings, it has launched itself into a luxury, global, lifestyle brand that has expanded into international markets.
Zouk group premiered in Las Vegas with AYU Dayclub, Fuhu restaurant, Redtail sports lounge, and much more inside the Resorts World Hotel and Casino.
AYU Dayclub Guest List Info
Ticket pricing is subject to change depending on special event or performer. Generally, females can be expected to pay between $30-$75 and makes can be expected to pay between $60-$100.
To avoid paying a cover charge at all, sign up on the AYU Dayclub guest list in advance.
Receive a text with guest list information for that day, and a confirmation to show at the door. Too easy? We designed it that way.
AYU Dayclub is open from 11:00am – 6:00pm on Fridays and Saturdays.
On the guestlist, your admission is typically free from 11:00am – 2:00pm daily. The earlier you arrive, the better as it can get very crowded quickly.
When you arrive, you will be directed to a line specifically for guest list patrons. You will simply show the door host your guest list confirmation and be let in as soon as capacity allows.
AYU Dayclub Dress Code
Upscale swimwear attire is requested.
Ladies, wear a flattering swimswuit with wedges/nice flats and a cover up, and gentlemen wear nice swim trunks (no regular shorts) and a linen button up with nice pool loafers. Think tropical, classy vacation. 
Please refrain from wearing or bringing in: 
• Jeans/Pants
• Torn or Cut-off Clothing
• Offensive prints or designs on clothing or accessories
• Weapons (any items that may be used to cause bodily harm)
• Controlled Substances
• Eye Drops/Nasal Sprays
• Outside Food, Drinks, or Liquids (this includes water bottles of any kind)
• Over the Counter Medications
• Cameras/Go Pros Wearable Technology (watches are permitted)
• Colognes/Perfumes
• Marijuana Products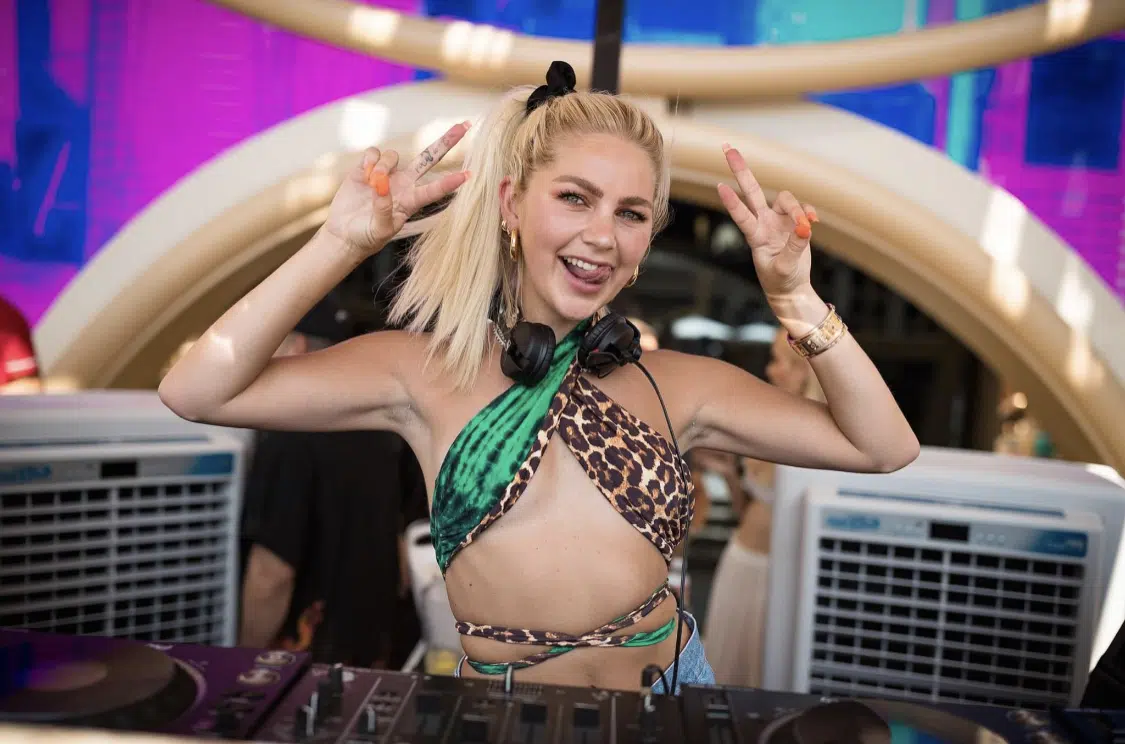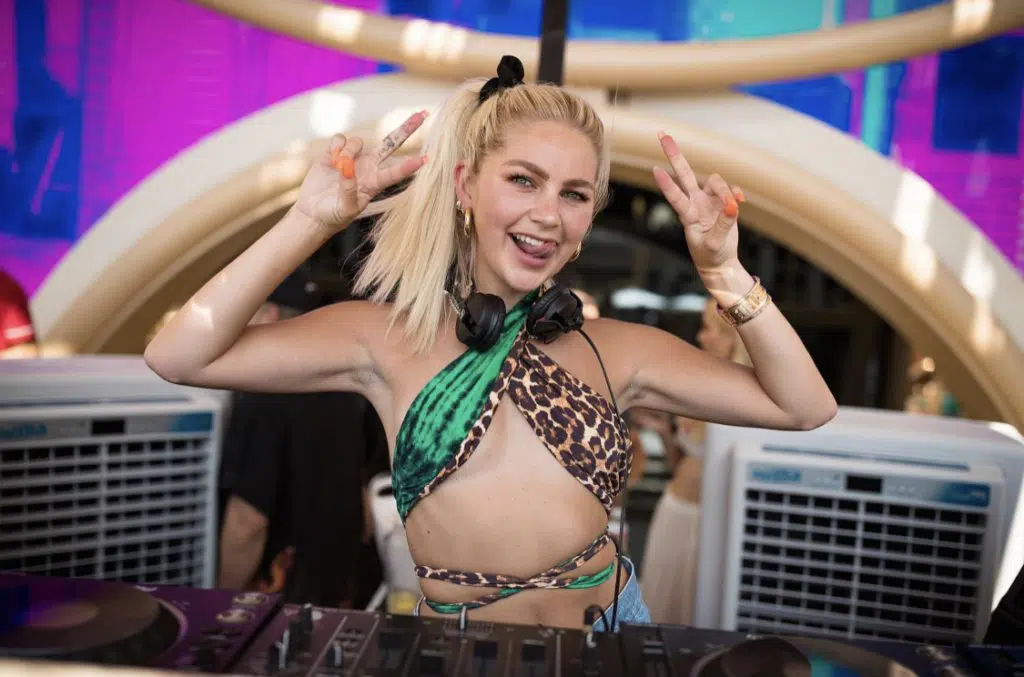 Celeb Corner: Madison Beer and Nick Austin
Mega star Madison Beer, who was singing long before Justin Beiber gave her a shout out on Twitter when she was only 13, was one of the hot acts to watch at AYU Dayclub.
She has made a name for herself and is working on releasing her second album soon. Seen right beside her around Resort World was her year- long beau, Tik Tok star, Nick Austin.
They enjoyed the new hotel and were spotted taking photos with fans after Madison's performance. 
AYU Dayclub DJ Lineup
As we mentioned, Zouk group is known for bringing the vibe when it comes to top House and EDM DJs.
AYU Dayclub lives up to that reputation and only hosts the hottest DJs in the world right now.
There is no way to not enjoy the set on any day that you choose to visit the club. Here are some of the DJS that are scheduled in the 2021 season: Jonas Blue, DJ Snake, Zedd, Rituals, Tiesto, Madds, Charly Jordan and many more!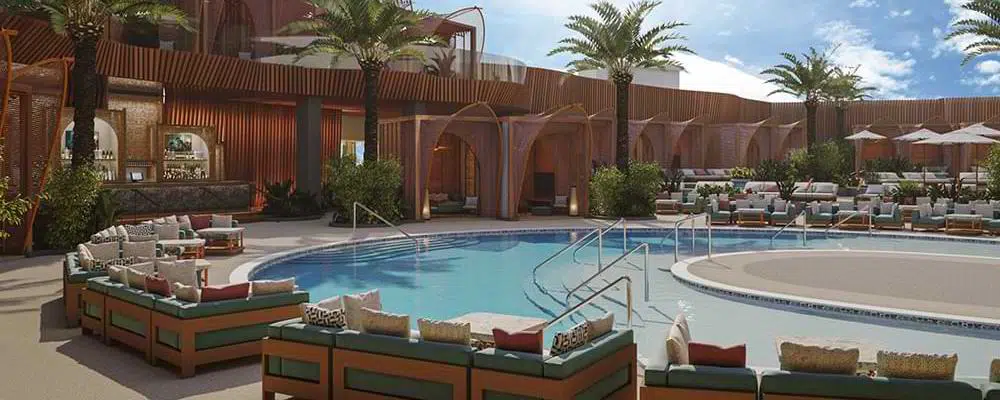 AYU Dayclub Bottle Service
Any table that your group books will include bottle service. Pricing starts around $600-$700 and goes up from there depending on type of liquor and quantity.
You will get to choose the type of alcohol that you want, the type of mixers that you want, and you will have a designated waitress to make sure that your drink are always flowing! 
We highly recommend going with a table and bottle service at least once so you can experience what the Vegas lifestyle is all about. Sit back and enjoy the music and beautiful people surrounding you while you have continuous drinks and food if you decide to order lunch! 
Browse live pricing and book direct to secure your spot in the shade.
Keep in mind that all food & beverage go towards the total minimum spend for the table. This total does not include tax and gratuity. 
AYU Vegas Table Map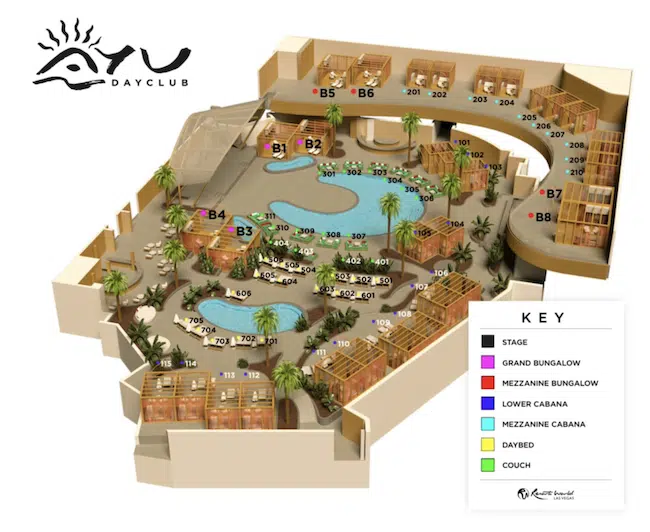 Which Table Best Suits Your Group?
Coming with a group? Take a look at the table options to find out which one best suits you. You'll want to be comfortable and really enjoy your time soaking in all the splendor at AYU. 
Stage – Continuously called the best location in the venue: $35,000 minimum spend and up to 12 people at the table
Grand Bungalow -Located on the main club level, has a private pool and great main stage views: $25,000 minimum spend and up to 20 people at the table
Mezzanine Bungalow – Has a prime view overlooking the main stage: $15,000 minimum spend and up to 20 people at the table
Daybed – Located on the main deck: $5,000 minimum spend and up to 6 guests at the table
Mezzanine Cabana – Views of the pool and main stage: $8,000 minimum spend and up to 12 guests
Lower Cabana – Located on the main level overlooking the stage and venue: $10,000 minimum spend and up to 12 guests
Couches – All are located on the main level of the club: $7,500 minimum spend and up to 6 guests 
AYU Dayclub Food Menu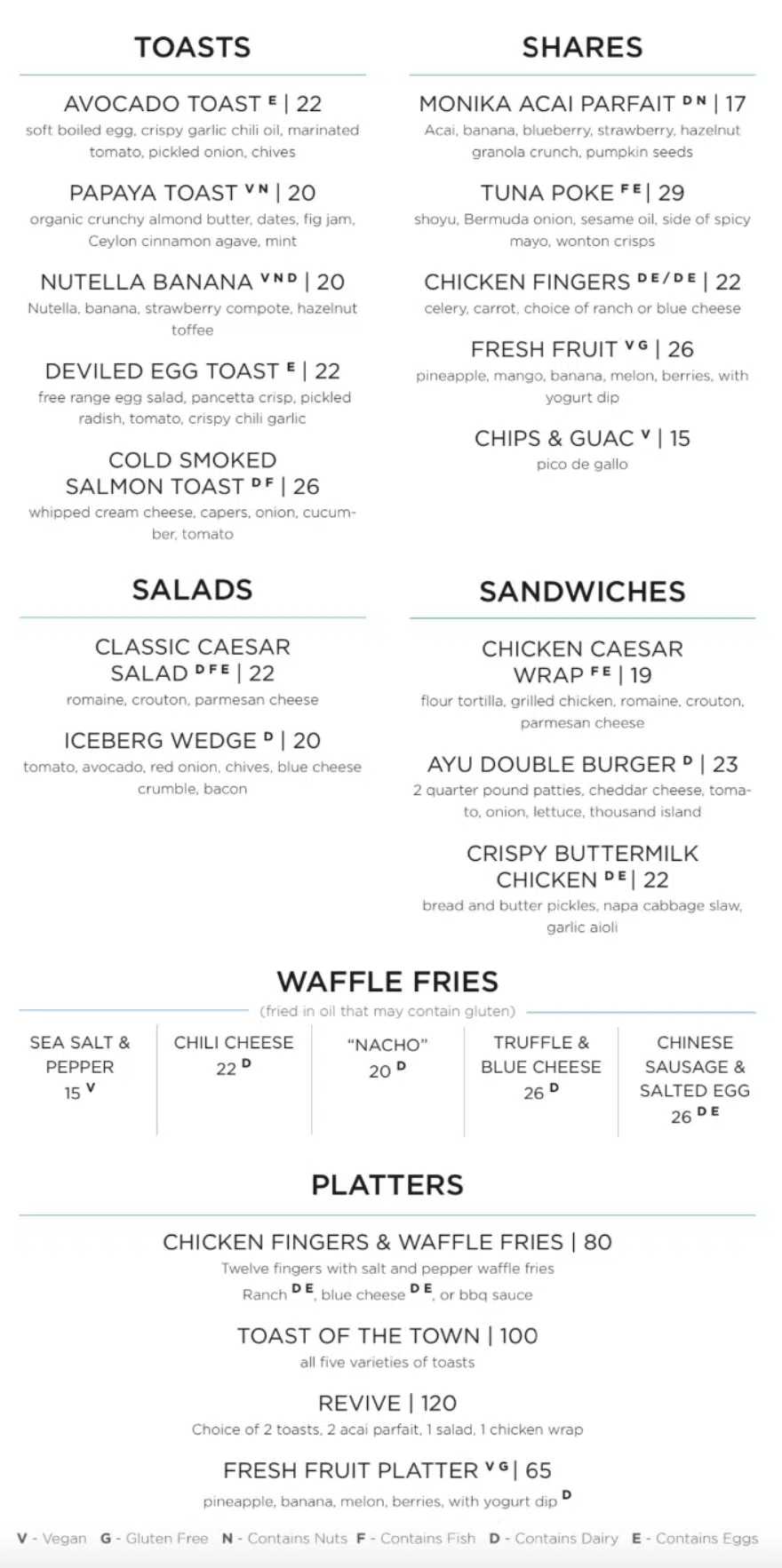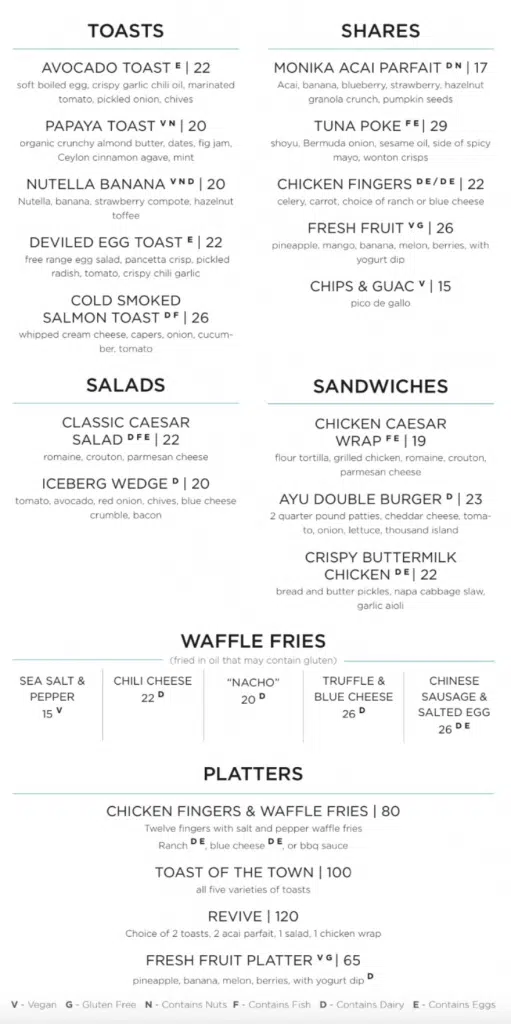 Hungry at the Club?
What goes perfectly with intoxicating music, and of course being intoxicated? FOOD!
Thank goodness AYU Dayclub is equipped with a full kitchen and a great menu to satisfy your hunger pains.
You can order Avocado toast and a variety of other toasts like Papaya and Salmon toast, Parfaits, Poke, Chicken fingers, of course you can also get the infamous Chips and guac.
If you need something heavier you can go for their Chicken Caesar wrap, AYU Double burger, Buttermilk Chicken and our personal favorite; Waffle Fries. The fries come with different toppings and are a must! Platters are also available for sharing. 
Check out Zouk Group's debut by celebrating life and summer time at AYU Dayclub, we can't wait to see you there!