Time to get started planning the ultimate Las Vegas Bachelorette party! Browse our curated packages and unbeatable discounts featuring the best of Las Vegas nightlife.
Ready to book? Get a free quote and one-on-one support from our VIP Hosts to help you plan your events.
Your best friend is getting hitched, and it's time to celebrate.
This is a big deal.
But how do you decide on the best Las Vegas bachelorette party packages for your group?
You've likely spent the last year planning the big day, helping her pick out the perfect dress, and now you've been tasked with planning the picture-perfect bachelorette party in Sin City – Las Vegas, Nevada.
All you know is that there are requests for the following, male strippers, sun tanning, and the golden rule – everyone must dance.
If you want to plan a Las Vegas weekend that everyone attending will be bragging about on Instagram, you need to put together the ultimate bachelorette party package.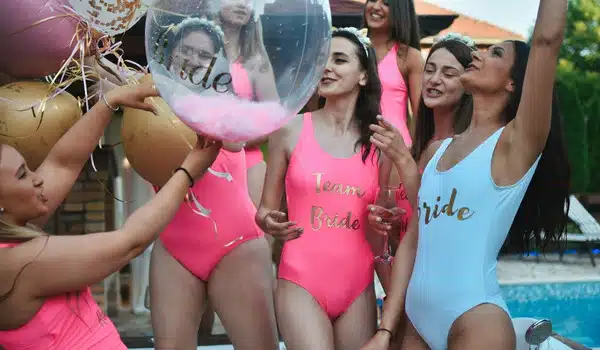 It's up to you to ensure the bride-to-be is celebrated luxuriously! You'll want to include things like bottle service, fast entry to Vegas' hottest nightclubs, male strip clubs, VIP tables, and a party bus so you can tour around Vegas while drinking from an open bar.
By booking a bachelorette party package, your night will include getting into a deluxe limo, stepping out and being escorted past the line into the nightclub of your choice, and sitting at a VIP table with a bottle (that we know will be poured straight into the bride's mouth), and men who look like magic mike showing off their six-pack.
Now all you'll need to worry about is the hangover that will happen the next day, which means you'll need to plan brunch and mimosas.
Don't worry. We'll walk you through which bachelorette party package to choose and give you the ultimate bachelorette party planning checklist.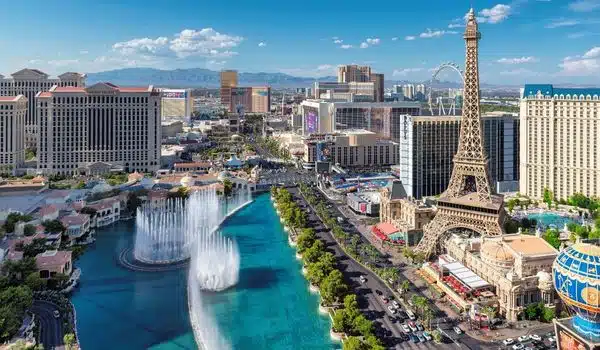 We'll provide insight into the best bachelorette packages with bottle service, how to build a VIP package that was built for dancing queens, a party planning checklist (including what your Las Vegas budget should be), and a list of great party ideas worthy of this momentous occasion.
By the time you're done reading this, you'll have written the guest list, packed your bags, booked the flights, and be ready to dance the night away.
Las Vegas Bachelorette Party Pricing and Packages
As the bride's maid-of-honor, you are in charge of planning the bachelorette getaway.
Get the bridal party and a few of the bride's closest friends together and tell them, "we're going to Vegas!" But, now what?
Any bachelorette party happening in Vegas needs to have these four elements: classy transportation, exciting activities, fun nightclubs with bottle service, and a trip to a male revue.
About this last one… Australian accents and rock-hard abs, who could say no?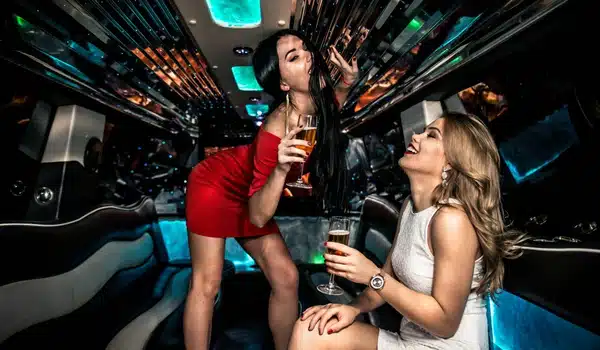 Let's start with classy transportation. Would you rather pile into a yellow cab or a luxurious limousine? There's only one answer to that question, and it's not a yellow cab.
On the Las Vegas strip, you'll see cabs for miles waiting to pick you up, so you'll never have to worry about getting to and from your destination. But, if you want to have an authentic Vegas experience, you'll want to be whisked away like a celebrity in a limousine.
In addition, we want to keep together the whole crew, and it's unlikely you'll find a cab that can carry everyone and let you drink from a bottle of champagne inside.
You'll likely want to partake in classic Las Vegas activities like a pole dancing class, taking pictures in front of the iconic Las Vegas sign, or visiting the Grand Canyon. When planning the pricing of your bachelorette party package, also consider these activities outside of nightclubs.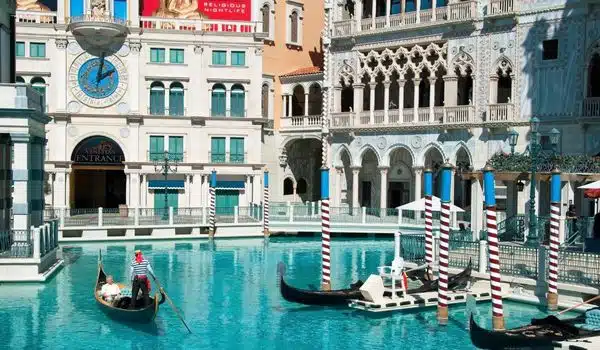 Bachelorette Party Planning (Checklist)
The first step in planning a bachelorette party is choosing where you'll go. Since you've already chosen Sin City as your party destination, we can scratch that off the list! But now we need to get into the details.
We've put together the best Vegas Bachelorette Party Planning Checklist so you won't miss a thing:
Create the guest list. Who will be invited?
Decide on accommodations. MGM, The Venetian, and The Bellagio are a few of the best hotels on the strip, or maybe you want to look at Airbnbs so you can enjoy cooking meals together?
Book your flights. Is everyone flying together, or will you need to book flights for people across the country?
Choose a bachelorette party package. What VIP treatments are a must-have?
Which shows do we want to see? Is there an artist or performer you're dying to see?
How much leisure time will you have? Will you plan time for people to do their own thing?
Do we want to attend pool parties? Do you need to pack a bikini?
What rules will you have for posting a picture? Does everyone need to agree before it's posted?
Next, let's talk about fun nightclubs with bottle service.
The Best Bachelorette Packages with Bottle Service
There are a lot of things to consider when making this decision. The only thing you know for sure is that you want to have a good time. But what about the details?
What clubs have the best dancing? Who makes the best cosmopolitan in Vegas? Should we see male strippers? Do we want to do a tour of the strip on a party bus with an open bar?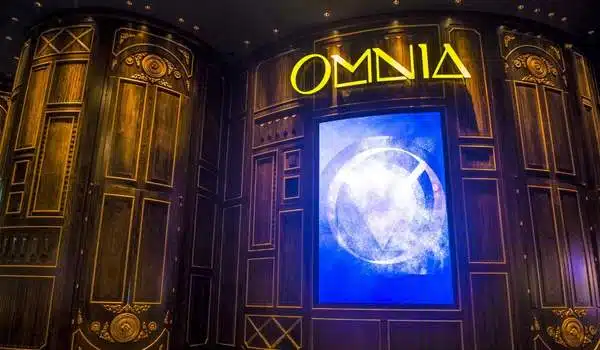 Here are a few things to keep in mind while you're searching for the perfect party package:
What's included in the package? Does it have food, drinks, and VIP access?
Is there a minimum number of people required to book the package?
How much does it cost per person?
Is there a deposit required to secure the package?
What is the cancellation policy?
What time does the package start and end?
Don't worry. We answer all these questions and more in our FAQ below. However, you should still consider these things no matter which bachelorette party package you choose.
In our packages, we include the recommended hottest clubs with bottle service, but you can choose any nightclub or day club you'd like to attend, and we'll take care of the rest. This list outlines some of the best places you and your gal pals can get your drink on:
On The Record – A stylish throwback venue that's all about dancing and letting loose, featuring several main rooms and a hidden speakeasy (Staff Favorite).
Omnia Nightclub — A large nightclub inside Caesars Palace with three levels of dancing, incredible views of the Las Vegas strip and some of Vegas's most sought-after EDM/House DJs.

Drai's Nightclub

— A late-night party spot with the best live Hip Hop acts in Vegas.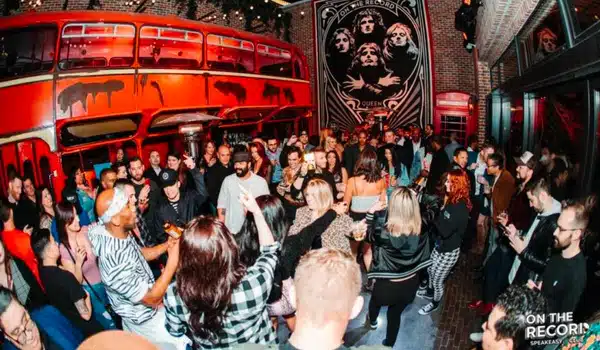 VIP Packages For Dancing Queens
So, what does a VIP package with dancing queens in mind include? We're confident you know what a limo is, but what is a party bus? What does VIP service mean? What does a VIP host do? What is included with bottle service? What is a VIP table? And what if we don't want to see male strippers? (Don't worry, going to a male revue is not mandatory when you go to a bachelorette party!)
Drinks at a Las Vegas nightclub can range from $15 to $20. Make sure your package includes drinks so you won't have to budget how many drinks per night.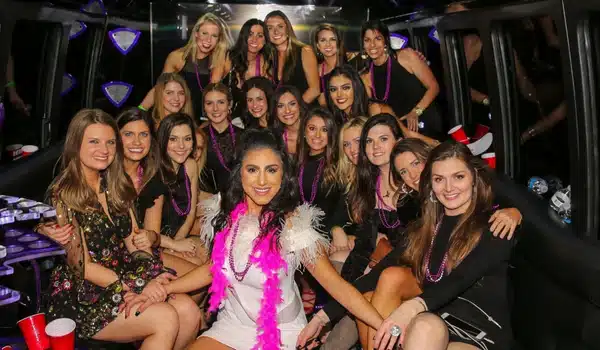 The most fabulous way to travel down the Las Vegas strip is in a limo or a private party bus. Sure, you could wait for a taxi and separate the girls into a few yellow vans, but that is nowhere near as fun as getting to a classy limo. So instead of counting how many cabs your group will need to get there, you can enjoy the whole VIP experience by being chauffeured in a limo to the best bars Sin City offers.
If you include a party bus in your package, you can tour the entire strip while drinking from an open bar. You can spend an hour pre-drinking on a private party bus where the drinks are bottomless, and you're with your best friends.
Once you arrive at the nightclub of your choice, you'll be greeted at the door, brought to the best table in the house, and served from a bottle with bottomless mixers. Now all you have to do is start dancing to the best DJs in Vegas!
Bachelorette Party Cost in Las Vegas (What to Budget)
A reasonable budget to enjoy all the Las Vegas strip offers is around $200-$300 per day. This allows you to venture through different daytime activities, do a bit of shopping, check out the best nightspots, explore nightly activities, and save room for late-night snacks.
VIP Bottle Service
Bottle service in Las Vegas can range anywhere from $500 – $750 for a group of 4 to 5 people. VIP bottle service includes your entry fee, expedited lines, a VIP table, bottles, and a VIP host.
Limo Service and Pregame Party Bus
Purchasing limo service will cost somewhere around $85 – $120 per hour, depending on the size of your limo. For example, to rent a limo, you will need to purchase an hour and a half. If you prefer to be on a party bus, you can expect to pay around $100 per person for 1 hour.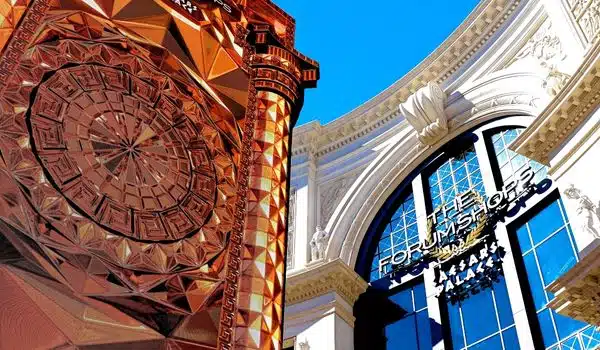 Vegas Bachelorette Party Ideas
You probably have hundreds of ideas for what you'd like to do in Las Vegas. We want to help you narrow down your ideas so you can plan your itinerary with all your guests in mind.
Daytime Activities
Whether you want to relax by a pool, go shopping, take pictures, go on a hike, or find the best pool parties, there are so many things you can choose from. Check out these Vegas must-do daytime activities.
Vegas Nightlife
Las Vegas is the city that never sleeps, so your nighttime activities really can bleed into daytime activities! Whether you want to see a show, go to the best Las Vegas nightclubs and dance, there is always something to see and do at night. The lights are mesmerizing, so be prepared to catch the views of the strip at night.
Frequently Asked Bachelorette Party Questions in Las Vegas
Do I pay now or when I arrive?
When you book your bachelorette party package with us, you'll receive a full itinerary with dates and times for each event, so you'll never miss a single event. This will give you specific times for an event and if you need to arrive at a particular time or if you can arrive whenever you'd like.
Different parts of the package will have specific start times, while others you can arrive when you'd like.
Packages that include bottle service: your host will prepay your table and send you an arrival time.
Packages that include limo service: you'll be provided with a specific time that you'll need to meet the driver.
Packages that include male revue: you can schedule your limo service at your leisure.
All of our VIP packages are prepaid. This means that the limo, VIP bottle service, and table are already paid for before you get there. You'll only need to show up, and we will take care of the rest. A VIP host will meet you at the door and escort you and your group to a VIP table, where they'll meet you with a beautiful bottle of liquor and bottomless mixers for your drinks, all of which have been prepaid so you can leave the credit card at home.
For select clubs, we'll secure your reservation in advance and have you pay on arrival. This will ensure that your group gets the best rate and table location. Once you've booked your package, our host will guide you on what's best for specific venues, when you'll need to pay on arrival, and when the club has been prepaid.
Is transportation provided?
All of our packages include transportation. We'll pick you up in a luxurious limousine and whisk you away to the club of your choosing. Then, when you're ready, we will bring you back to our pick-up point. Forget about taking a cab. You deserve to ride in style!
Can I mix and match packages?
Absolutely! We encourage everyone to mix up the package. If you want bottle service at every bar you go to, you can choose only the clubs that offer bottle service. If you see a package but wish to add Chippendales, we can do that too. And if you wish your package had the party bus, you can swap that in! The choices are endless, and we want to help you plan the best party!
Who plans and pays for the bachelorette party?
Generally, the maid of honor is the person who plans the bachelorette for her dearest friend. She is the party planner and will be in charge of all logistics.
Typically, the invitees split the costs of the bachelorette. This is the final send-off before your friend becomes a wife.
Who should be invited to a bachelorette party?
This is a celebration, so you'll want to invite the bride's best friends. They don't all have to be a part of the bridal party, but you'll want to make sure all of her favorite people are there.
Think of these things before choosing who to invite.
Do you want family there, or is this a friends-only getaway?
How many people should you invite?
Are you inviting any men?
There are no rules when inviting people to a bachelorette party, so if you want to invite the bride's cool mom, no one will judge you.
What do you wear for a bachelorette party?
Most Vegas clubs have dress codes that you'll have to abide by, but you'll also have to consider which activity you're doing and what time of year you go. By far, the most popular months to visit Vegas are in fall and spring due to the warmer days and mild nights, when the weather is most comfortable.
Winter in Vegas
Vegas winters can dip down to mid 50°F (10°C) for the highs, with lows in the 30°F (-1°C), so you'll want to pack some warm clothing options. Think cardigans and long sleeve dresses.
Fall and Spring in Vegas
Vegas's fall and spring months often have a bit warmer weather, so prepare for warm days and mild nights. This is the most popular time to visit Vegas as it's not too hot or cold. Pack light, but bring some warmer clothes just in case.
Summer in Vegas
July is the hottest month in Vegas, but because it's dry heat, you won't feel smothered by humid air. You should expect the summer months to have average highs of 104F (40C) and lows around 80F (26C). Pack light, don't forget to bring your swimsuit!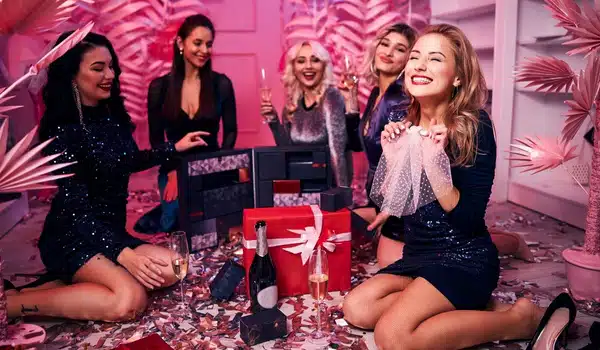 What are the best Vegas bachelorette hashtags to use?
If you want your photos to stand out in the Instagram feed, you'll need to use these iconic hashtags. Give them a try while you're posting the best photos of you and all your closest friends.
#LastFlingBeforeTheRing
#BrideSquad
#BrideVibes
#IDoCrew
#TeamBride
#AVowToParty
#FutureMrs
#BacheloretteParty
#VegasPoolParty
#VegasWeekend
#GirlsTrip
#PopTheBubblyToGettingAHubby
#BadAndBoozyBach
#BachMadeInHeaven
#GirlsJustWantToHaveFun
#WithMySistersBeforeMyMister
#BridalParty
#BrideGoneWild
#BrideVibes
#YouCantSipWithUs
#BrideSquadGoals
#OperationBacheloretteParty
#LastNightBeforeMrRight
How far in advance do you have a bachelorette party?
If you're considering having a bachelorette party in Las Vegas, you'll want to start planning well. You'll need to think about things like flights, hotels, and activities, so you won't want to plan that last minute.
Typically, the bachelorette party is planned between 1 and 4 months before the big day. However, if you want to get away in February to escape the winter weather, there's no rule against doing the party a bit early!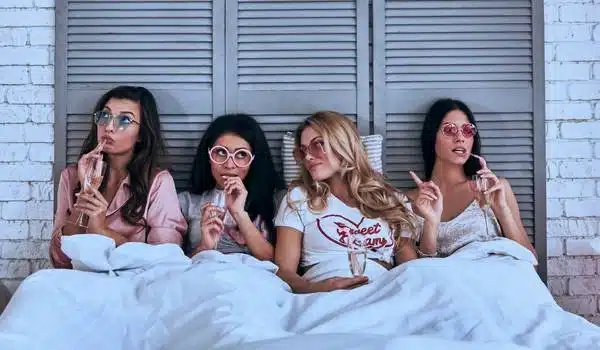 Do you tell the bride about the bachelorette party?
This will depend if you want it to be a surprise bachelorette party or if she wants to be a part of the party planning. Think about the bride, does she like surprises? Does she enjoy lists and planning and being a part of the decisions? If so, you might want to tell her that you're heading to Las Vegas.
What should you not do at a bachelorette party?
Okay, now you know what to do and how to plan the best bachelorette party, but what should you not do? We've got a list of things you must avoid when enjoying a wild weekend on the Las Vegas strip.
Don't make the bride do things she doesn't want to do.
No complaining! This is the bride's party, and everyone wants to have fun.
Remember, this is a girl's night, so stick together and don't ditch the crew.
Forget to put on sunscreen. You do not want to spend your time in a hotel room looking like a lobster.
Don't get too wild. No one wants to take care of the sloppy friend that is crying.
Forget to take pictures. You'll want to remember this trip forever, so don't forget to take many group photos.
Sign Up For the Ultimate Bachelorette Party Package
That's it! Now you're ready to go on the ultimate bachelorette party vacation with the best party package with the bride-to-be and entire bridal party! We know the planning can be difficult, but it will be worth it when you arrive, pop the cork on the bottle of champagne, and sip cosmopolitans with your gal pals.
We will see you in Las Vegas!