Vegas Male Revues 101: Why Strip Clubs Offer the Best Bachelorette Deals
So you and your girls have decided to spice things up and check out a male revue show during your bachelorette or girls weekend in Vegas.
You've probably already heard of some of the big shows in town from your girlfriends back home: Thunder from Down Under, Chippendale's, Magic Mike, etc.  The many options can make it difficult to decide, especially when choosing as a group and weighing options together.
While the well known Vegas male revues can be entertaining, what most people don't know is that some of the male strip clubs in Las Vegas put on their own elaborate productions.
In fact, the shows produced by the male strip clubs in Las Vegas typically offer you a much better value, and many would say a much better experience than a standard ticketed male revue show in a hotel theater.
Should I Book a Male Strip Club or Male Revue Show?
It's good to know the differences between the two before you go about purchasing tickets or reserving limo pickup.  Depending on the specific experience and amenities you'd like as a group, one may sound much more appealing than the other.
Male Revue Show Reservations in Las Vegas
When signing up for a male revue show, you simply go online, purchase tickets, and show up at will call for your seats when you arrive that night.
These shows typically run twice a night and last on average an hour and a half, four days a week (Thurs-Sun).  You'll have to plan out your activities so that you'll make it in time for the nightclub (choose an early show!).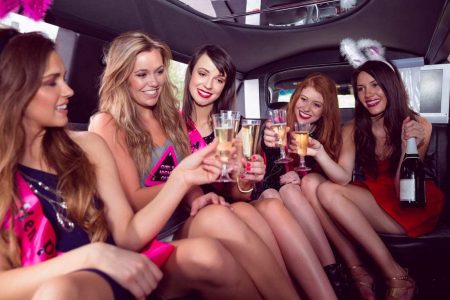 Male Strip Club Show Reservations in Las Vegas
When booking a male strip club show, on the other hand, you'll be asked what time you'd like to be picked up, as all male strip clubs provide free limo transportation to the club.
You'll be given a window typically from 9:30pm to 12:30am (run time 10pm-1am) for available pickup and transportation to the club.
Shows run continuously during this 3-4 hour window with different acts every hour, so groups are welcome to come and go as they please.  This makes for flexible nightclub scheduling before or after the show.
As far as payment, you would pay at the door with cash or credit card when you arrive and do not have to prepay online.
What do Vegas Male Strip Clubs Shows Offer that Vegas Male Revues do not?
Your standard male revue is a simple option to add some fun to your night before or after going out to the clubs.
When you break it down, however, booking a male strip club show as oppose to a male revue offers your group much more in terms of cost effectiveness, bonus perks, and overall fun:
Vegas Strip Club Shows Cost Less
Surprisingly, even without the extra perks male revue shows cost considerably more than male strip clubs.
Thunder from Down Under, for example, offers two options: premium seating and standard seating at $65 and $55 respectively.  Premium seating will grant you slightly closer proximity to the stage but will come with no extra amenities.
The most popular male strip club in Las Vegas, Men of Sapphire, offers a deal at $40 per girl that includes a VIP table directly in front of the stage.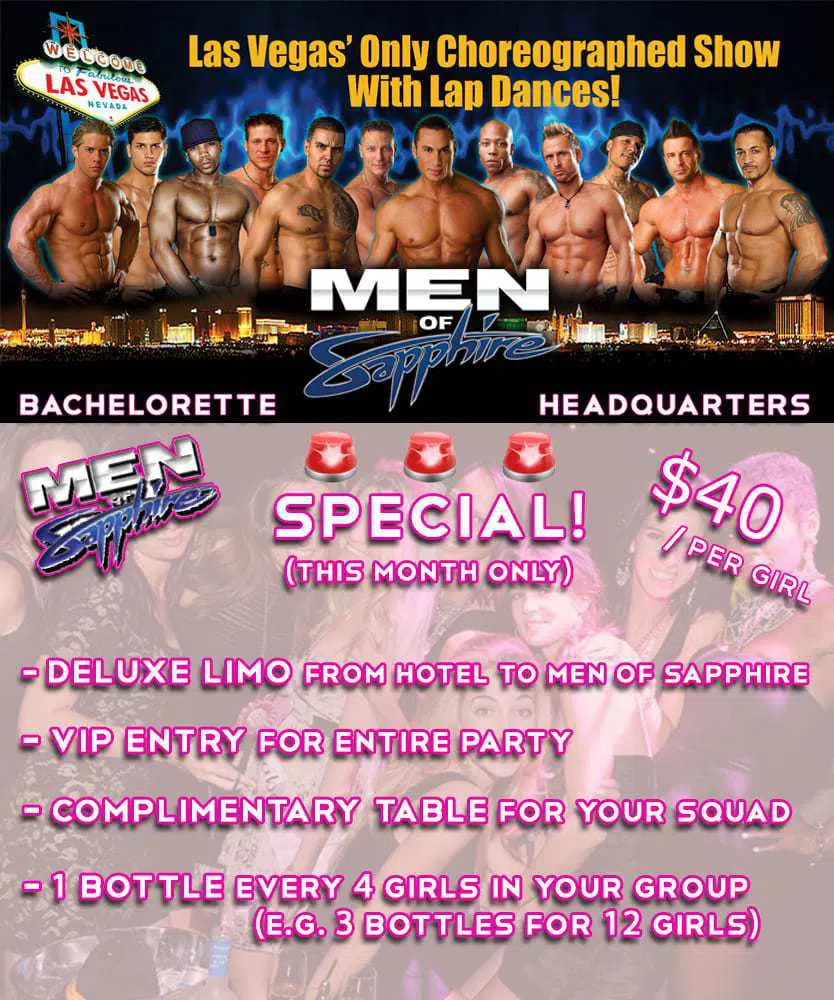 They Offer Comp Drinks and Bottles
That same deal at Men of Sapphire comes with a complimentary bottle of champagne for every 4 girls in your group.
Coming with 14 girls?  You'll get three bottles and two drinks each for the extra 2 girls.
Male revue shows, like Chippendales or Thunder from Down Under, include only your seat in the theater. You'll have to buy pricey drinks at the show on top of the admission cost.
A VIP Table and Service is Included
As mentioned above, you'll have a full VIP table near the stage to share with your girls at any of the male strip club shows. Definitely a more fun and interactive format than stadium seating.
Complimentary VIP Limo Pickup
Included in your reservation at any male strip club is VIP limo pickup at your hotel.  You'll get a complimentary deluxe party bus limo for large groups.  Simply reserve a time below and your driver will be in touch 15-20 min prior to pickup to coordinate and meet you at the valet.
Male Strippers are More Fun
Strippers at Sapphire, Hustler, and the other clubs will do as much as you want them to.
Want a more interactive experience? Male strip clubs are definitely the way to go.
The performers will take your bride on stage for a special lap dance and souvenir photo if you'd like as a complimentary extra (and they love to do it).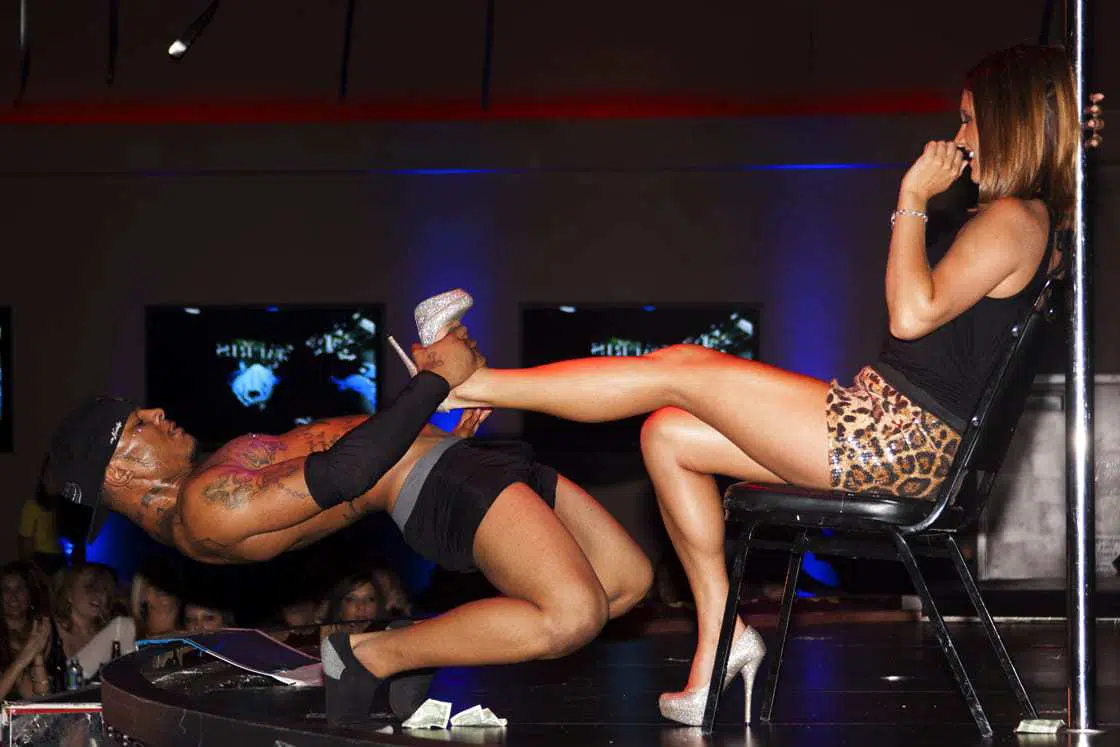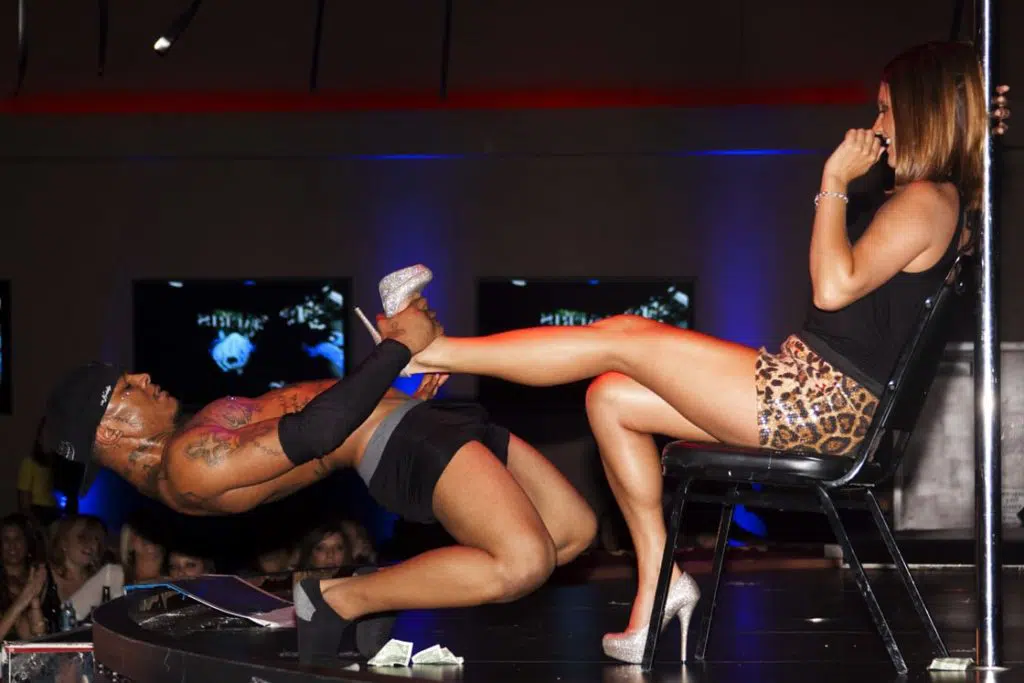 Top Male Strip Club Deals in Las Vegas
Two of the top male strip clubs since the closing of OG's in 2016 are Men of Sapphire and Kings of Hustler. Both have excellent deals which include entry, VIP limo transportation, drinks, and a table at a very low overall cost.
Kings of Hustler Las Vegas Male Revue
Price: $44/person
Includes: VIP Admission to Kings of Hustler, VIP Limo Pickup at your Hotel and Dropoff, VIP Table for your group, Two Complimentary Drinks Each
Hours: Friday, Saturday, Sunday | 8pm-2am (First Available Pickup @ 8pm
Men of Sapphire Las Vegas Male Revue (Temp Closed)
Price: $40/person
Includes: VIP Admission to Men of Sapphire, VIP Limo Pickup at your Hotel, Personal VIP Table and Bottle Service for your group, Complimentary Bottle of Champagne for every (4) girls in your group.
Hours: Thursday, Friday, Saturday | 10pm-1am (First Available Pickup @ 9:30pm)