Days Open: Mon, Fri, Sat
Hours: 10:30pm – 4am
Hotel: Cosmopolitan
Area: Center Strip
Marquee Nightclub and Dayclub has a sprawling 60,000 square foot layout including a massive inside labyrinth of hallways and rooms and huge outdoor patio circling the main pool.
The Marquee Nightclub Guest List features a free even ratio (girls:guys) guest list, including drink tickets for girls for early arrival.
Marquee is one of the most well known nightclubs and dayclubs in Vegas and boasts some of the major EDM and house acts in the country.
Marquee Las Vegas: The Insider's Guide
Located in the stylish and boutique Cosmopolitan Hotel, Marquee Las Vegas opened in 2010 and was Tao Group's biggest project in Vegas since their flagship restaurant and nightclub opened back in 2005.  Marquee was a much grander project, quickly becoming one of the most popular spots in Vegas.
Like sister property Tao, Marquee Las Vegas features an expansive dayclub in addition to the nightclub.  The dayclub is open the same nights as the nightclub (listed above), and some would say offers an even more insane and reckless party.
Most Popular Nights at Marquee Las Vegas
Marquee is known for its Monday industry party.  This is a weekly event where all the promoters, hosts, and nightlife staff come out to blow off steam after the long weekend, and mingle with the middle of the week tourist crowd.  If you're in Vegas on a Monday you won't want to miss out.
Most well-known of Marquee's Monday parties is the semi-annual Party Rock event, hosted by Redfoo of LMFAO.  This is a special event where guests are encouraged to come in their wildest and most ludicrous 80's inspired clothing, and prepare to rage like never before.  On these nights, Marquee Dress code rules are all but out the window.  Dress to shock and awe.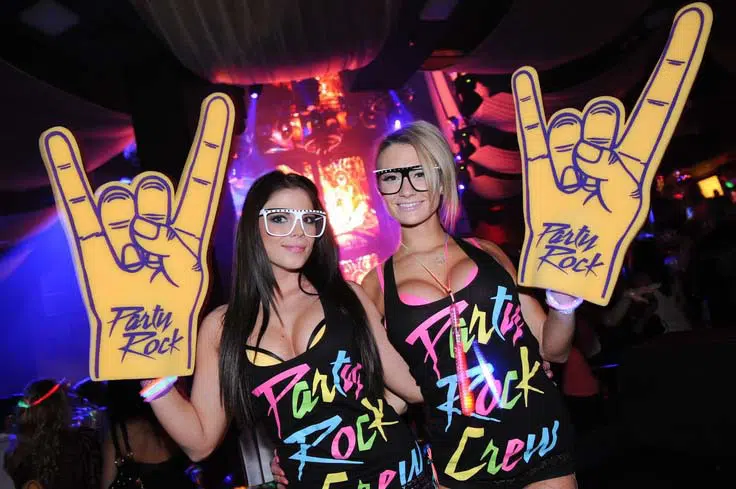 Most recently, Playboy held their "Midsummer Night's Dream" lingerie party at Marquee Las Vegas.  Complete with scantily clad Playboy models and velvet robed bachelors, the party was a major success and seemed to beg for more collaborations in the future.
Having the Best Experience at Marquee
Marquee caters to the highest end bottle service clients in Las Vegas, offering immaculate bottle presentations and gorgeous waitresses to help with anything the table needs.  Bottles start at $450, and if you have the budget we recommend going with a VIP table to truly enjoy the experience.
On the other hand, Marquee is one of the only larger venues to offer a free even ratio guest list.  Rest assured you'll be able to enjoy the party without dropping a fortune.
Whether looking for bottle service or guest list at Marquee, we have you covered.  Click the links above to instantly get in touch with a VIP Host or promoter to help.  Or simply fill out our inquiry form below and we'll figure out your best option.
Marquee Las Vegas Dress Code
Wondering about the Marquee Dress Code?  Marquee nightclub is located in the Cosmopolitan Hotel and attracts a very trendy and "in" crowd.  We recommend taking "dress to impress" to heart.
Guys: A collared shirt and trendy pair of jeans will do fine.  Fashionable t-shirts will work.  Stay away from baggy or torn clothing.  No tennis shoes, shorts, or athletic wear.
Girls: Heels are highly recommended but flats are fine as well.  Stick to dresses over jeans and tank tops – a dress-down look will get you in but also probably get you noticed in a bad way.  No flip flops or sandals.
What is the music like at Marquee?
Marquee is home to some of the biggest EDM and house acts in Vegas, and the music falls in that category on most nights.  They are known to host hip hop celebrities on select weekends, like Travis Barker and French Montana on Labor Day Weekend 2016.  These special nights feature a more hip hop and top40 vibe.
Marquee Las Vegas Resident DJs
Marquee regularly features house legends such as Benny Benassi, Galantis, Vice, and Dash Berlin.  One of their most popular acts, however, is Carnage with his unique open format, Trap-inspired "hard style" set.
What is the crowd like at Marquee Las Vegas?
Marquee is a subtle mix of younger Vegas party people and middle aged clientele from Cosmopolitan.  Some come specifically to see the biggest acts in house music, and others wander in from nearby Chandelier Bar after a few cocktails.
If looking for a mostly young but still balanced crowd, Marquee Las Vegas is your spot.  The crowd is usually wealthy and sophisticated, but the dance floor is still packed with raunchy and wild Vegas action.
What do drinks cost at Marquee Las Vegas?
Drinks at Marquee are what you would expect from a high end Las Vegas venue.  Mixed drinks starting at ~$15, rail shots ~$9, and beers ~$9.
We suggest taking advantage of the free drinks for girls on the guest list: arrive in the first hour to get tickets to redeem at the bar.
Marquee Guest List Sign-Up