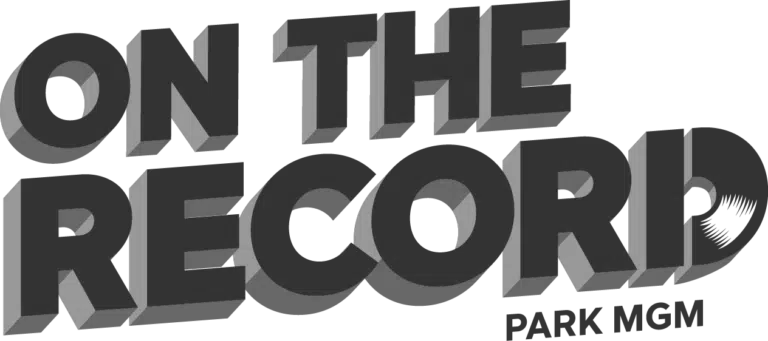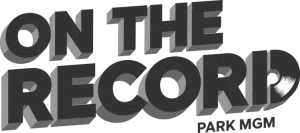 Days Open: Wed, Fri, Sat
Hours: 10:30pm – 4am
Hotel: Park MGM
Area: Center Strip
On the Record Las Vegas is the nightclub for people who don't like nightclubs, or at the least prefer bars. The venue feels like a funky LA house party.
The On the Record Guest List features free drinks for girls. Girls get tickets for Mixed Drinks, Beer, and Champagne from 10:30pm-12:00am every night.
On the Record "Speakeasy, Nightclub & Lounge" features eclectic DJs and performances not found in any other Las Vegas nightclub. Wednesday Night features an epic weekly Industry Night.
On the Record: Las Vegas' New Speakeasy
Mark and Jonnie of Houston Hospitality left no stone unturned when it came to creating their first venue in Las Vegas: On The Record Nightclub, Speakeasy, and Lounge.
If you aren't familiar with the twins and their work, after a night spent at this old-school-meets-modern-day speakeasy, you won't forget them!
The only constant for this trailblazing duo is that every venue is eclectic and keeps us coming back for more.
To hang at this brand new locals favorite, you will head to what was formerly the Monte Carlo Hotel, and is now the renovated Park MGM. If you haven't been to Vegas recently, the new hotel officially opened in mid-December of 2018.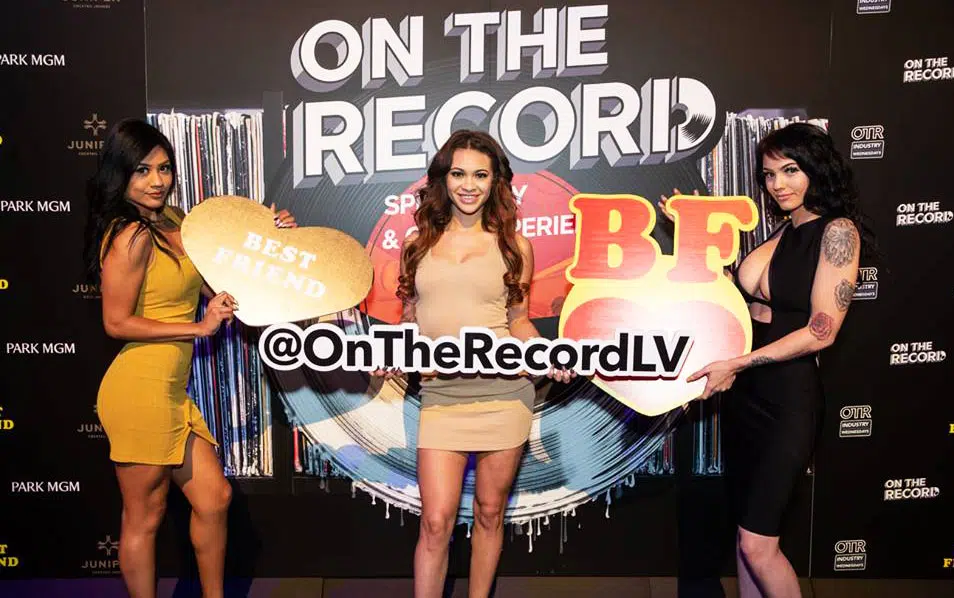 The hotel has transformed into a chic and trendy new spot that has had no trouble attracting the top influencers as well as the hottest names in music for their residencies at the Park Theatre.
Lady Gaga is currently headlining for her 27-show residency, and her after party that followed the anticipated release of "A Star is Born" was hosted at – you guessed it – On The Record).
On the Record Nightclub, Speakeasy, and Lounge
To hang at this brand new locals favorite, you will head to what was formerly the Monte Carlo Hotel, and is now the renovated Park MGM. If you haven't been to Vegas recently, the new hotel officially opened in mid-December of 2018.
How is On The Record Different?
You will be stunned with the detail put in to OTR to give it that laid back, "funk" vibe. The idea that you are hanging out inside of a record store is the concept for this space.  Trust us, there is nothing in Vegas quite like it.
The Houston Brothers are from LA, and have brought the city's nightlife here to the desert with them. Think of this as your secret hideout when you've had enough of the Mega-clubs and larger than life DJs in the surrounding hotels.
This is your retreat into a more intimate club experience.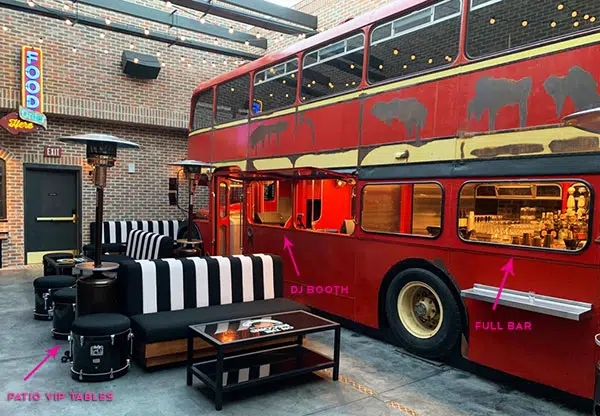 The indoor/outdoor aspect also makes this nightlife experience different from most. The outside patio (complete with a DJ Booth-Tour Bus) is a great place to chill out for a bit before heading inside to the dance floor.  You will get different music than the main rooms.
This is also a more casual area for conversation, getting fresh air, or a spot for a smoke break.
What Kind of Music Will I Hear?
One of the greatest features of OTR, is the different music playing throughout the multi room venue. There are three rooms that have indoor and outdoor spaces, and each room plays different music.
Just as the space is funky, and fun, so are the artists that entertain here. Recent performances include Wyclef Jean, Mark Ronson, Nice n Smooth, Just Blaze, DJ White Shadow + KRS-One ,  DJ Caroline D'Amore – and so much more to come.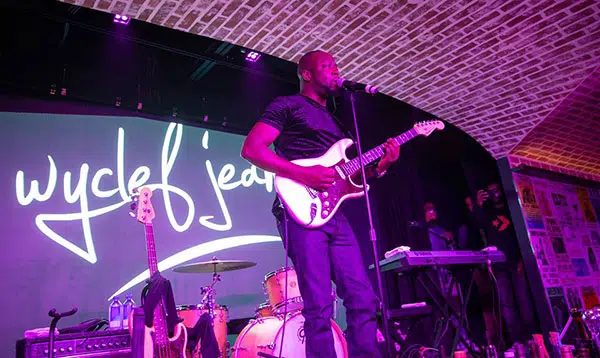 Your ears will be delighted by the sounds of the best Hip Hop, House, Rap, R&B and you'll definitely be getting down to some of the oldies.  This is the only nightclub in Vegas where you will hear Talking Heads and old school music as a warm up!
There are two DJ booths here, and you'll want to get a picture in front of each!
One is located inside of the red party bus seen above, and one is built inside the hood of a classic car. It doesn't get anymore-vintage record shop than that.
Lady Gaga at On The Record Las Vegas
Lady Gaga is currently headlining for her 27-show residency at the Park Theatre and her after party that followed the anticipated release of "A Star is Born" was hosted at – you guessed it – On The Record.
It was a big night for On The Record, and all of your favorite celebrities were in town to celebrate the opening. The red carpet boasted the likes of Kate Beckinsale, Bella Thorne, Rumer Willis, Jesse Tyler Ferguson, Dan Levy, Ireland Baldwin, Josh Hutcherson, Paul Wesley and many more.
Location
If you are on the strip (driving on Las Vegas Blvd South), you want to go all the way down until you see Aria on your right. Park MGM is sandwiched between Aria, and New York, New York. The official address is: 3770 S Las Vegas Blvd, Las Vegas NV, 89109.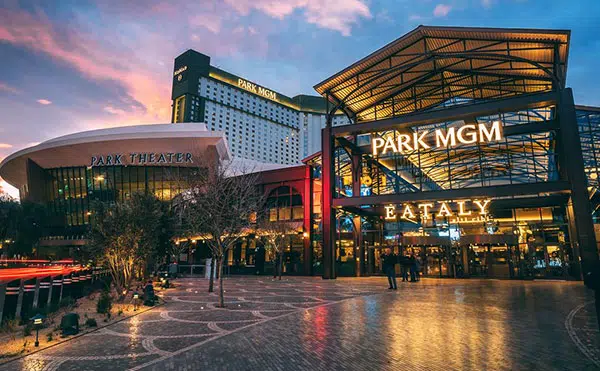 Once you are inside the hotel, go past the lobby and straight through to the casino floor. Walk down the main pathway and On The Record will be on your left side.
If you are lucky enough to be catching a show at Park Theatre you can walk across the casino floor and onto the main pathway, OTR will be on the left.
A "Speakeasy?"
Just as speakeasies were a hidden spot during the prohibition era (Can you imagine a time when alcohol was banned? #ourworstnightmare), there is a hidden section inside On the Record as well.
You will walk through what is a fully functional record store.  The speakeasy part of the club, also known as the "Vinyl Parlor," holds about 25 people and is accessed by opening a hidden wall that is lined with cassette tapes.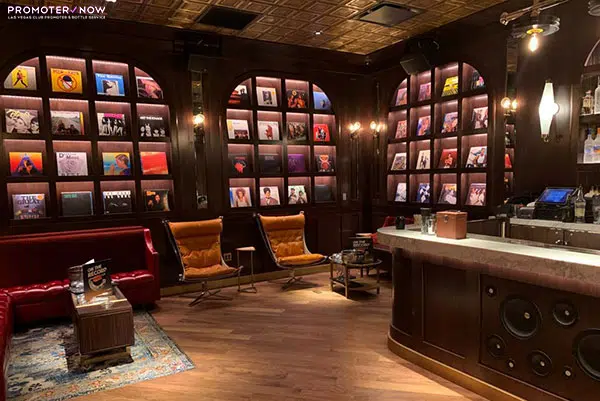 Once inside the Speakeasy, you will be surrounded by décor that was selected specifically by Mark and Jonnie Houston, based on records that they grew up listening to and have a love for. There will also be special guest bartenders that are from all over the U.S and will come in and create their own specialty, song themed cocktails.
See an album you love? Just point to it and let the bartender make a specially crafted cocktail inspired by the album. I chose the Fugees' hit album The Score, and the bartender whipped up a Jubilee. He explained that this was the drink Wyclef ordered throughout the night during his recent performance.
On the Record Las Vegas Dress Code
The website asks that you wear fashionable attire. (If you think a velour tracksuit with sneakers is fashionable still, then the strip in general may not be the place for you.) For example, you can wear jeans as long as you have nice shoes and maybe a blazer paired with them.
Ladies, dress it up, like most nightclubs in Vegas, a fashion forward look will be best.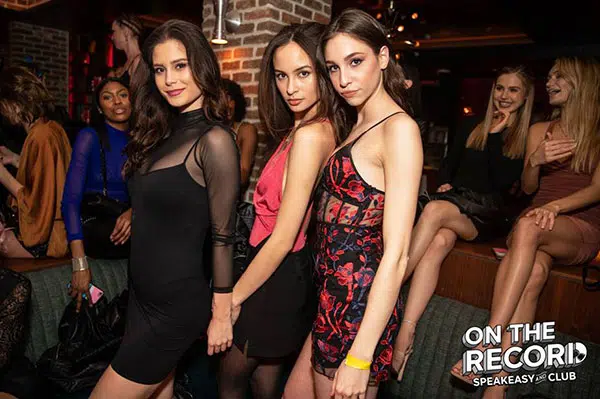 Items Not Allowed Include:
Oversized/baggy attire, hoodies, sagging pants, men's sleeveless shirts. No athletic apparel, Jerseys, Basketball shoes, Sweats, Men's shorts, Men's Sandals, Athletic hats, chains, bandanas, grills or mouth bling.
Backpacks, gloves, sunglasses, vape pens, and selfie sticks will also not be allowed.
Tickets
As far as purchasing tickets/cover charge:
Guys will have to pay at all times (ticketing price can vary), and if arriving to the club late.
The cover charge at the door is generally going to be a bit higher priced than regular ticket pricing. Check with us for the most up to date pricing.
Have a couple girls joining? Skip the tickets and sign yourself up for On the Record's even ratio guest list.
Guest List
The guest list is offered from 10:30pm – 1:00am nightly (Wednesday, Friday, and Saturday).
Ladies are free until 1:00am, and gentlemen are free in an even girl to guy ratio until 12:00am.
You must be added to the guest list prior to 8:30pm each night. Reserve your spot on the guest list today!
Comp Tables
If you are in town for a birthday party or bachelorette and you are with a group of fun, well-dressed group of ladies then you may be able to get a complimentary table and bottle for the night (that's Vegas, folks).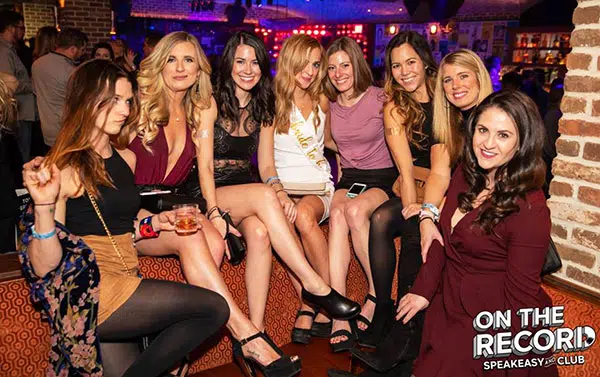 If you are in the local Vegas industry, you may be able to get a comp table also on select industry nights. Check with us first for availability.
Free Drinks
On the Record is also known to give free drinks out to girls for early arrival. Arriving before 12am should get you two drink tickets redeemable for vodka mixed drinks or champagne.
Contact us ahead for guest list information on any particular night, and we'll see if we can get you a few of these:

When You Arrive
Head to the guest list check-in which is on the right, and have your confirmation text ready. The doorperson will take your name, check you in, and open the rope for your group.
If you have a VIP table reservation, your entry is actually on the left of the club in a special area.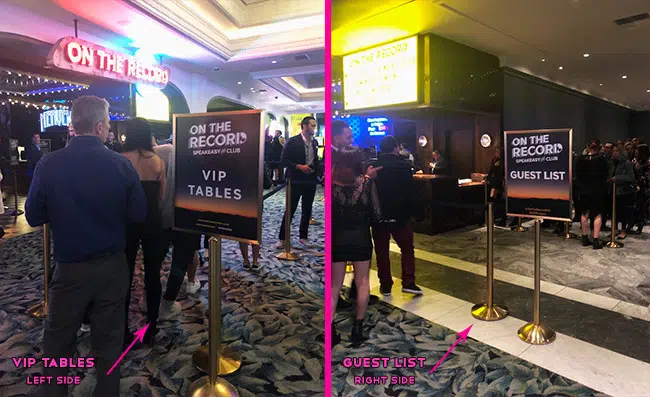 Regardless of which line you are in, please remember that everyone in your group must present a valid ID or Passport to get into the club.
Bottle Service
In our opinion, bottle service is the best way to go. You'll have your own cocktail waitress serving up the drinks while you and your group get to enjoy yourselves. One less thing to worry about is a plus in our book!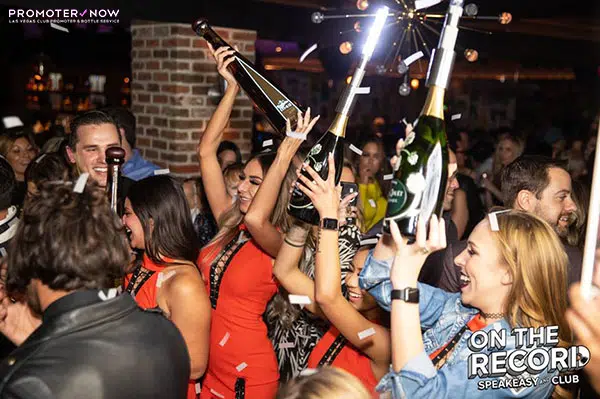 On the Record Las Vegas has a variety of curated bottle packages in addition to a la carte selections. These include: "Here's To Us", "The Midnight Kiss", and "The Perfect Party." These package and large format options debuted on opening night (NYE), but are still available for the true ballers (see below).
Bottle service pricing can range depending on your group size, preferred location within the club, and specific performance that night.
You'll get a minimum quoted to you based on these factors. However, your total cost will naturally depend also on your choice of bottles, and how many bottles you end up ordering.
Standard spend minimums at On the Record range from $530 – $3,000. High-end tequilas weigh in as some of the most expensive bottles here.
Reap these benefits with bottle service:
Fast, hosted entry into the club.
Your own table for you and your group to privately enjoy.
You'll be able to meet the bottle service minimum however you'd like.
Unlimited mixers of your choice.
Busser who will take care of any spills and replenish glasses if you run out.
Security Guard to protect everyone inside the table, and make sure no one outside is causing trouble/sneaking in – which is necessary if you don't want any randoms joining your table.
How much is Bottle Service at On The Record?
Pricing fluctuates with table minimums on a given night, but a good rule of thumb is that Wednesday will be cheaper than a Friday or Saturday. Make sure you always contact us for a custom quote that fits your group.
On the Record Bottle Menu
Here's an inside look at the menu and individual bottle costs. You'll be able to select any bottles you'd like to fulfill your minimum spend: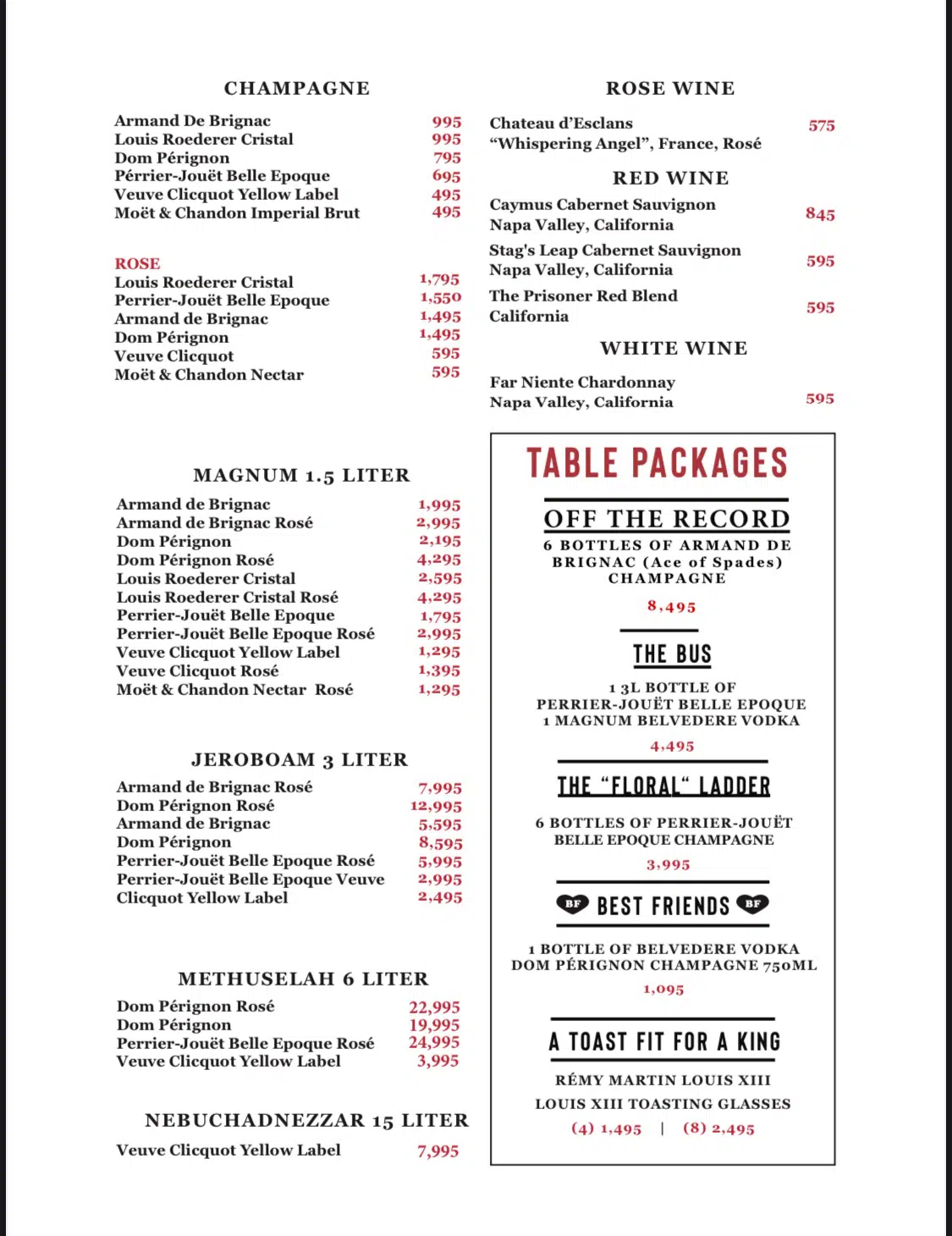 How To Calculate Your Total Spend
On top of your minimum spend, there is:
8% sales tax
18-20% gratuity (your choice)
5-7% venue fee (depends on min)
This adds roughly 30-35% on top of your total bill. Simply multiply your bottle service quote by 1.3 to get a rough estimation of cost out the door (e.g. a $2k min spend would be approximately $2000 x 1.3 = $2600 all in).
New to nightclub bottle service? We have a great little primer to explain the basics of balling out.
Looking for a deal? Always contact us ahead of time to see if a deal is possible on any given night. On the Record is a brand new club and already very popular, so aim for coming in on a Wednesday industry night if on a tight budget.
On The Record Table Map
Below is an outline of the different table options and what you can expect at each. We know, it's confusing if you haven't been here.
We go deep into the individual sections below.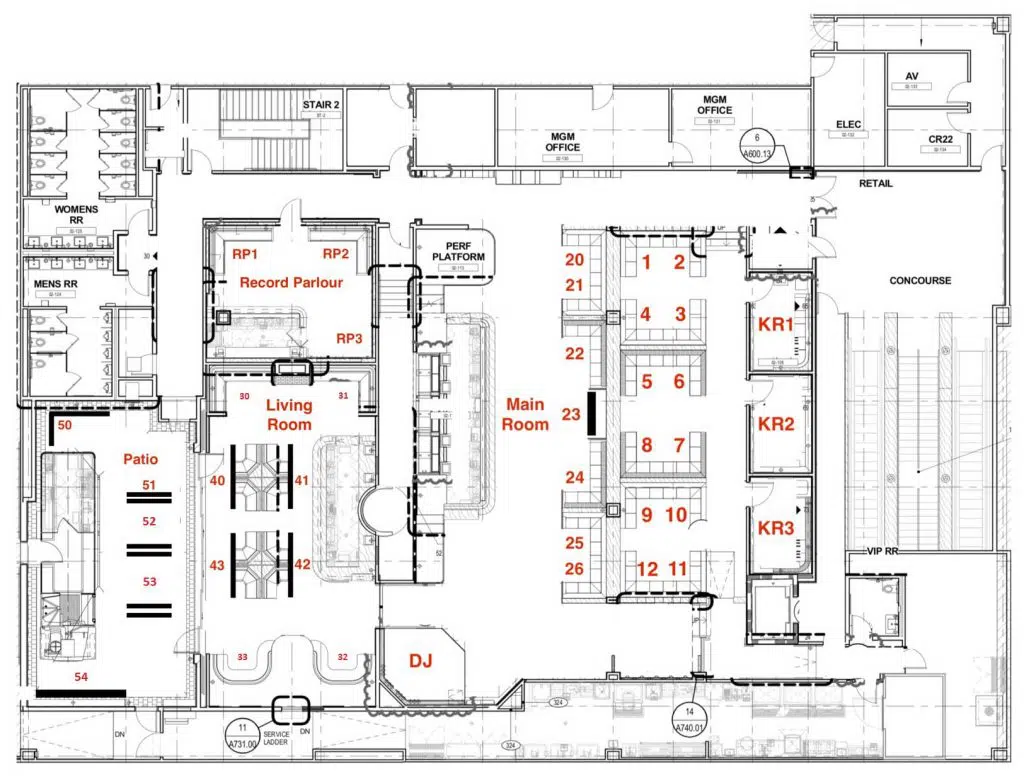 There's a lot to explore. We feel On the Record features the greatest variety of areas and experiences within in a single club in Las Vegas.
Main Room
The main room has the biggest area for dancing; it also has the best view of the main stage, which is where you'd want to be if your favorite artist was performing.
There is also a section in the corner for live bands – again this is our favorite viewpoint for anyone we were going to OTR specifically to see. The live band typically serves as a warm up for the headliner in the first part of the night.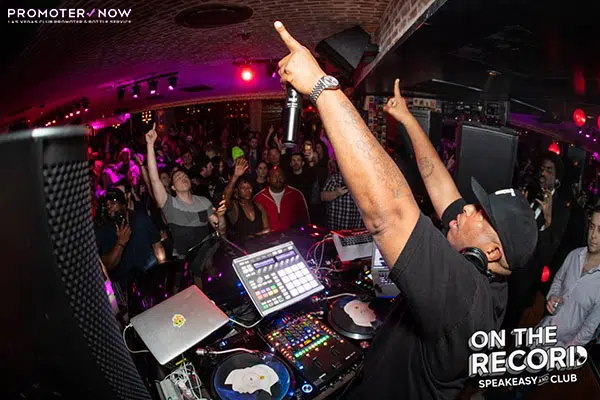 For us, the main room is where the most action happens. You also have one of the two DJ booths here on the main floor, the classic car is to the left of the main stage.
Lower Dance Floor Tables
Avg. Minimum: $2,500
You want a piece of the action if you are at these tables. You have got the best view in the house, if the view you want is on the stage. You will have a clear view of and access to the dance floor, in all its glory.
You can easily go from table to dance floor and back all night long with little trouble (great for guys looking to meet girls, or vice versa). Definitely a favorite of ours!
Upper Dance Floor Tables
Avg. Minimum: $1,500
The tables here will be slightly elevated compared to the lower dance floor tables. Same great view, just a tiny bit higher and a bit farther back then the lower tables.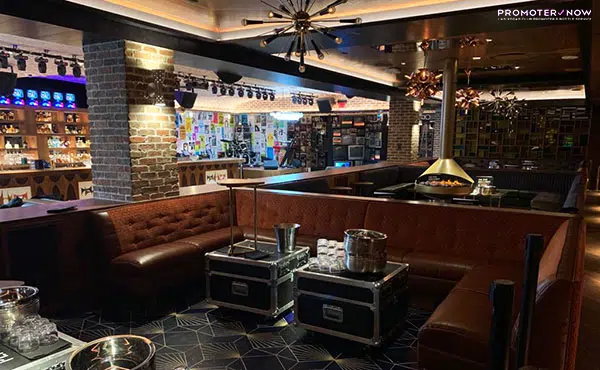 You will still get the benefit of having your own section, and also being able to join in the dance floor whenever you feel the need. There is a short staircase that takes you directly down to it from here.
Vintage Center Stage Table
Avg. Minimum: $2,500
One smaller table with an exact center viewpoint of the stage. The best selfies of you with your favorite rapper in the background are no doubt taken from this table.
Though similar in price to the other Lower Dance Floor Tables, this one gets booked out quickly so make sure to request specifically when making your reservation. It's also smaller, so take into account your group size as well.
Living Room
Avg. Minimums:
Center tables $2,000
Tables against both walls $2,500
Sandwiched between the patio and the main room, this is a great option for more of that lounge feel.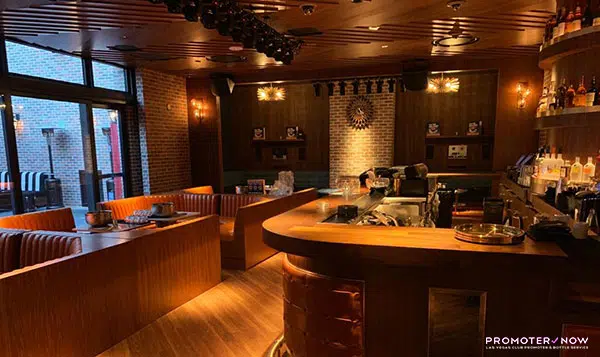 The easy access to each different area from here also makes it a perfect party location for those who like to roam freely.
Vinyl Parlor aka "The Speakeasy"
Avg. Minimum: $2,000
These tables are going to be located inside the sleek and hidden "Speakeasy Room." You'll hear many people asking about where it is, but not too many who have actually found its location.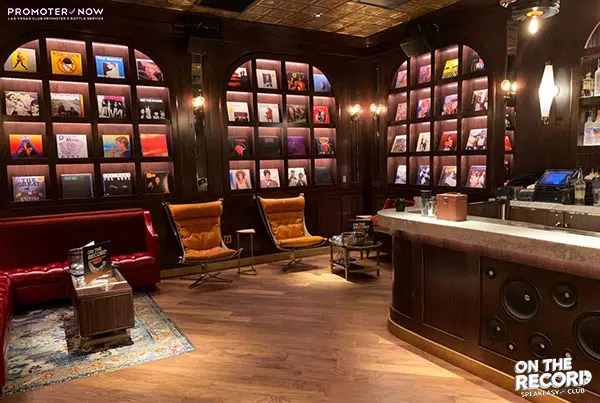 To Find the Speakeasy: Along a wall of cassettes, if you look closely, you'll see a slight indentation indicating a doorframe in the dimly lit ambiance.
Slide your hand along the wall and press and you'll open up upon the coveted Speakeasy Room within On the Record.
It's a smaller room with a big personality. This is for the more intimate group that will appreciate all the décor and quirks that went in to creating this hidden room. The bartenders located here are top of the line, and have been recruited specifically for their personal drink making styles.
This is another favorite – you just can't beat the exclusive, sexy feel that the hidden room has (imagine confidently showing someone you're vibing with the way inside).
Patio
Avg. Minimum: $1,500
The patio is located directly behind the living room, and features the cornerstone red bus turned DJ booth. This is an outdoor area, and perfect for a quick smoke break, more intimate conversation, or a simple breather.
There is also room for dancing here, and plenty of room to simply chill out. The DJ booth inside the bus is the focal point of the room and garners the most attention, hands down. Any of the center tables will get you close to the bus, and are smack in the middle of the Patio's dance floor.  It's a very fun area of On the Record to book bottle service.
Private Karaoke Rooms
Avg. Minimum: $3,000
Hello…private karaoke room! Do we really have to elaborate on how amazingly unique this is?
This is a great option for birthdays/bachelorettes/company parties. Get your group together and impress them with a Karaoke room at a nightclub!
Needless to say, you won't find something like this at any other nightclub in Las Vegas.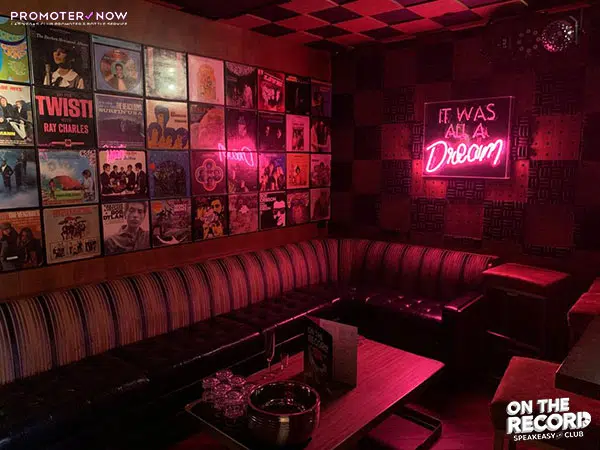 Have a blast in your very own private room where you can sing at the top of your lungs. And when you can't take the off-key tune of one of your friends, you can still head to the dance floor and have a break with the sounds of the DJ.
Coolest Things About On the Record Nightclub at Park MGM
Let's review some of the things we like most about this brand new venue at Park MGM.
The different rooms playing different music is a factor that we absolutely love: it's great to have options and be able to feel different vibes throughout the same venue.
The Indoor/Outdoor feature is also great to get some fresh air and show a different side to Vegas nightlife. It also allows for something most clubs don't: talking to one another! This alone sets On the Record apart from many of the powerhouses on the strip.
Lastly, the hidden speakeasy is by far the best feature and the biggest draw for the curious club goer.
Unique Talent & DJs
At many other nightclubs in town, you will consistently see the same headliners, and those are ones we love don't get us wrong. However, there is something great about booking different talent that isn't continuously seen at every other place.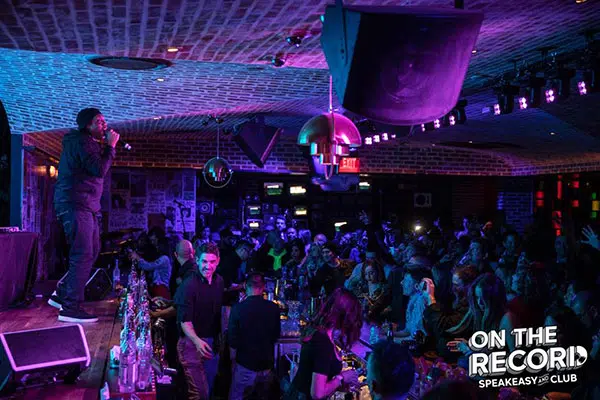 Little Dicky was a recent performer, and Just Blaze DJ'd recently. Justin Credible, The Beat Junkies & The Pharcyde – to name a few – are performers that aren't seen on every billboard in town. That is another factor that we like about OTR – they seem to feature the acts that are not over played on the radio and have insane raw talent.
The Speakeasy Concept
Again, we love the fact that a true speakeasy is a part of OTR.
A little history. The term speakeasy comes from the prohibition era where it was illegal to consume, make, or sell alcohol. Props to the folks back in the day who went to great lengths to continue to do these things despite severe consequences.
Speakeasy's began to pop up as a distinctly hidden space that did not post a sign on its door, or an identifiable entry point to hide from the law. With limited resources, and having to stay hidden while consuming the forbidden elixir, the bartenders back in the day had to use what they had to create their own recipes for different drinks.
On The Record pays beautiful homage to the original speakeasy by hiding its Vinyl Parlor behind a completely hidden secret door. Once inside, the space is small and intimate, with vinyl records adorning the walls.
Did we mention? There is a bar placed in against the wall, with bartenders that are known for creating their own recipes – true speakeasy style – and they will do just that for OTR.
The Party Bus DJ Booth
You won't see a 1963 Bristol Lodekka Passenger Bus in any other club in Las Vegas. That's a fact. Especially one that has a DJ jamming inside of it, mixing up the hottest beats.
This feature really gives the entire venue a house party vibe. It reminds us of the times when we used to go to a house party every weekend and have a full blown rager with all of our friends. Okay none of our friends had a bus in the house, but you get the idea. The different rooms, well-used space and detailed décor really make this place one of a kind.
Industry Wednesdays
Wednesdays are the best day for a visit by far. Come out for industry night. If you're local Vegas industry (that includes food, hospitality, retail, and more), you'll get preferred treatment.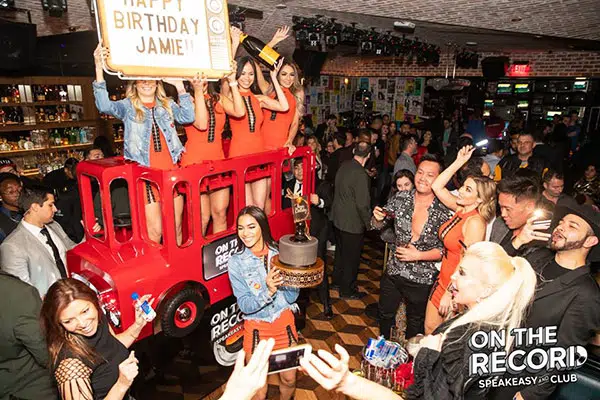 As previously mentioned, you may be able to get a comp table on a Wednesday industry night with a group of all girls as well. Make sure to check with us first for availability.
However if you are in town visiting, Wednesdays are the new Fridays they say, so come join us!
Attractive and Friendly "Startenders"
The Park MGM Hotel is new, On The Record is new…all around it's got that new fresh feel. How to describe it?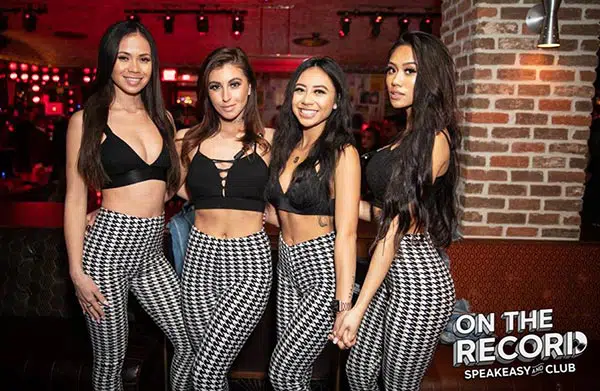 It starts from the walls of the club and seeps into the people who work there. We were treated by professional, fun, and friendly staff the entire time. Everyone was genuinely having a great night, once again giving the venue that house party vibe and that you are hanging out with all your pals.
Restaurants At Park MGM
There are plenty of brand new restaurants that have already received great reviews among locals and visitors alike, located right inside the hotel. Park MGM is always featuring latest announcements and specials via their twitter account.
You will have many options for grabbing a bite before the club, or when you get those after drinking munchies (The Drunchies).
We recommend you check out:
Best Friend – Korean BBQ, very highly rated
Primrose – French-themed bar, restaurant, and pregame spot
Eataly – Huge Italian Marketplace with multiple stations (Pizza, Wine, Canolis and about 15 others)
La La Noodle – Pan-Asian cuisine
Bavette's Steakhouse & Bar – French, casual dining with top notch cuts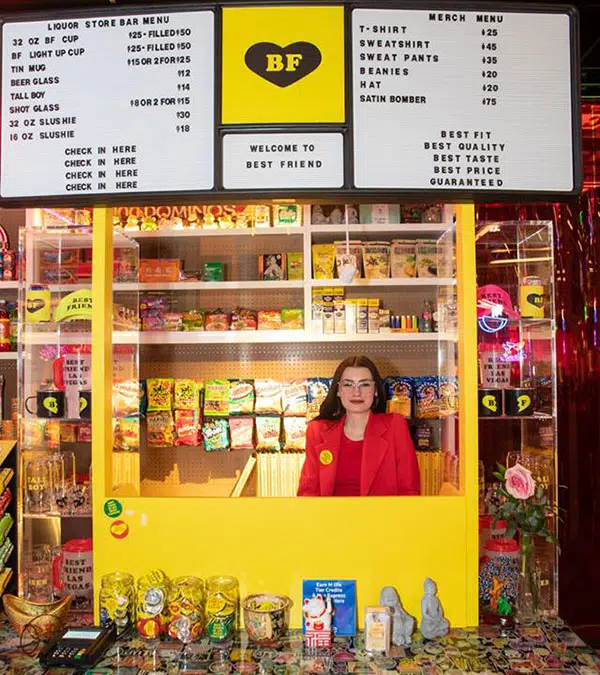 Conclusion
On the Record is exciting, new, and different. It's a breath of fresh air when compared to the played-out multi-level EDM venues that have come to dominate the strip in recent years. After a few visits to OTR, we can say that each experience feels different and unique.
If you want the feeling of a house party with all your friends mixed into your Las Vegas nightlife experience, On the Record is your jam.
This is a place where hipsters, millennials, and old school music era folk can all rejoice. Take our word for it and plan on making OTR part of your next weekend out!