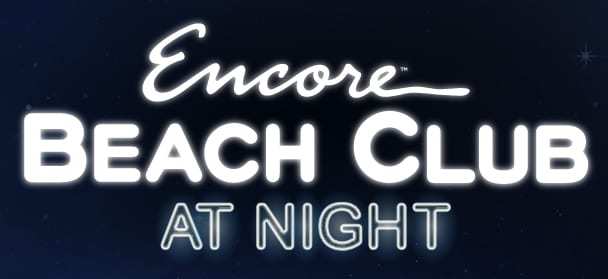 Encore Beach Club at Night Las Vegas
Days Open: Wed, Fri, Sat
Hours: 10:30pm – 4am
Hotel: Encore/Wynn
Area: North Strip
Las Vegas' Encore Beach Club at Night features both a large inside area and massive outdoor area complete with fully stocked cabanas, poolside VIP tables, and floating blackjack tables on the water.  Its a legendary party, known for being the best nightswim in Las Vegas and the wildest party.  It was formerly known as Surrender Nightclub, but was recently rebranded.
EBC @ Night, as its commonly called, has its industry night on Wednesday (formerly Thursday).  Locals will tell you its the spot to go on Wednesdays in Vegas.
The Encore Beach Club at Night Guest List is open every Wednesday, and select Fridays and Saturdays in the month depending on talent.  Let us know what night you're going to get the best hook up.
Encore Beach Club at Night Las Vegas: The Insider's Guide
Encore Beach Club opened to Las Vegas in 2010 as the Encore's luxury poolclub.  During the summer, the space is also home to "Encore Beach Club at Night" – formerly known as Surrender Nightclub – one of Vegas' hottest parties and the first ever nightswim.  EBC at Night features a large indoor dance floor and an expansive outdoor patio area.  It's layout is original and iconic in this aspect, paving the way for newer clubs like Marquee with the same dual layout.
Navigating EBC Las Vegas
The indoor area at EBC features a large central dance floor surrounded by VIP booths and a long style bar against the wall, above which hangs a majestic gold serpent.  The DJ booth is located in the back of this space, and the performance is broadcast on screens around the club.  EBC's inside almost feels like a club within itself, but fills a mere 5,000 square feet.
The majority of the club is actually outside, where the other 55,000 square feet lie.  The outside area is home to 26 fully stocked VIP cabanas, and a slew of poolside tables, daybeds, and lilypads (water bound lounging beds).  Little pagodas and slender walkways are laced across the pool patio, making for rendezvous spots and easy travel across the water.
Having the Best Experience at Encore Beach Club Las Vegas
To experience EBC at Night in all its glory, we recommend checking it out on a Wednesday and catching their legendary weekly industry party.  Wednesday at EBC is when the best of the Vegas industry party with the tourists of the week, and get the chance to see one of the biggest DJs in the game perform live.
EBC at Night Wednesday also features an even ratio guest list and free drinks for girls.  Select Fridays and Saturdays feature the same guest list, but more often its a "girls only" guest list where guys will have to buy tickets or pay cover.
If coming on the weekend with a mixed group, your best bet may be to look into bottle service.  Encore Beach Club has over 80 VIP tables with different pricing options.  Head over to guest list or bottle service to see what works best for your group, or send us an inquiry below and let us help.
EBC at Night Guest List Sign-Up