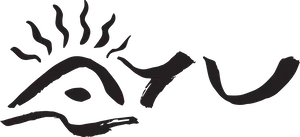 Days Open: Thu, Fri, Sat, Sun (Moonbeam)
Hours: Thu-Sat: 10:30pm – 4:00am, Sun: 5:00pm – 1:00am
Hotel: Resorts World
Area: North Strip
AYU Nightclub, aka "AYU Nights", is the hottest new nightclub to his the Las Vegas strip, and features superstar resident DJs: Zedd, Tiesto, and Snake.
The AYU Nights Guest List features a free even ratio (girls:guys) guest list at most events, and a complimentary girls guest list at all events.
AYU Moonbeam is a special one-of-a-kind Sunday industry event which begins at 5pm and rages until midnight.
The Ultimate Guide to AYU Nights
Have you been to Maynmar? The Phillippines, Sinapore? What about Thailand? If not, then you absolutely should someday.
What all of these exquisite countries have in common is their lush tropical forests, sprawling beaches, mesmerizing culture, and high octane party vibe.
Don't worry if travel isn't on your immediate to-do list (we understand). The newest Las Vegas nightclub, at the brand new Resort World hotel, invites you to sample a taste of Southeast Asian countries via AYU Nights.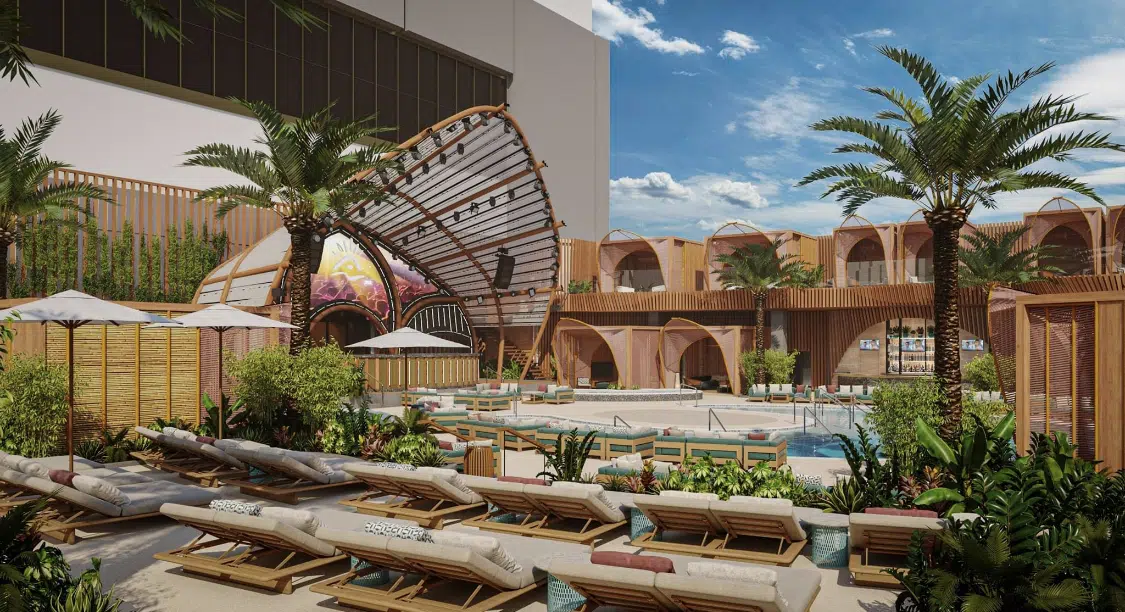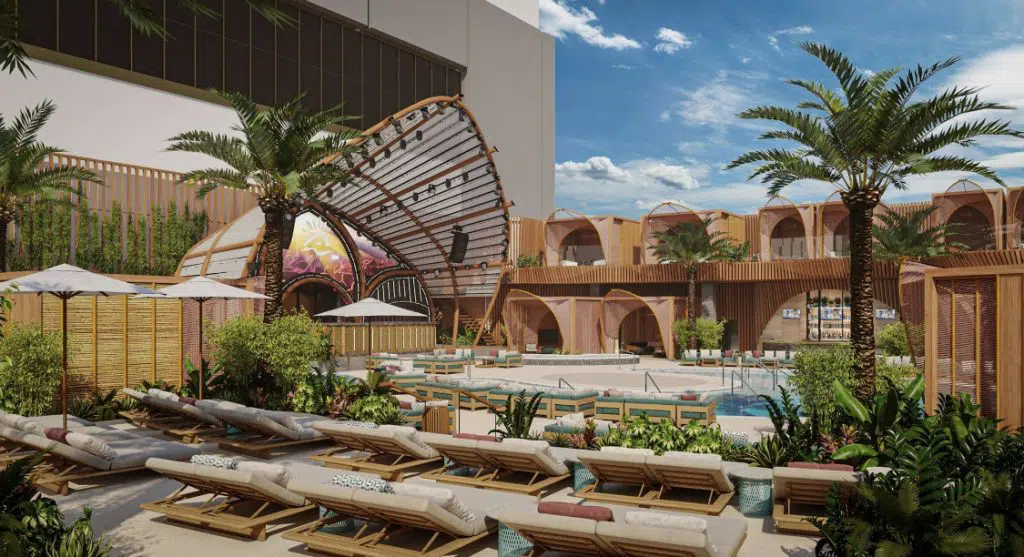 AYU Nights actually takes place at the AYU Dayclub venue space. It is an outdoor night club experience (not a nightswim). The sun goes down, the lights go on, and the outdoor, tropical setting comes to life.
Not to mention the insane DJ line up to really kick off the summer, AYU nights is a party you can't miss.  
What is Zouk Group?
Zouk was a premier clubbing destination in Singapore beginning in 1991. It set the bar very high for nightlife and was the first club to introduce House music to the scene in the Southeast Asian market.
Since its humble beginnings, it has launched itself into a luxury, global, lifestyle brand that has expanded into international markets.
Zouk group premiered in Las Vegas in 2021 with AYU Dayclub and Fuhu restaurant, Redtail sports lounge, and Famous Foods food court at Resorts World Hotel and Casino.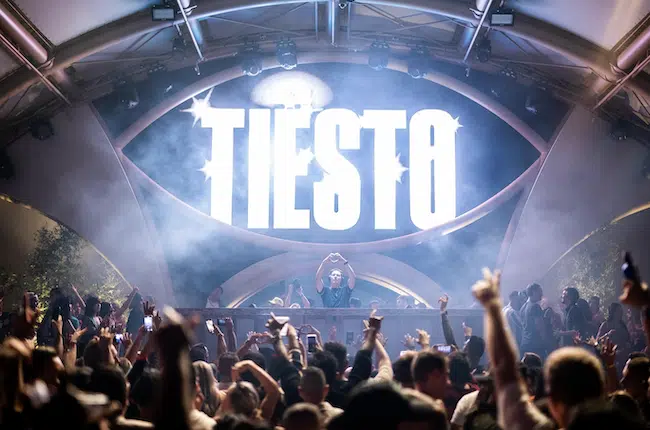 SPOTTED: Celebs at Resorts World
Opening weekend was nothing short of booming for AYU Dayclub/Nightclub.
Miley Cyrus was a headliner and there were many stars spotted in the VIP section partying in a way that only Miley can demand. As she sang out her classics, "Party in the USA", Chrishell Stause, Mary Fitzgerald, Jason and Brett Oppenheim, and Romain Bonnet, of Netflix's "Selling Sunset", could be seen dancing along.
Stunning influencer and co-owner of Sugar Taco, Tina Louise was also seen among the crowd cheering on the opening night performers. Mega DJ Tiesto was also seen taking a break from his dj booth and nodding his head along to the perfect sounds of Miley, pouring out of those brand new AYU speakers.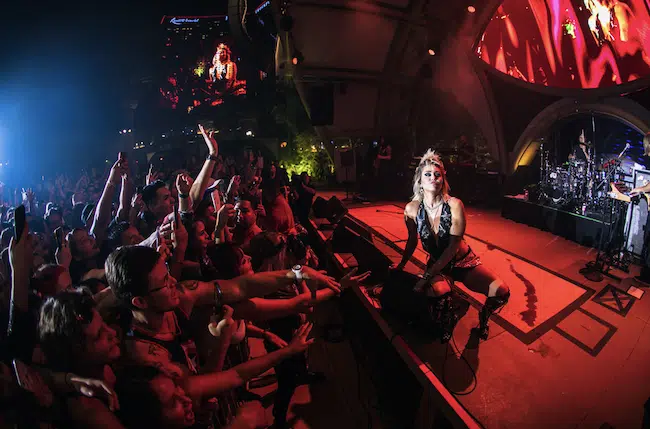 Moonbeam Sundays
A brand-new concept brought to Resort World is a party powered by the Sun and Moon; AYU Moonbeam Sundays.
This exclusive party only takes place on Sundays and is located at AYU nightclub. Doors open at 5:00pm and the party goes until Midnight every Sunday.
The special club series gives off EDC in a tropical rainforest vibe. There will be stations for Boho hair braids, party makeup and more. The usual Thu – Sat tables and bottle service will also be available during Moonbeam.
The DJ line up is already jumping off to an incredible start with MK, Jamie Jones, The Martinez Brothers, Green Velvet and Zhu. Don 't miss this one of a kind sunset party!
Guest List Info
AYU nights is open Thursday – Saturday from 10:30pm-4:00am; Sunday hours are 5:00pm-12:00am (Moonbeam).
Girls are always free on the AYU guest list. Groups of girls and guys (in an even 1:1 ratio) get free entrance until 11:30pm nightly, unless specified due to a specific event, holiday weekend, or special performer.
Generally, ladies can be expected to pay $50.00 and men $75.00 at the door on a special event night. Avoid this charge by signing up for the guest list in advance.
You'll get the guest list info automatically texted to you for that night as well as your confirmation to show at the door.
AYU Resorts World Dress Code
You're on a tropical vacation and you packed only clothes that you would want to be photographed in for the picture IG post.
You know what we're talking about. Those outfits… wear one of those.
The club itself asks for "Summer Chic", dresses, rompers, matching two pieces, wedges, beachy but in a sexy, and stylish way. You got this.
For men, A nice short sleeve button up, nice shorts (not swim trunks), and loafers/close toed shoes and you're good to go! 
Please refrain from wearing:
Athletic attire, jeans, ripped or cut clothing, cargo shorts, see through bathing suits/clothes, baggy clothes, hats. Offensive print, chains
You also won't be allowed inside the venue with the following items:
Eye drops, Wipes, Food/drink, Video or camera equipment including go pros/ selfie sticks etc, illegal drugs, vapes, medication of any kind, any weapons of any kind. 
As stated: "Management has the discretion to not allow you or your group entry for violating its terms"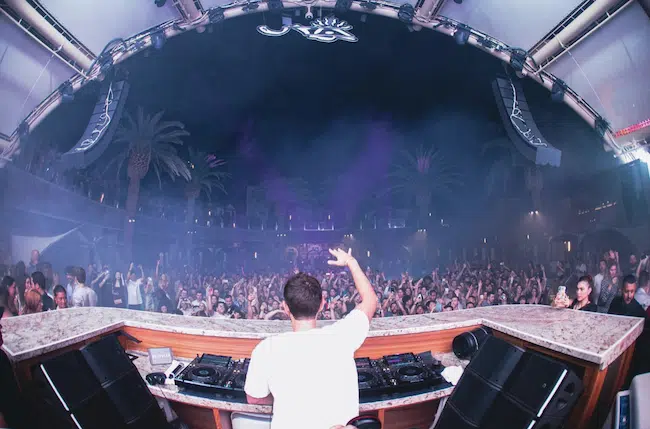 AYU DJ Roster
What a line up! AYU Nights has the hottest DJS rocking out every single weekend! And its only fitting for the newest nightclub in Las Vegas.
You are guaranteed to see your favorite at the hottest outdoor night experience in town:
Weekly residents include: Zedd, Tiesto, and DJ Snake.
Upcoming artists and performers include: Jack Harlow, Gareth Emery, Jonas Blue, ZHU, MK, Cash Cash, Jamie Jones, Madds, and new to the Vegas scene as a DJ,  Brody Jenner & Lucien!
AYU Nights Bottle Service
Bottle service will vary greatly on the table that your party is choosing for the night. You can browse live pricing and book direct here.
With bottle service you are saving the hassle of going back and forth to the bar every time you need a refill. You will get the bottle of your choice chilled on ice, plenty of mixers, and a bottle service hosts to pour your drinks. What you spend on bottle service will go towards your overall spend at the table. 
Generally, bottles start around $600-$700 before including the tax and gratuity. 
AYU Vegas Table Map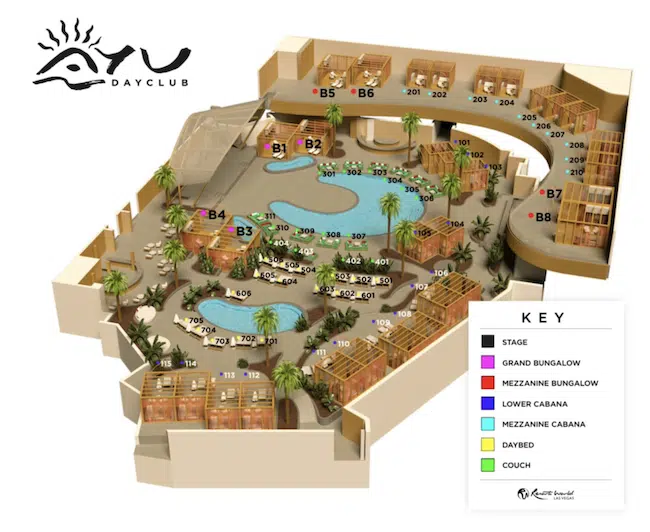 Which Table Best Suits Your Group?
*Prices are subject to change depending on the event/performer*
Stage – boasts the best views in the venue. This location can fit up to 12 guests and has a minimum spend of  $25,000
Grand Bungalow – Located on the main club level and has private pool access with great stage views. Up to 20 guests and has a minimum spend of $15,000
Mezzanine Bungalow – Has a great view overlooking the main stage. This location can fit up to 20 guests and has a minimum spend of $15,000
Mezzanine Cabana – Views of the pool and main stage. This location can fit up to 12 guests and has a minimum spend of $5,000
Lower Cabana – Located on the main club level that has overlooking views of the stage and the venue itself. This location can fit up to 12 guests and has a minimum spend of $5,000
Couch – Located in the main club level. There can be a total of 6 guests at this location. The minimum spend is $4,000
Daybed – Located on the main club level. There can be a total of 6 guests at this location. The minimum spend is $3,000
Ready to Party?
If you feel like letting loose – and we mean really letting loose – you might consider one of AYU Night's Champagne Showers. 
They have different packages, the least expensive called their "Fly me to the moon" at $5,000. Their most expensive titled "VIP – Very Important Partier" at $100,000. Each package comes with a flashy show from the beautiful AYU Nights bottle girls and an assortment of champagnes depending on the package that you choose. 
These prices and availability may change as this brand new venue kicks off here in Las Vegas this summer: check back with us for the most up to date options!