Days Open: Mon, Fri, Sat
Hours: 10:30pm – 4am
Hotel: Cosmopolitan
Area: Center Strip
Marquee Guest List
Marquee offers one of the best guest lists in Las Vegas, especially if you're a group of both girls and guys.  Even on nights with very high-end talent, Marquee offers a guest list and doesn't gauge ticket prices like other venues.
Does Marquee offer a free guest list?
Yes.  Girls and guys are free even ratio on the Marquee guest list from 10:30pm to 1am on any normal night.  The same goes for Marquee Dayclub over the summer from 11am-2pm, offering the best free even ratio pool party option in Las Vegas.
How's the Marquee guest list work?
Simply enter your info in our guest list form below and we'll have our Marquee promoter reach out to touch base and send you a confirmation to show at the door for free entry.
Is there free drinks on the Marquee guest list?
The Marquee guest list does feature drinks for girls in the first hour.  The club opens at 10:30pm and girls receive drink vouchers until 11:30pm.  We suggest arriving early.
Pro tip: Nearby Hyde Bellagio offers an open bar for girls on the list from 10:30pm-12:30am.  You can sign up for both in one night, beginning at Hyde and ending at Marquee.  Pregame and get in both for free.
What is the cover at Marquee Las Vegas?
On a normal night, cover at Marquee starts at $30 for guys and $20 for girls, but could go as high as $50/$30 later in the night.  The same goes for the day club.  We recommend adding yourself to the Marquee guest list to get your party in free without a cover.
Any # of guys over even ratio with girls will however have to pay a cover, and your promoter will let you know how much.  Expect normal prices any regular weekend, Memorial Day weekend and Labor Day weekend can get out of hand.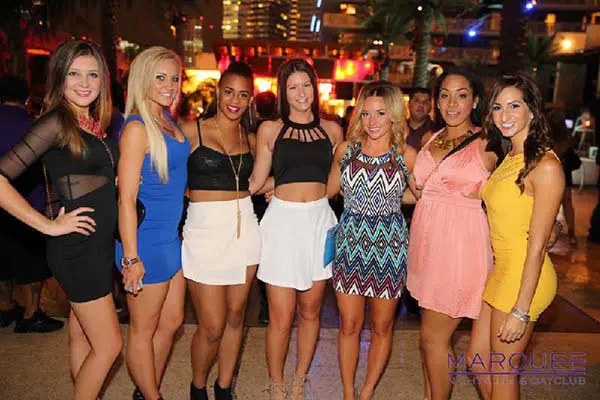 Guest List Hours

:

The Guest List at Marquee is open from 10:30pm – 1am.
Free Entry

:

Girls and Guys are FREE even ratio on the guest list from 10:30pm – 1am.
Free Drinks

:

Girls get free drinks (vodka & champagne) from 11:30pm – 12:30am.
Hosted Entry

:

For Hosted Entry you'll want to explore our VIP Packages.  If you have a larger group, we may be able to offer complimentary hosted entry by our Marquee promoter.