Days Open: Fri, Sat, Sun
Hours: 11:00am – 6:00pm
Hotel: Virgin
Area: Center Strip
Elia Beach Club Las Vegas is the brand new Virgin Hotel's crowning achievement, complete with a "Tulum"-style / Meditteranean design, top tier house music performers, and even real sand!
The Elia Beach Club Guest List features a free even ratio (girls:guys) guest list from 11am to 3pm, including a complimentary open bar for girls for (4pm-5pm).
Go to Elia Beach Club to see off-beat, rare, and sought after House and EDM acts like Sofi Tukker, Lane 8, Loco Dice, and classic stars like Deadmau5 as well.
Elia Beach Club: A Vacation Inside a Las Vegas Vacation
Point of view: You're walking through the cabanas looking for your friends. They have a daybed and bottle service for today's pool party. Everyone around you is classy, partying with style and sex appeal. The Venue beckons to you. There is no resisting the Mediterranean vacation that you just embarked on. Wooden tables and chairs, Mediterranean colored pool, tropical beach style cabanas, and a straw roof stage that invites only the top DJs. 
 You look around at the beautiful new day club and think to yourself, I didn't think there could be a place like this in Las Vegas. Well there can, and there is. Meet Elia Beach Club.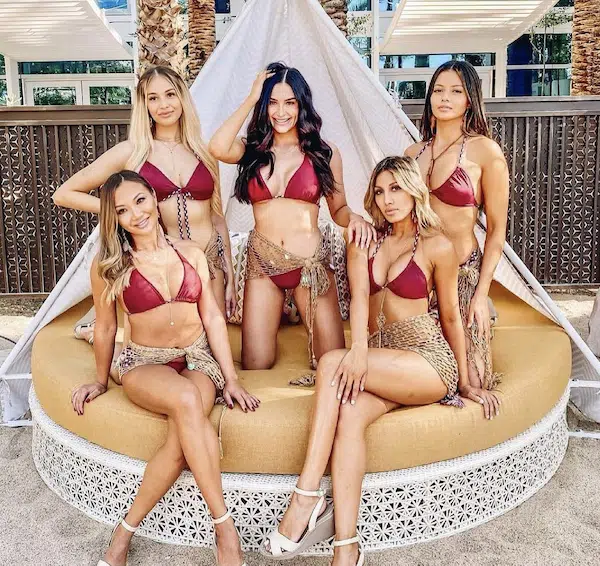 Virgin Hotels Replaces the Legendary Hard Rock
Formerly known as the Hard Rock and Rehab Pool at the Hard Rock Hotel, Elia Beach Club is part of a new project launch by Virgin group founder Richard Branson. The Hard Rock Hotel which was a Las Vegas staple and had been a reigning contender in top party spot for 26 years, closed in 2018. Since then, the famed hotel has gone under a $200million dollar renovation to become what is now The Virgin Hotel.
If you're someone who has partied in Vegas over the last decade then you know as soon as pool season hit, REHAB Pool would come to life. It was the first major Day club to hit the Las Vegas scene, and closed its doors after celebrating its 15th season. Locals and tourists alike will surely miss the infamous party, and Elia has big shoes to fill, but from what we have seen thus far she is well on her way.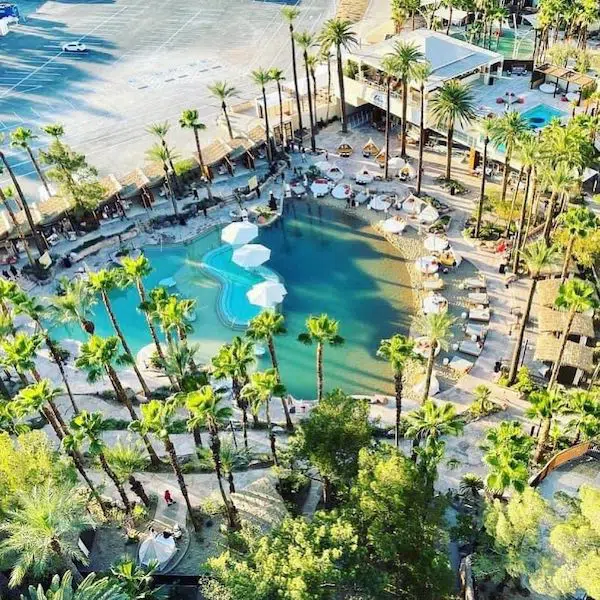 The Virgin Hotel's CEO – Richard Branson – came in swift with his vision for the old Hard Rock Hotel and transformed it into a sleek tropical destination. Upon entering you are swept away to the Maldives, or a beach club in Dubai. Everything from the music, the light fixtures, the wood décor mixed with rugs and potted plants and the nude and beige coloring throughout will definitely make you want to grab your passport.
Guest List
Hours of operation are 11:00am to 6:00pm Friday through Sunday, and the Elia Beach Guest List runs from 11:00am to 3:00pm.
Girls: Ladies are free and receive one free drink ticket, along with an open bar from 4:00pm-5:00pm daily. That's more complimentary drinks in a day than any other pool party in Vegas.
Guys: Gentlemen are generally free in an even ratio with girls (see our full events calendar for more info). On holiday and fight weekends, they'll get 50% off the full cover charge on the guestlist and receive one drink ticket.
Groups of all gentlemen will receive 25% off the full cover price and one drink ticket.
Cover Charge is typically between $30 – $50, varying on capacity. This is the General Admission price if you were to simply walk up to the ropes (not on the guest list).
Dress Code
Elia Beach asks that proper attire is worn. Yes this is a beach club and pool party, but think of your dress style as upscale resort wear.
For women, skirts, shorts with nice blouses, sexy summer dresses, nice sandals and wedges.
For men, nice shorts or pants with a linen shirt or nice T shirt and loafers or nice sandals. Of course you will be in your bathing suit majority of the time but walking to and from and mingling beforehand you must adhere to the proper dress code.
Elia Beach club posts the following as prohibited items on their website.
NO:
Jeans/Pants
Torn or Cut-off Clothing
Offensive prints or designs on clothing or accessories
Weapons (any items that may be used to cause bodily harm)
Controlled Substances
Eye Drops/Nasal Sprays
Outside Food, Drinks, or Liquids (this includes water bottles of any kind)
Over the Counter Medications
Cameras/Go Pros Wearable Technology (watches are permitted)
Colognes/Perfumes
Marijuana Products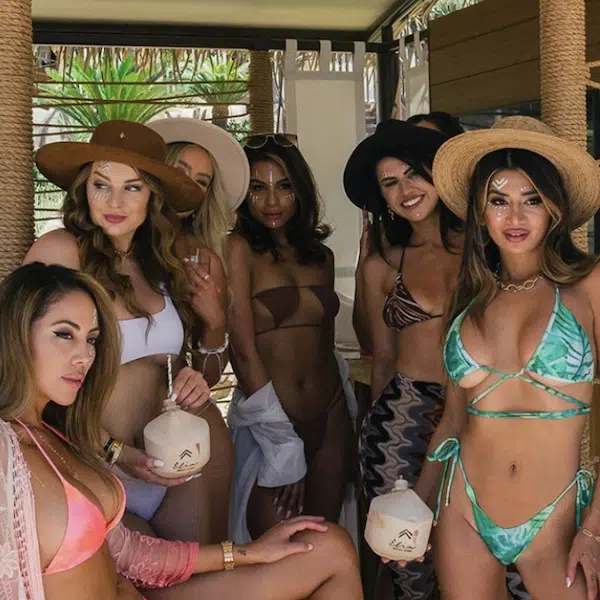 They also include a disclaimer in regards to filming on the property:
"This area is being used to photograph and record video and film footage in connection with the promotional and publicity campaign of Elia Beach Club. By your presence in this area, you acknowledge that you have been informed that you may be photographed and recorded."
Further, by your presence here, you grant permission for your likeness to be included therein without compensation, credit, or other consideration. Live streaming of Instagram, Facebook, Snapchat and other media platforms are being used at Elia Beach Club. It's a "hot venue."
Elia Beach Club DJ Lineup
To match the coastal and tropical vibes that Elia beach club represents, they will have the top house, deep house, and EDM music DJs. The lineup is ever changing, but current artist residencies include the following:
Coast Club
Sofi Tukker
Lane 8
Loco Dice
Laidback Luke
SNBRN
Nic Fanciulli
Deadmau5
And many many more to come! The outside concert venue is set up to handle singers, bands, Djs, and performers. They are just getting started!
Bottle Service
Thinking of getting bottle service? We highly recommend it! The pricing for bottle service will depend greatly on the number of people in your party, and which bottle you choose. Bottles at Elia Beach Club range between $500 and $700. 
Table service start at $1,000 for daybeds and increases to $4,000 for the VIP experience. The Cabanas are around $2000-$2,500. The amount that you spend on the service and food will go towards total cost of the table that you are at.
Daybeds, Cabanas, and Poolside VIP Tables: Which is Best for your Group?
The outdoor design was created with the audience having the best visual and audio experience in mind. Below is the general pricing information for the tables available.
Please keep in mind that these prices are subject to change depending on a number of variables (Holiday Weekends, Artist/DJ, etc).
Stage: $7,500 / 10 ppl
Premium Cabanas North 1-3: $5,000 / 10 ppl
Premium Cabanas North 4 – 9: $4,000 / 10 ppl
South Cabana: $3,500 / 10 ppl
East Cabanas: $3,000 / 10 ppl
Beach Couch: $2,500 / 6 ppl
Beach Daybed: $2,000 / 4 ppl
Patio Nook: $1,750 / 6 ppl
Lounge Large: $1,500 / 4 ppl
Lounge Small: $500 / 2 ppl
Mezzanine Poolside Daybed: $1,000 / 6 ppl
Mezzanine Pool View Booth: $1,200 / 8 ppl
Mezzanine Booths: $1,200 / 6 ppl
Table Map
Below is a table map of Elia Beach Club corresponding to sections above (C=Cabana, D=Daybed, LL=Lounge Large, LS=Lounge Small, etc):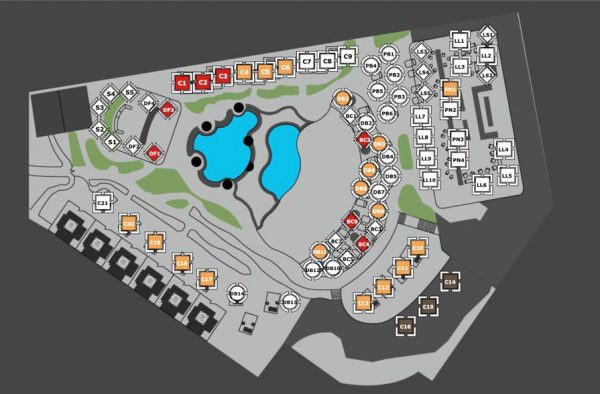 How To Calculate Your Total Spend
Your total spend will depend greatly on the number of people in your group, the table you choose, and the bottle package that your group decides to choose.
Here is an estimate of what you can expect:
On top of your minimum spend, there is,
8.1% sales tax
18-20% gratuity (your choice)
5-7% venue fee (depends on min)
This adds roughly 30-35% on top of your total bill. Simply multiply your bottle service quote by 1.3 to get a rough estimation of cost out the door (e.g. a $2k min spend would be approximately $2000 x 1.3 = $2600 all in).
Looking for a deal? Always contact us ahead of time to see if a deal is possible on any given night.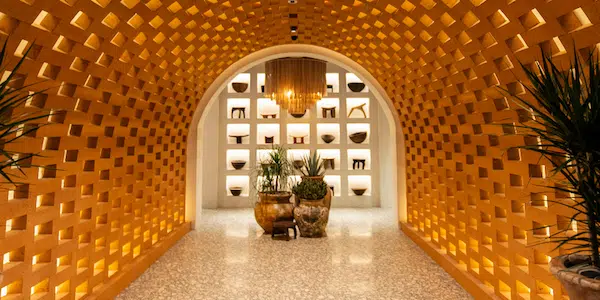 Calling All Foodies
At the new boho chic hotel you will get a variety of fun new eateries and places to kick back.
Make sure you check out the lounge Kassi Beach for delicious Italian food, hand crafted cocktails, and tropical lounge vibes to start your night off. They also have a terrific brunch menu for before or after Elia beach.
Pizza Forte – Come for Italian street fare as well as New York style pizza 
Casa Calavera – Fine dining Mexican food with a special twist, you can dine with your toes in the sand. This restaurant takes it up a notch in the evenings and will be your pre party destination. 
Afters Ice Cream – A scrumptious ice cream café where Hip Hop and EDM flow through the speakers while guests try their most iconic flavors. We recommend the Cookie Monster! (Open until midnight!)
Elia Beach Club Guest List