Las Vegas Club Crawls: 5 Reasons Why They Suck! (For Most People)
If you're online planning your Vegas trip with your best friends or bachelorette squad, chances are you've ran into ads for Las Vegas club crawls or party buses.
They ask you – Are you ready for the most "Epic" Vegas experience?  Are you ready to embark on the "Ultimate Vegas journey?"
To review, there are several ways to get into a Las Vegas nightclub:
Use a promoter or host at the club (our recommendation)
Enter your info in an online guest list service
Sign up for a club crawl
Buy tickets or pay cover at the door
For those of you who may be enticed by the Las Vegas club crawl experience and their ad campaigns, just know that there are a couple key things they don't mention.  They have a profitable business model: they charge hefty package fees to get you aboard the bus.  We believe your money is better spent on drinks or at the tables.
We've assembled the top 5 reasons to avoid the party bandwagons at all costs.
They Go to the Worst Clubs
Before eagerly entering your credit card information to reserve your spot, take a look at the "top-tier" venues they promise access to.
These are often the not as exclusive or outright avoided venues on the strip.  Certain Las Vegas Clubs are virtually begging for people to come through their doors on most nights, and these are the venues you are paying the company for access to.
What's more is that the party bus and club crawl companies re-market free entry lounges as nightclubs.  They take their patrons to low-key hotel lounges like Alibi (Aria) and Lily (Bellagio), and tell them its another nightclub along the journey.
These are not the grandiose Vegas nightclubs people pay to enter, but places that are desperately seeking to be filled by customers.
Utilizing a multitude of second rate venues, the company can pitch access to 3-4 major nightclubs with no wait and no line and paint it as the "ultimate" VIP experience.
You Get Rushed to the Next Stop
This idea brings us to our next point, which is that you're given a maximum of 45 minutes to an hour at each venue on the schedule.  The Vegas party bus companies make money not only on your direct payment for the package, but on check ins of their people (just like a promoter).
Las Vegas club crawls run a tight ship, and must hit every spot on the tour at the designated time to get paid at each (using you three or four times over).  Not to worry, your "host" will physically rush you out of the venue to board the party bus, screaming to make sure you heard it's time to go.
The Bus is Packed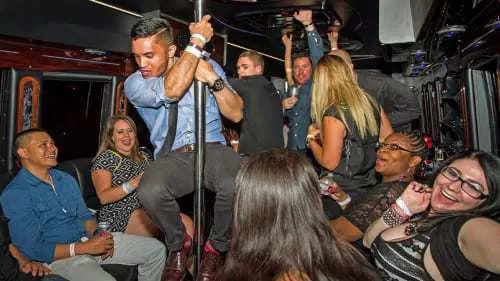 Prepare to be pushed, shoved, and packed into the sides of your "VIP shuttle."
The buses that bring you from one club to another can not only be uncomfortable, but also sweltering hot in the summer time and obnoxiously loud when overbooked.  Your fellow patrons will be intoxicated and rowdy – that's a given and part of the Vegas experience – but in close quarters this can be overbearing.
In the worst of cases, there will be that one passenger that had a bit too much to drink beforehand…to the detriment of all on board.
The Drinks aren't Free
At some clubs on the tour – usually only one – you'll be given 2-for-1 vouchers to use.  These are like drink tickets, except you have to buy a drink in order to get the free one.  On the guest list at any of the clubs these tours go to you'll receive real drink tickets.  One voucher good for one free drink.  A much better deal.
These buy one get one drink vouchers are actually a way to get you to spend money at the club in a situation where you would not have had to, ultimately ending in a win-win for the venue and the crawl.
Las Vegas Club Crawls aren't Lead by Nightlife People
The "VIP hosts" leading the tours are not nightlife people with connections and industry knowledge to impart.  Some will have a background in hospitality, but more often these guides will just be your average party animal who answered a job posting for the company a few weeks ago.
The Las Vegas club crawls also commonly hire a lot of young foreign exchange workers and students who are spending a summer in Vegas.  While sometimes making great party companions, these guys and gals have little to no knowledge of the Vegas nightlife scene and would be hard pressed to answer your questions about the best things to see and do while in town.
The Verdict
All this being said, we won't hate on what Vegas Club Crawls do.  We really don't mean to bash them, they're a viable option for some people.  But for most there's simply better ways to go about enjoying your weekend in Vegas.
We actually recommend checking them out of you're in Vegas solo, and are looking for an easy way to get social and meet people to party with.  Coming with a group, it's better to plan your own nights and activities.
Looking to start planning your trip now?  Get the most of every night and every club by getting in touch with a professional at each.
Create your Perfect Trip! #Vegasbound