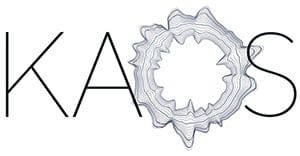 Days Open: Fri, Sat, Sun
Hours: 11:00am – 6:00pm
Hotel: Palms
Area: Off Strip
KAOS Dayclub Las Vegas features the biggest and most diverse lineup of artists spanning EDM, Hip Hop, and Latin Music. Cardi B, Bad Bunny, Marshmello, Kaskade, and more!
The KAOS Pool Party Guest List features free entry in an Even 1:1 Ratio of Girls to Guys. Girls receive drink tickets on select events.
KAOS Dayclub is the go-to pool party in Las Vegas right now, and the space doubles as an elegant outdoor patio during KAOS Nightclub
How is KAOS Dayclub Different?
Since it's opening weekend on April 5th, KAOS has consistently brought in droves of people to check out its popular musical performances and beautiful interior.
You will feel like you are on an exclusive vacation, even while being in a sea of other partygoers packed to the brim. The outdoor design is something along the lines of beautiful Greek resort meets futuristic mega-club (read on).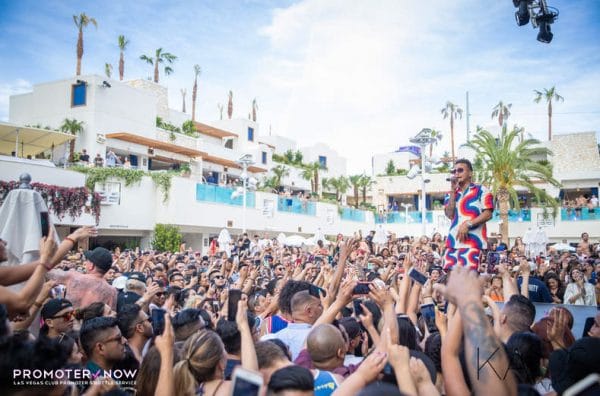 There are beautiful palm trees lining the outer perimeter of the pool, royal blue lounge furniture, and deluxe cabanas along the top floor (each have their own swimming pool). And for the sci-fi twist… you'll notice a 65-foot bronze sculpture of a headless demon in the middle of the pool.
Where would ever see something like that even attempted? None other than: Las Vegas of course.  Many features of KAOS' pool party are Insta-worthy.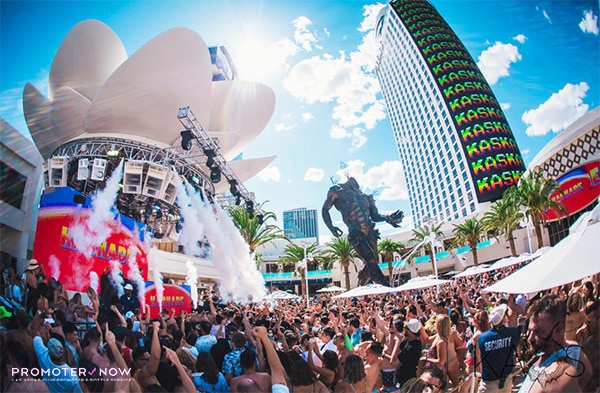 KAOS Dayclub was designed by the Friedmutter group, a world-renowned architecture and interior design firm that is responsible for many landmark properties in Vegas. These include: The Cosmopolitan, Red Rock Casino, Aliante Hotel, Green Valley Ranch Spa & Casino, and Ritz Carlton at Lake Las Vegas.
With all the recent press: KAOS has a notice of filming that states,"Filming/photography is being conducted in the area. By being in this public space you are granting your permission to be filmed/photographed without compensation, credit, or other consideration."
What Kind of Music Will I Hear?
The hottest Electronic, House, Latin, and Hip-Hop artists from around the world will always be in rotation at KAOS. It is the "IT" place to be right now, and their musical line up proves that only the top performers have been invited.
In recent months, KAOS Dayclub has featured: Marshmello, Kaskade, Cheat Codes, Armin Van Buuren, and Above & Beyond. On the Latin & Hip Hop side of the spectrum, the venue has hosted: Bad Bunny, G-Eazy, Ozuna, Travis Scott, J Balvin, and YG.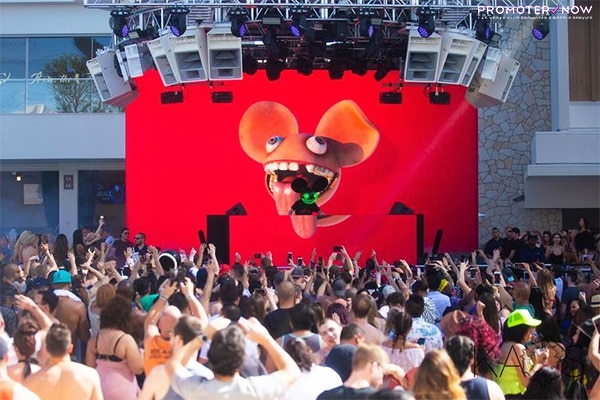 KAOS Dayclub Las Vegas already has its premier residencies booked, and they include Cardi B, Dj Skrillex, G-Eazy, Kaskade among others. Stay tuned for the insane performances that this venue will bring!
Location
KAOS is located inside of the Palms Hotel and Casino. The Palms is located slightly off of the strip, but worth the ride over.  The exact address is 4321 W Flamingo Rd, Las Vegas, NV 89103. It is right next to Scotch 80 Prime, on the North side of the Palms.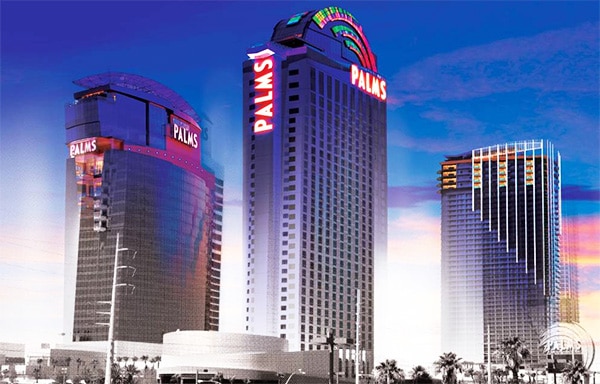 The Palms has undergone a major facelift over the last 2 years, and lets just say that the fine lines and wrinkles have disappeared. What we are left with is a beautiful blemish free canvas to appreciate (The Palms gives off that "New phone – who dis?" vibes).
The "Demon Dome": Vegas' Only Winter Pool Party
It was recently announced that Palms will be constructing an elaborate dome over Kaos Dayclub to winterize Las Vegas' hottest pool party.
You heard that right. Kaos Dayclub will be the only pool party raging through the winter months in Vegas.
The fully transparent "Demon Dome" will stand 70 feet tall, and draw inspiration from the Thunderdome found in the Mad Max anthology.
Kicking off on Halloween eve with Cardi B at the nightclub, Kaos' Pool Party will be a must-visit on your Vegas trip in Winter 2019/2020. Sign up with us above!
KAOS Dayclub Dress Code
This isn't the neighborhood swimming pool. Just because it's a Dayclub doesn't mean you can slap on whatever you find laying on the floor of your hotel room. Kaos requires "fashionable daytime attire" to get in. Think sexy, trendy, upscale summer clothes.
For example, men can wear board shorts, with a linen button up shirt or nice t-shirt. Women can wear a sundress over a bathing suit, or nice-not torn-shorts and fashionable top over a swimsuit.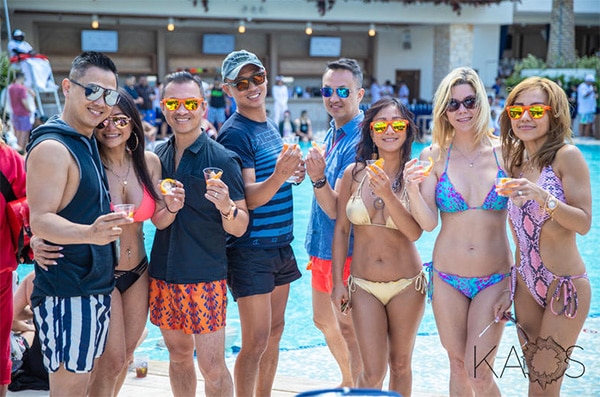 You are not allowed to wear any vulgar language, cargo shorts, torn, transparent clothing. No jeans or long pants either. Also ditch the oversized and baggy clothing, and you won't be allowed in with exposed undergarments.
There is also a list of prohibited items that KAOS has strict rules for (get ready): Weapons, fireworks, laser pointers, wallet chains, large chain jewelry, headphones, waist packs, backpacks, large bags, cans and glass, plastic bottles, outside drinks and food, liquids, professional cameras, ipads and tablets, selfie sticks, electronic vapes, aerosol items, video cameras, go pros, google glass, personal computers, props such as signs, flowers, balloons etc, medications, drugs, vitamins, supplements, pills, eye drops.
Tickets
KAOS Dayclub is open Friday – Sunday 11:00am to 6:00pm
If you don't purchase tickets ahead of time, you run the risk of long lines while you are waiting to get inside the club. Even worse, the club may reach capacity and stop selling tickets at the door. Either way, you'll run the risk of spending more than you would if you had purchased a ticket ahead of time.
We recommend getting on the guest list, so you can ensure free entry with a 1:1 ratio of girls to guys in your group. If not on the list, men typically pay between $30 and $75 and women typically pay between $20 and $50. This cover charge will increase depending on special performances, and if it's a holiday weekend.
Guest List
We always recommend that you get on our free Kaos Dayclub Guest List. If you have any girls in your group at all – even off ratio – this is the way to go.
You can text us at 702-602-0041 to get on the list each night, or simply sign up below.
Your girl to guy ratio must be 1:1 to gain free entry for everyone during the Guest List hours: 11:00am to 2:00pm.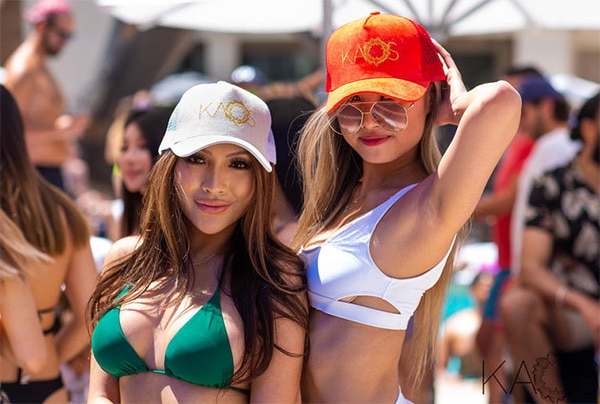 Note: On all major holidays, plan to purchase tickets as there may not be a guest list. (Memorial Day Weekend and Labor Day Weekend included).
Early (Temporary) Comp Tables
Kaos' Pool Party will occasionally grant an early comp table to a group of high-energy girls who bring the party. Getting a comp table at the dayclub will always depend on the performer that day, the amount of paying reservations, and that particular weekend in Vegas.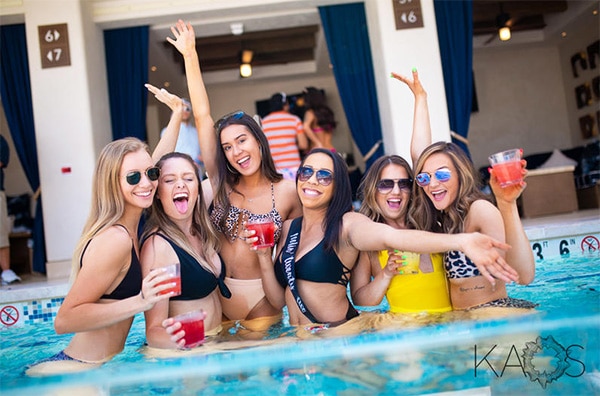 Shoot us a text anytime at 702-602-0041, or contact us below to see if this is possible for your bachelorette, birthday, or girls trip on the day you plan to come.
When You Arrive
You and your gorgeous group will be appropriately dressed to impress and check in with the hostess on your way in. If you planned ahead and texted us to be on the Guest List, then you will head to the Guest List line to wait to be escorted inside. Make sure you have your ID's ready!
If you are a VIP guest (you have a table and bottle service), you will be directed to the VIP line and then led to your table.
If you are a general admission guest, you will have to purchase your entry on the spot, and may have a long wait in order to do so. Make sure you bring your ID's and follow all the rules for admission whether choosing to go VIP or not.
Bottle Service
Lying out and getting your tan on, while sipping on a signature cocktail sounds amazing right? Well not if you had to walk across the pool, wait in line with 40 other people. Or worse, keep trying to wave down a waitress who has a million other orders before she can even get to you.
Take our advice and get bottle service so you can avoid these headaches and just relax.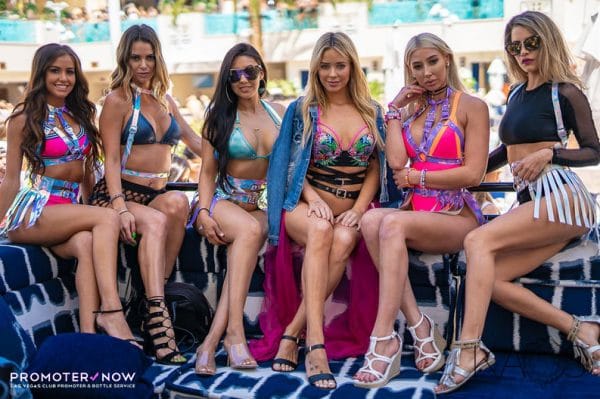 Pricing for bottle service will depend upon the table you're reserving for the night. This varies by preferred location, overall number of people in your group, and the performance that day.
You'll get a spend minimum quoted to you based on these factors, however the total cost will depend on your choice of bottles, and how many bottles you end up ordering.
Make sure you reach out to us for a custom quote that fits your group. You can text us anytime at 702-602-0041, or simply contact us below and check that you're interested in bottle service pricing!
How much is Bottle Service At KAOS Dayclub?
Your bottle service minimum spend will completely depend upon where your table is, the number of people in your group, and any special events or performances going on at the club that day.
New to bottle service? We suggest checking out our quick primer to the rules of balling out.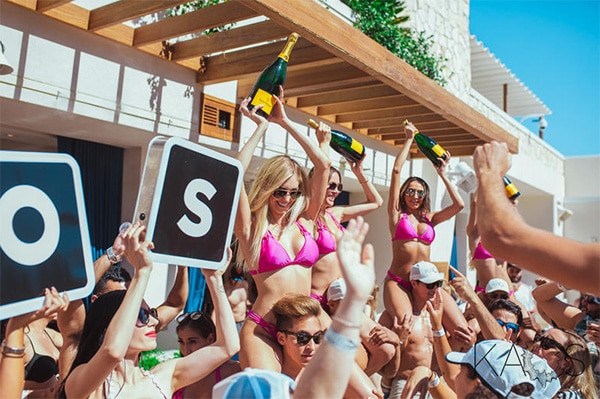 We'll start with some of the more expensive and extravagant preset bottle packages Kaos Las Vegas offers, and then go into individual spend minimums. The availability and pricing on these packages can change depending on the specific day and a few other variables.
They have some very cool sci-fi inspired names, and cost roughly the budget of a small sci-fi movie production…
Premium Bottle Packages (Large-Format):
Talk about VIP experiences. Kaos Dayclub offers a number of tailored packages to meet your desired level of extravagance.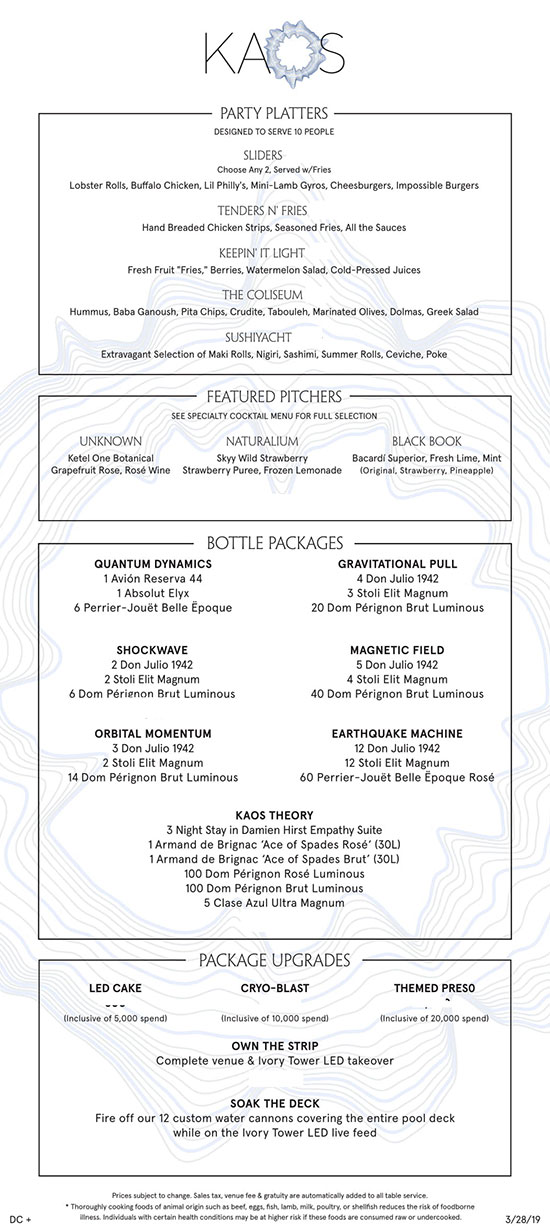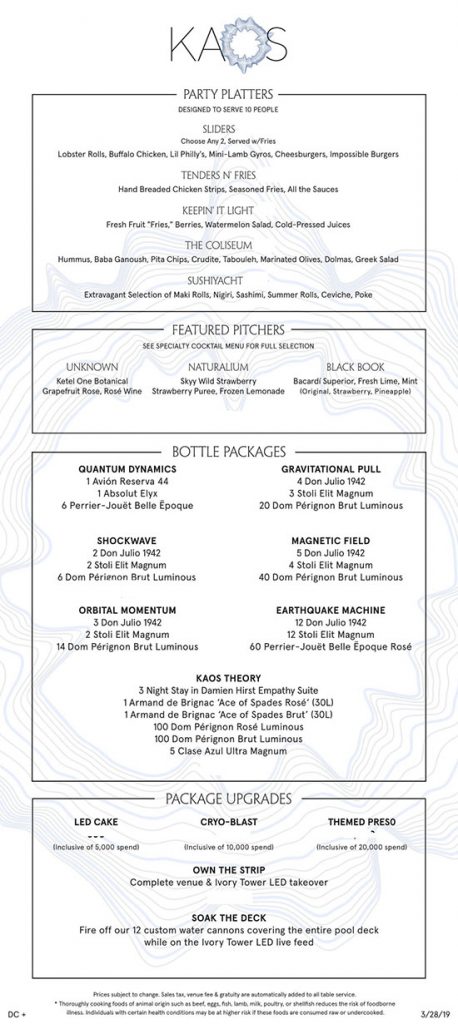 Quantum Dynamics – $5,000
Includes: 1 Avión Reserva , 1 Absolut Elyx, 6 Perrier – Jouët Belle Ëpoque
Shockwave – $10,000
Includes: 2 Don Julio 1942, 2 Stoli Elit Magnum, 6 Dom Pérignon Brut Luminous
Orbital Momentum – $20,000
Includes: 4 Don Julio 1942, 20 Dom Pérignon Brut Luminous
Gravitational Pull – $30,000
Includes: 5 Don Julio 1942, 30 Dom Pérignon Brut Luminous
Magnetic Field – $50,000
Includes: 6 Don Julio 1942, 50 Dom Pérignon Brut Luminous
Earthquake Machine – $100,000
Includes: 12 Don Julio 1942, 12 Stoli Elit, 60 Perrier-Jouët Belle Ëpoque Rosé
Kaos Theory – $1,000,000
Includes: 3 Night stay in Damien Hirst Empathy Suite, 1 Armand de Brignac 'Ace of Spades Rosé (30L), 1 Armand de Brignac 'Ace of Spades Brut' (30L), 100 Dom Pérignon Rosé Luminous, 100 Dom Pérignon Brut Luminous, 5 Clase Azul Ultra Magnum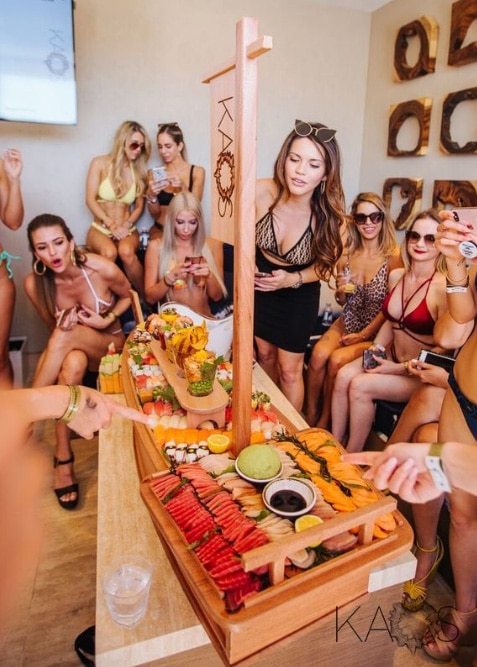 Kaos Pool also offers the following upgrades for any bottle service reservation:
Led Cake – Custom Message – $500
Cryo-Blast – Fire the Cryo Machine – $2,500
Themed Presentation – YOU Customize the Presentation – $5,000
Own the Strip – "Venue & Ivory Tower Takeover" – $50,000
Soak the Deck – Fire off the 12 custom water cannons covering the entire pool deck, while on the Ivory tower LED live feed – $100,000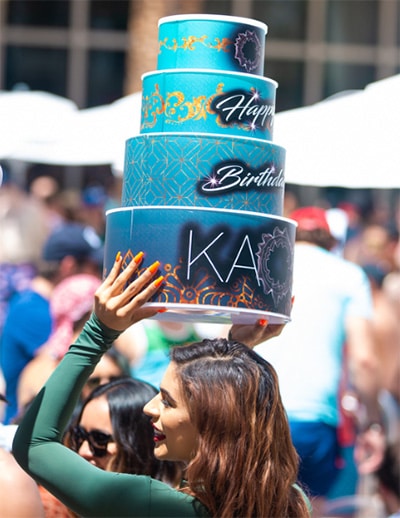 Bottle Service Menu & Pricing
You can also book a VIP table based on a standard spend minimum, which you can fulfill by your own selection of bottles from the menu.
This is the route most choose to go. The a la carte bottle pricing at Kaos Dayclub is as follows: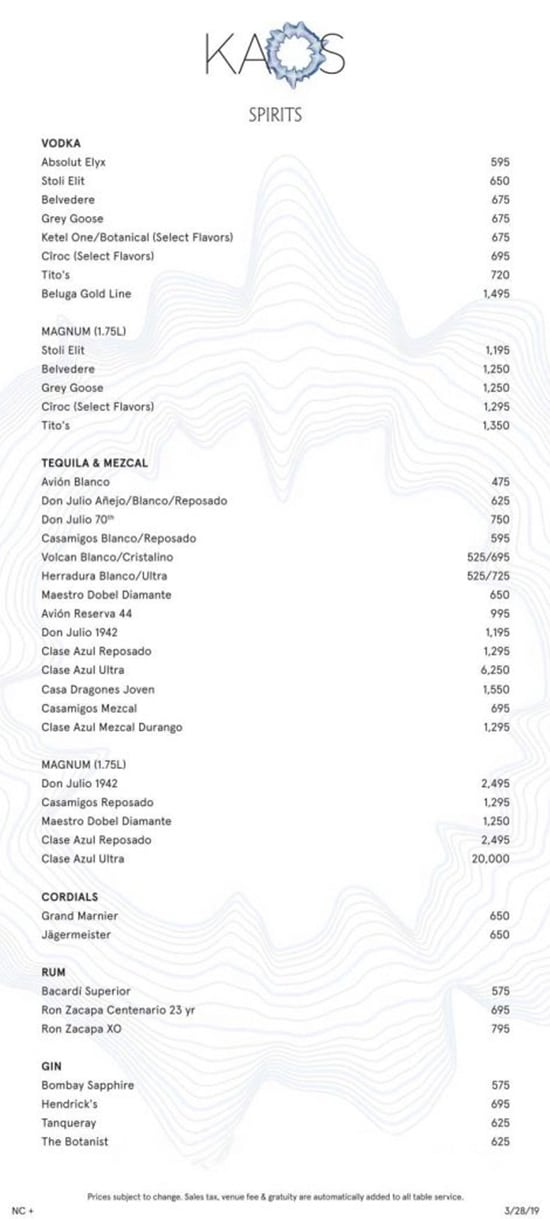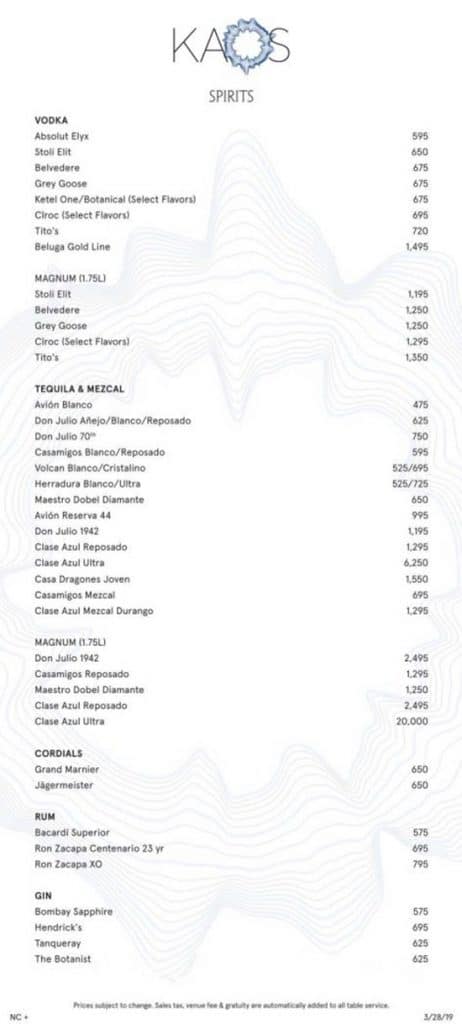 For example, a $1,000 min can be met by purchasing an Absolut Elyx and a Bombay Sapphire. The final spend will be slightly higher of course due to bottles being more than $500 each.
And then comes tax, gratuity, and venue fee.
How To Calculate Your Total Spend
Your total spend will depend greatly on the number of people in your group, the table you choose, and the bottle package (or a la carte bottles) your group chooses.
Here is an estimate of what you can expect:
On top of your minimum spend, there is,
8% sales tax
18-20% gratuity (your choice)
5-7% venue fee (depends on min)
This adds roughly 30-35% on top of your total bill. Simply multiply your bottle service quote by 1.3 to get a rough estimation of cost out the door (e.g. a $2k min spend would be approximately $2000 x 1.3 = $2600 all in).
Looking for a deal? Always contact us ahead of time to see if a deal is possible on any given event. A good rule of thumb for this venue is that Sundays are typically less expensive than Fridays or Saturdays.
KAOS Dayclub Table Map & Overview
The pricing for the tables will change depending on holidays, special performances and events. The following will give you a general base price range to go off of, but for the most up to date information shoot us a text at 702-602-0041!
Or send us an inquiry so we can help set up your entire trip.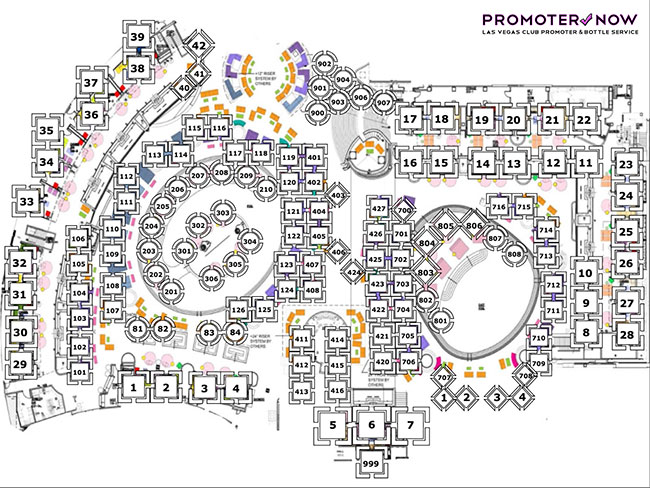 Patio Couches
These include the pool deck patio couches in the center of the party. This is a relatively inexpensive and flexible seating option.
Standard Min: $1,000.00

Water Daybeds
These are the 20+ waterbeds that line the dance decks next to both main pools.
Standard Min: $1,500.00
Demon Daybeds
These are the waterbeds closest to the main pool and stage. First come first serve.
Standard Min: $1,500.00 – $2,000.00
Patio Daybeds
These are the large pool deck patio couches: front and center to the party. This is a great choice on a moderate budget.
Standard Min: $2,000.00 – $2,500.00
Cabanas (East, Northeast, North)
Your own cabana for the day next to the pool on the patio level. Includes: flat screen tv, ceiling fan, misters, daybeds, couches, and personal storage.
Standard Min: $3,000.00 – $3,500.00
Mezzanine Bungalow w/Private Pool
Features elevated views of the pool deck and infinity pool Includes: flat screen tvs, ceiling fan, misters, daybeds, couches, and personal storage.
Standard Min: $3,500.00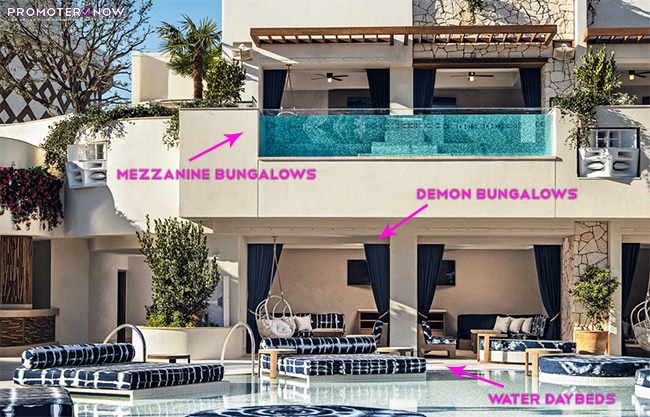 Demon Bungalow w Private Pool
This is the premier option on the patio level, and includes private ground pool, flat screen tv, ceiling fan, misters, daybeds, couches, and personal storage.
Standard Min: $5,500.00
Stage Tables
Sitting beside the talent of the day, each stage table is elevated above the patio with clear views of the pool and performance. This is a premier seating option.
Standard Min: $10,000.00
Backstage Bungalow w/ Private Pool
The most in demand space of all the bungalows. These bungalows are right behind the artist stage, elevated above the pool deck. You also have the option to purchase access into the KAOS Owners Villa (depending on the day), which features panoramic views of the entire dayclub.
Min: $10,000.00
Owners Villa
No description required (or available) for this amazing space. Photography not allowed, but you can be sure this is an immaculate and private area.
Min: $100,000.00
Unique Elements Of KAOS Dayclub
KAOS merges technology with artistry and theatre in a way that has never been done before. Our favorite elements is the Kaleidoscope ceiling – jaw dropping!
We love the aforementioned 65 foot bronze sculpture named "The Demon with Bowl," along with a second sculpture in the pool which is a 23 foot sculpture named "The Warrior and the Bear."
KAOS also features the largest LED screen in Las Vegas, running the entire length of the Eastern wall.
The dayclub features 39 cabanas, most of which have their own private pools.
Still, probably the most fascinating feature is the interactive KAOS logo. It is known as the first "audio powered" living brand logo.
The design behind it is to capture the sonic energy that is created within the club. The "O" in KAOS is based on 12 audio variable inputs composed of voices and music to create the shape, movement, and colors.
The first five residencies featured at KAOS will be the first to have their own unique sound generated logo!
Restaurants at The Palms
With the renovations that the new owners of the Palms hotel have put into the property, come gorgeous restaurants and casual eateries. Each place has a specific vibe and design put into it to create a truly unique feel for its customers.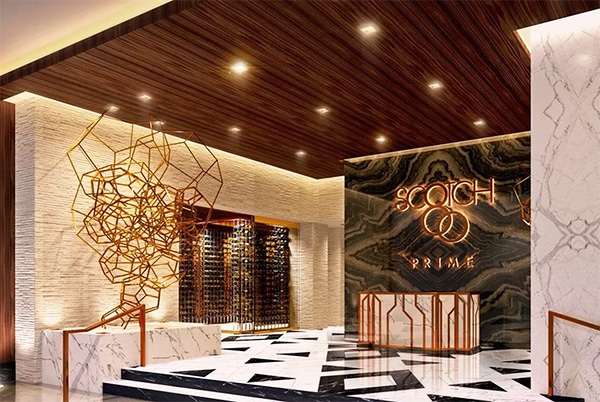 Make sure you check out A.Y.C.E Buffet, The Eatery, Laguna Pool House, Send Noodles, Mabel's BBQ, Vetri Cucina, Scotch 80 Prime, and Greene St. Kitchen.
All of the above have been highly reviewed as great dining options before the club, for all different taste buds.
Conclusion
Spend your day off at KAOS Dayclub. You won't regret it.
Your eyes will be tantalized from the moment you arrive to this party oasis. You can have a luxuriously laid back experience – basking in the sun and listening to the beats of the Dj. Or you can give in to the divine "KAOS" surrounding you, and become one with the ultimate Vegas party.
This will be the most popular club in town for a while, so we suggest making plans with your group ASAP after reading this! The lines have been long since its opening, and will continue to grow as more that people hear about the buzz. We'll see you there!