Days Open: Tues, Wed, Fri, Sat
Hours: 10:30pm – 4am
Hotel: Bellagio
Area: Center Strip
Hyde Bellagio Bottle Service Reservations
Hyde Bellagio is home to 40 VIP tables, beginning on the central dance floor and spreading out onto the patio overlooking the Bellagio fountains.  The club is a favorite venue of Bellagio's biggest gamblers and business people, coming in to blow off steam after a long day at the conventions.  Vegas tourists and familiars of the LA brand consider Hyde the pinnacle of class and elegance.
How much is bottle service at Hyde Bellagio?
Bottle service at Hyde starts at $550 per standard bottle, and a bottle is required for every 3-4 people in your party.  Table minimums vary based on party size as well as location inside the club.  Hyde Bellagio's more premium tables require a higher spend minimum.  Also keep in mind tax accounts for roughly 8%, service fee 2%, and gratuity 18-20%.
On busier nights, or when a top celebrity is hosting, minimums can be higher than usual but bottle prices stay the same.  Our Hyde Bellagio VIP Host will reach out to go over pricing and make sure you get the best experience for your budget.
What are the best tables at Hyde Bellagio?
Hyde has a centrally located dance floor and a large patio on the balcony overlooking the Bellagio fountains.  Hyde Bellagio bottle service clients typically prefer to be as close as possible to either the dance floor or balcony, depending on which kind of experience they prefer.
Dance Floor Tables
The dance floor is the center of the action at Hyde, and for a full Vegas nightclub experience we recommend booking a spot as close as possible.  Bachelor and bachelorette parties will likely prefer the more traditional Vegas experience the dance floor offers.
The 30s and 40s are the prime dance floor tables, with the 60s, 20s, and 50s making up the second tier (see table chart below).  These are the most sought after tables at Hyde Bellagio.
Patio Tables
The central patio is composed of seven premium tables including 11-14 in the center and 15-17 against the glass.  Table 16 is also known as the "president's table" and is the most coveted table at Hyde.  It's located on the edge of the balcony in the center, and provides a unique and elegant experience of Las Vegas at night.
Also on the patio is the Northern Terrace containing tables 1-7, which are less expensive and accommodate smaller groups.  These tables are housed under an awning and are similarly located against the glass overlooking the water show.
Hyde Bellagio Bottle Menu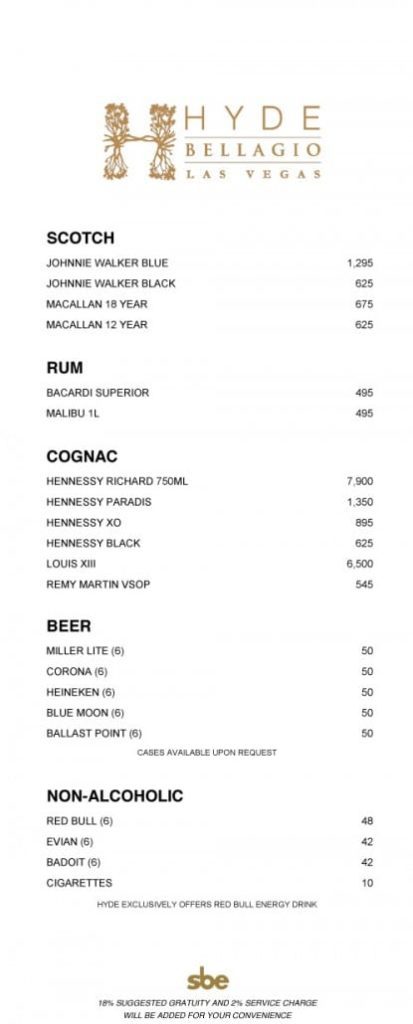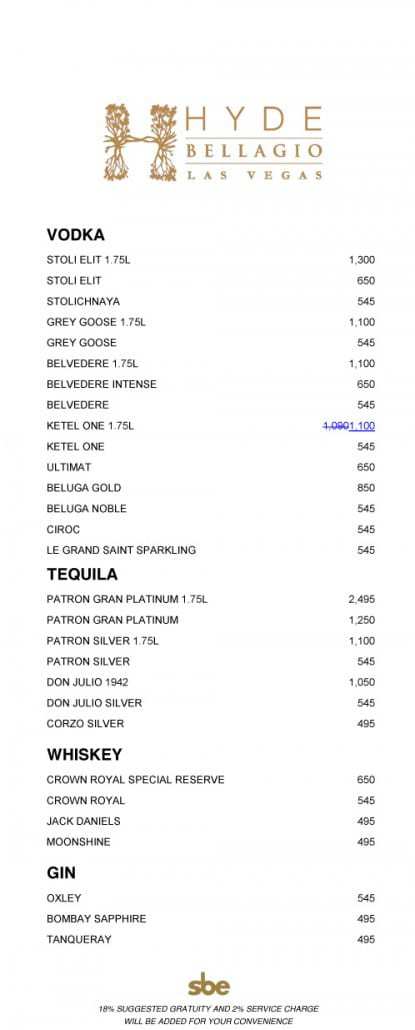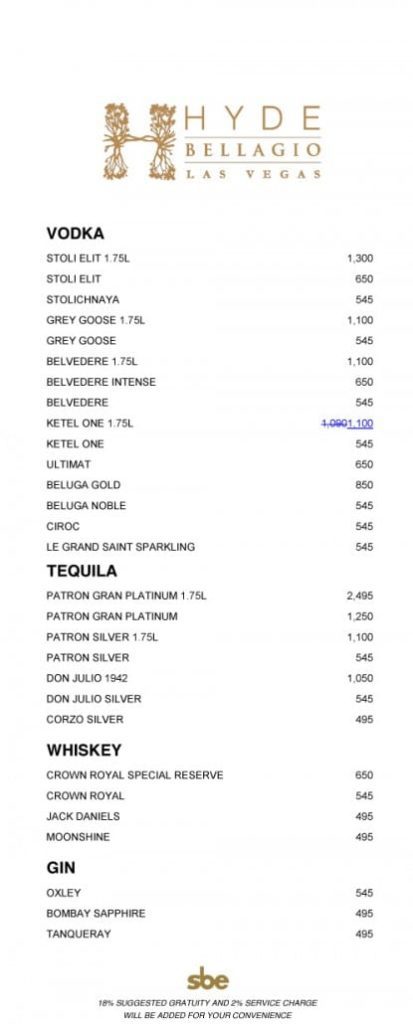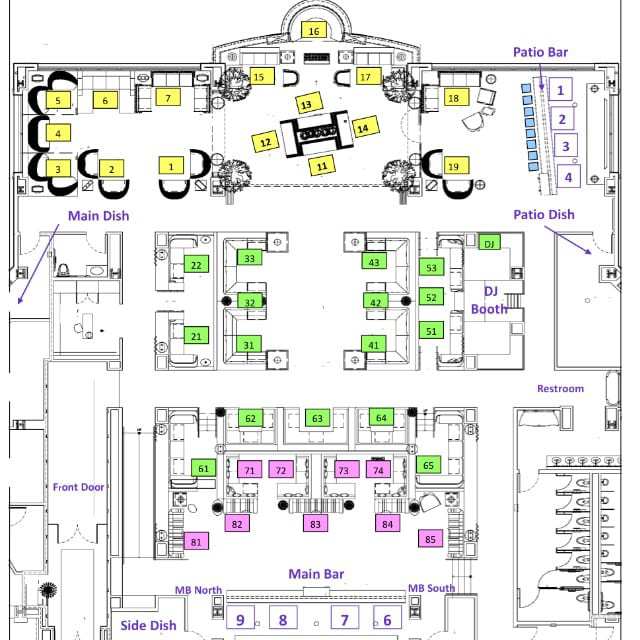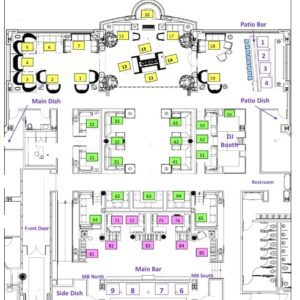 Bottle Service Highlights
Bottle Service Pricing:

Bottles at Hyde start at $550. A bottle is required for every 3-4 people in your group.
Best Tables at Hyde Bellagio:

At Hyde, it's best to be closer to the balcony or the dance floor, depending on which kind of experience you prefer.  There are six premium dance floor tables and seven premium patio tables.
Best Nights to Book:

Hyde Bellagio's Tuesday industry nights are infamous in Vegas.  We recommend Tuesday if here for the week, but Fridays and Saturdays bring an amazing party as well.
VIP Host Contact

:

We'll have a VIP Host reach out to go over pricing and take care of you when you arrive.