Days Open: Thu, Fri, Sat
Hours: 10:30pm – 4:00am
Hotel: Paris Las Vegas
Area: Center Strip
Cheateau Las Vegas is a sprawling and elegant rooftop nightclub under the Eiffel Tower at the Paris Hotel.
The VIP bottle packages at Chateau are some of the best in the city. As there is no guest list, we recommend booking a deal over tickets.
Sitting directly across from the Bellagio Fountain Show, Chateau is one of the best places to watch the legendary fountains go off nightly.
The Ultimate Guide to Chateau Nightclub
Let's go to Paris and sip champagne under the Eiffel Tower! Well, what if we told you that you can have your own Paris experience without needing a passport or leaving the United States?
Your own slice of French pie is waiting for you at the Paris Hotel in Las Vegas. Chateau Nightclub, partially located on the roof of the Paris, is a romantic venue that allows for up close views of the replica Eiffel Tower, as well as the famous Bellagio Fountains of the neighboring Bellagio hotel. With the fresh air, city views, and hip nightclub you won't feel like you're in Las Vegas anymore.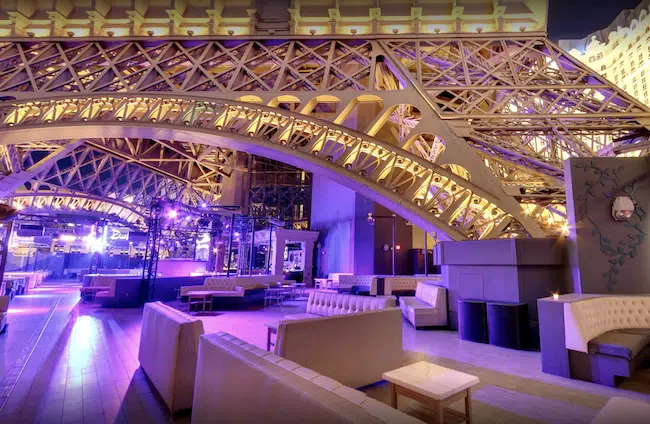 Chateau is split up between two stories; the inside and first story, is their energetic nightclub scene. The outdoor is lush greenery, French inspired décor, and a patio to die for. The main room has two bars opposite each other across the room. It has a dance floor and DJ booth, as well as many different table options. The deck has a stage, DJ booth, and great seating options.
Guest List
There is currently no guest list at Chateau Nightclub. You'll have to purchase tickets in advance to attend, or take advantage of one of the many bottle service deals here.
Generally, females can be expected to pay between $20, and males can be expected to pay between $30-$50. Pricing is subject to change depending on special event or performer.
The earlier you arrive, the better, as it can get very crowded quickly. When you arrive, you will be directed to a line specifically for tickets or bottle service reservations.
Chateau is open from 10:30pm to close on Thursdays, Fridays, and Saturdays. 
UFC Champion Usman Parties at Chateau
Often referred to as one of the UFC sports' greatest fighters, Kamara Usman won his 14th straight fight against Jorge Masvidal. After defending his title in the Welterweight division, and accepting the much deserved praise for an impressive knock-out, he made his way to Chateau night club to celebrate his victory.
On arrival, he was seen decked out in a fitted velour suit with flower lapel, black bowtie, and a pair of chic black sunglasses. He took photos with fans and partied all night long as you should when you continue to be the reigning king!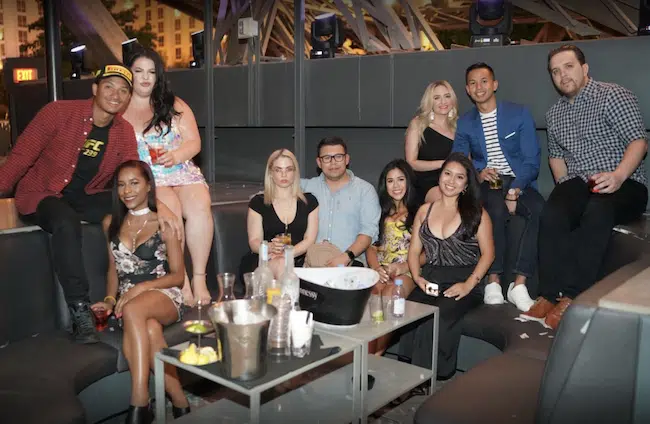 Dress Code
The Chateau Nightclub dress code is strictly enforced. Upscale attire is required.
Dress ready for a night on the town, with some of the best views in town. You want to pull out all the stops for this classy nightclub.
Women should wear upscale dresses, heels, or a nice pantsuit. Men should wear nice dressy pants, a button up, and closed toed dress shoes.
Please refrain from wearing or bringing in:
• Jeans/Pants
• Torn or Cut-off Clothing
• Offensive prints or designs on clothing or accessories
• Weapons (any items that may be used to cause bodily harm)
• Controlled Substances
• Eye Drops/Nasal Sprays
• Outside Food, Drinks, or Liquids (this includes water bottles of any kind)
• Over the Counter Medications
• Cameras/Go Pros Wearable Technology (watches are permitted)
• Colognes/Perfumes
• Marijuana Products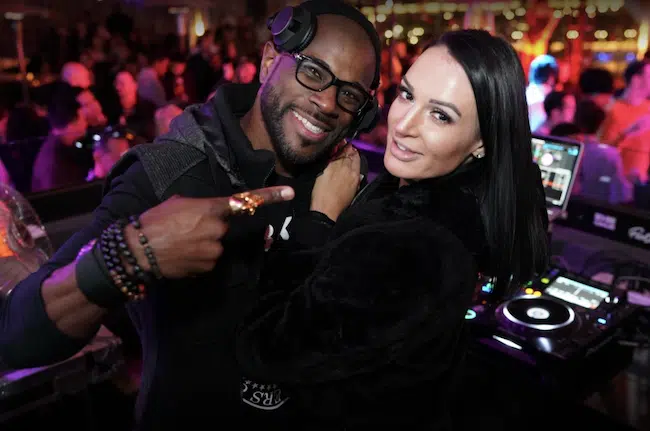 Who's Spinning at Chateau?
Chateau plays Hip Hop & Top 40 most nights. Trust us when we say the vibe is always right!
They don't announce all DJ's ahead of time. Any updates are added immediately to our events calendar. Currently the next few DJ's performing will be P Jay and Stretch (their specialty is hip hop, the style of music the venue is known for).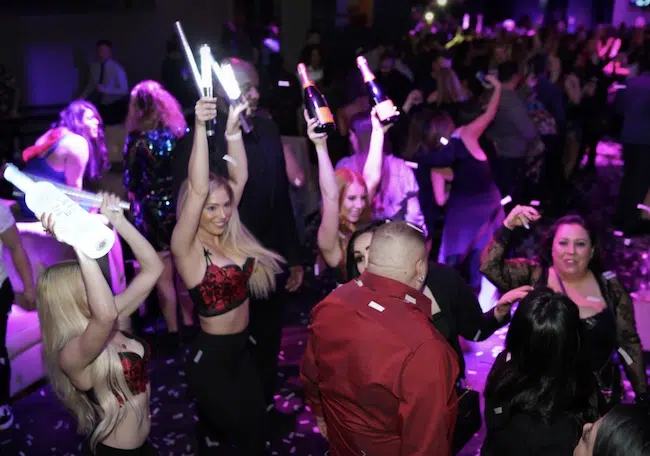 Bottle Service
Your cocktail waitress is there to make sure that you always have something in your glass to cheers with. You're celebrating tonight!
Just the fact that you are out and about is a celebration in itself, so enjoy the service and indulge in your drink of choice.
Bottle service is included with your table's minimum spend. The tax and gratuity is not and will be collected at the end of the evening.  Bottle service at Chateau starts at ~$500 and can go up to $1500 depending on the size of your party and the holiday weekend/performer. Please keep in mind that Tax is typically 8% and gratuity is typically 20%.
Chateau also offers bottle service packages: please check with us to see if these are available at the time you want to visit Chateau. Packages vary with number of people in your group, and include a spend towards whichever bottles you'd like.
Which Table Best Suits Your Group?
For a typical evening at Chateau a table can cost you anywhere from $600 to $800 for a small group. In general, $125/pp for a standard table and $150/pp for a prime table.
We suggest going with our "All In" package below to save on costs and score a free party bus limo.
An example VIP table breakdown is as follows:
Note: Tax and gratuity not included and will be collected by your cocktail waitress and the end of the night.
4 person reservation – $500.00 will include a food & beverage credit.
4 person reservation: Center Area table – $600.00 will include a food & beverage credit.
5 person reservation – $625.00 will include a food & beverage credit.
5 person reservation: Center Area table – $750.00 will include a food & beverage credit.
6 person reservation – $750.00 will include a food & beverage credit.
6 person reservation: Center Area table – $900.00 will include a food & beverage credit.
*Please keep in mind that tables prices are subject to change depending on holiday weekends as well as performances*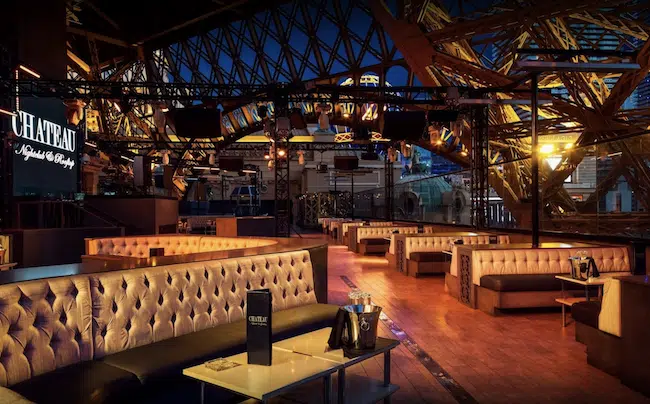 After D'oeuvres: Dining the Paris Way
Don't miss out on these to-die-for restaurants at the Paris Hotel and Casino. You can have a nice convenient dinner and drinks closeby before or after your big night at Chateau!
Our favorite is Mon Ami Gabi – Dine on exquisite French cuisine and listen to French music softly play as you gaze at the Bellagio Fountains. It doesn't get more luxurious than this! Please try the Escargot!
Our other recommendation is a trendy spot with delicious cocktails! Check out HEXX Kitchen & Bar. This is a beautiful bar that serves American style cuisine and creative drinks.
Try the Pear & Ginger Julep for a fancy drink and the Honey Walnut Rock Shrimp off their appetizer menu! (Go for the HEXX burger for main course or one of their pastas!)
We can't wait for you to experience Chateau nightclub; we know it'll make your top 10 list of places to party in Vegas.
Charge your phones and plan on your Tik Tok's being full with all the reels from your night out!