Days Open: Wed, Fri, Sat
Hours: 10:30pm – 4am
Hotel: Encore/Wynn
Area: North Strip
Surrender Bottle Service Reservations
Surrender Las Vegas offers a legendary scene for your bachelor or bachelorette party, or birthday celebration.  While offering the high energy and intensity of a traditional Las Vegas club, Surrender is unique in its dual indoor/outdoor layout and offers something different as well.  Surrender bottle service reservations are essentially divided into these two areas.
Indoor Area and Dance Floor
The indoor area at Surrender is unique in that there are basically only dance floor tables.  Unlike most clubs with a tiered layout, any table you book inside the club will be a good spot.  We recommend grabbing one of the larger corner booths if possible and pre-paying to reserve.  The one located next to the DJ booth at the back wall is the premier spot (table #3 on map below).
Table minimums in the inside area start at three bottles ($525 each) on any given night, and can be more depending on the talent.  Contact us below for the best rates on Surrender bottle service for the night you plan on attending.
Outdoor Patio and Poolside Tables
The majority of Surrender's bottle service real estate is located on the outside patio around the central pool.  The patio area offers cabanas, VIP couches, daybeds, and lilypads.  The spend minimums on any given night are usually cheaper in the outside area, aside from the cabanas which accommodate larger groups.
The main attraction at Surrender is the massive outdoor pool, and the party usually gravitates here earlier in the night before the main DJ comes on.  Later in the night, the action moves inside.  We recommend going with the outside patio if you're looking to have your own party away from the party.  With easy access to the indoor dance floor, you can come and go as you please while having a private outside spot.
Cabanas at Surrender and Encore Beach Club
Doing Surrender bottle service with a cabana is the ultimate way to go, especially if you have a large group and can divide up the costs.  Not only do you have a personal wait staff and security guard, you have a fully stocked refrigerator of beverages and mixers.  Also included in your cabana is a private restroom for your party, and a personal flat screen TV streaming the action at the DJ booth.
There are two floors of outdoor cabanas, with the second level offering a great view of the entire party.  These cabanas are available for Encore Beach Club as well, the day club at Surrender, and provide the complete package for a pool party home base.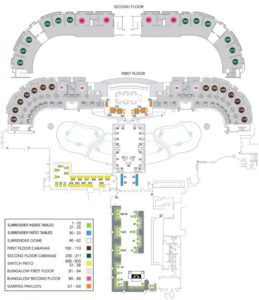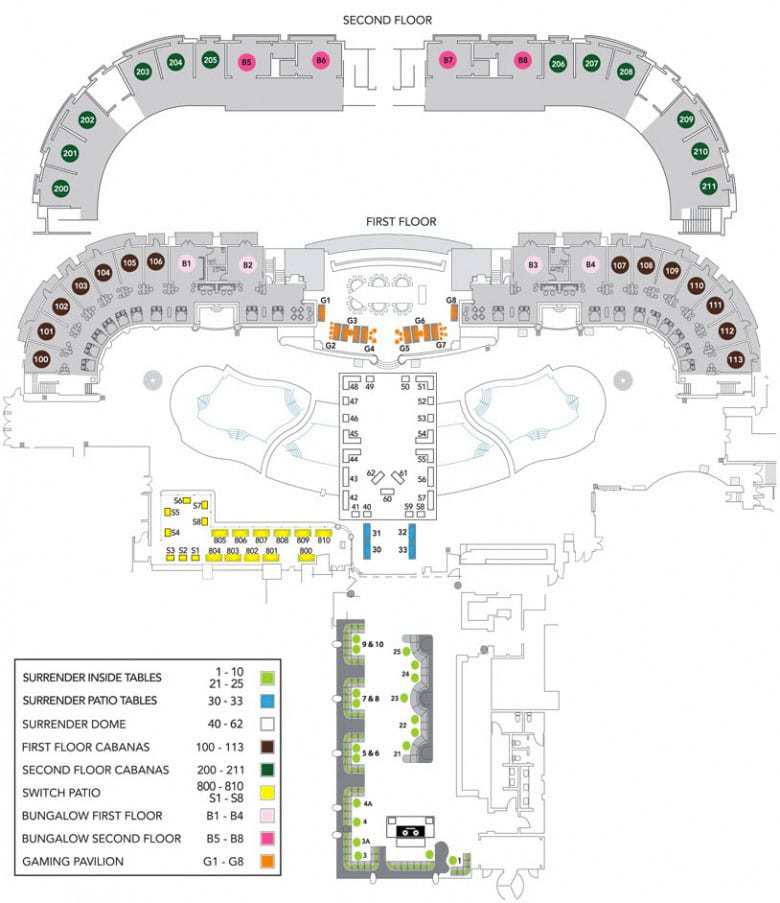 Celebrating your bachelorette party at Surrender?
Surrender will usually offer special bachelorette deals on bottle service on Wednesdays and select Fridays.  Get in touch with our Surrender VIP host below and let us know you're celebrating a bachelorette to get the guaranteed best deal and exclusive hookups on Surrender bottle service.
Bottle Service Highlights
Bottle Service Pricing:

Bottles at Surrender start at $525. A bottle is required for every 4 people in your group.
Best Tables at Surrender:

The inside dance floor tables at Surrender are the prime spots in the party.  Outdoor poolside VIP tables also offer a great location, depending on preferred experience.  Cabanas recommended for larger parties.
Best Nights to Book:

Surrender's industry party on Wednesday is one of the best parties in Vegas.  Fridays and Saturdays are also packed and high energy.
VIP Host Contact

:

We'll have our VIP Host reach out to go over Surrender bottle service pricing and take care of you when you arrive.